Houston Narcs Implicated in Deadly Drug Raid Will Soon Be Collecting Pensions
The officer accused of falsifying the no-knock warrant for the home invasion that killed Dennis Tuttle and Rhogena Nicholas retired last Friday.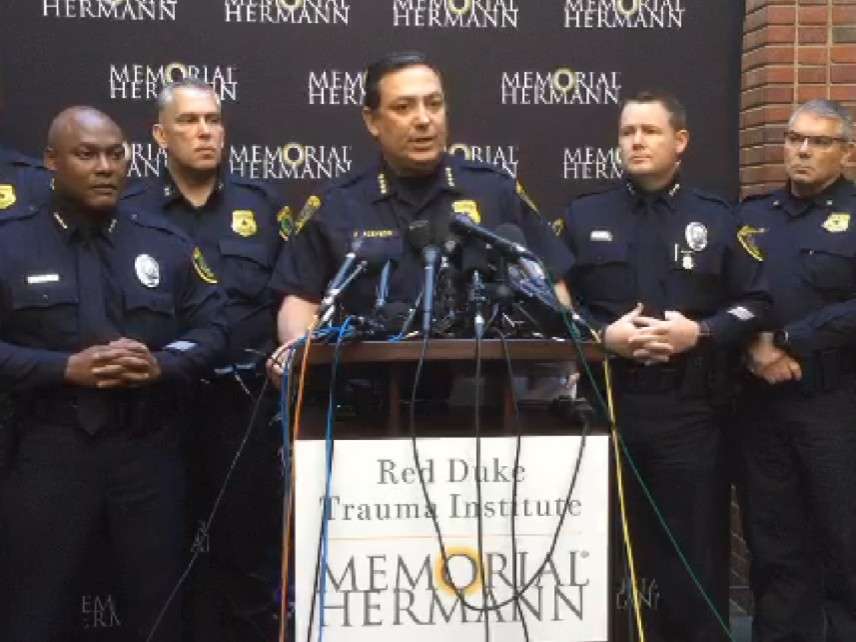 Last week Gerald Goines, the Houston narcotics officer whose falsified drug warrant affidavit led to a raid that killed a middle-aged couple in their home on January 28, retired after 34 years with the Houston Police Department. Another narcotics officer who was suspended after the raid, Steven Bryant, retired three weeks before Goines.
Houston Police Chief Art Acevedo has said Goines is likely to face criminal charges for falsely claiming in the affidavit that a confidential informant had bought heroin at 7815 Harding Street the day before narcotics officers led by Goines crashed into the house without warning and shot a dog, setting off an exchange of fire that killed Dennis Tuttle and Rhogena Nicholas. Four officers, including Goines, were injured by gunfire. Police found no heroin or any other evidence of drug dealing when they searched the house. Nor did they find the semi-automatic handgun that the apparently nonexistent informant supposedly saw there.
That last detail seems to be part of a pattern for Goines. KHOU, the CBS station in Houston, examined 109 cases in which Goines had obtained drug search warrants since 2012. In 96 percent of the cases, Goines claimed a no-knock warrant was justified because "knocking and announcing would be dangerous, futile," the same language he used in seeking the no-knock warrant to search the Harding Street house. "In every one of those cases in which he claimed confidential informants observed guns inside," KHOU reports, "no weapons were ever recovered, according to evidence logs Goines filed with the court."
In response to the disastrous Harding Street operation, Acevedo announced new restrictions on no-knock warrants, which will no longer be routinely used in drug cases. Under the new policy, such warrants will require approval by Acevedo or a supervisor he designates, and they will be served only by SWAT teams. From now on, Acevedo said, narcotics officers executing search warrants will knock and announce themselves, and they will use body cameras to help resolve questions when things go wrong.
The Harris County District Attorney's Office is reviewing more than 1,400 cases in which Goines was involved, along with about 800 that were handled by Bryant. According to the Harding Street warrant application, Bryant identified the brown powder supposedly purchased by Goines' informant as black-tar heroin. Bryant later told investigators he did not see the heroin until he retrieved it from the center console of Goines' police car for testing. Acevedo has said more than one officer is likely to be charged as a result of the Harding Street raid.
Under Texas law, Goines could be charged with aggravated perjury, a third-degree felony punishable by two to 20 years in prison. The FBI is also investigating the raid, raising the possibility that Goines could be charged with violating the constitutional rights of violating Tuttle and Nicholas' constitutional rights under color of law, a federal felony that carries a maximum penalty of life in prison or execution "if death results." It is not clear what charges Bryant might face, assuming he is the other officer to whom Acevedo alluded.
According to a 2017 tally by George Mason law professor D. Bruce Johnsen, 31 states had laws under which police officers can lose their pensions if they are convicted of certain crimes. Texas was not one of them.