Kellyanne Conway Pushes Debunked Myth About Fentanyl-Laced Weed
And no, teens aren't popping random pills at "Skittles parties" either.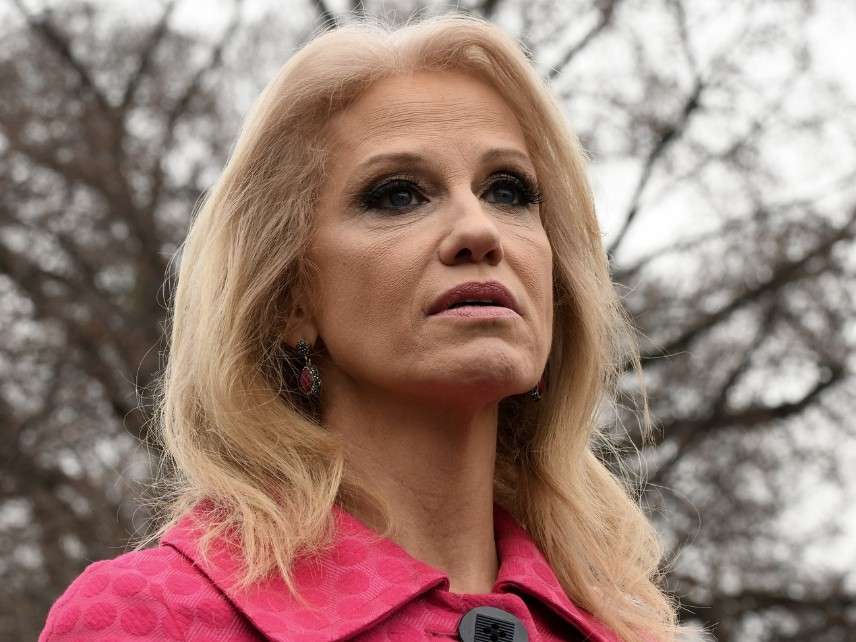 Addressing the Conservative Political Action Conference (CPAC) today, White House counselor Kellyanne Conway pushed a debunked myth about marijuana laced with fentanyl.
"Fentanyl is an instant killer, and a tiny little grain of it can wipe us out," Conway said during a panel discussion with Fox News contributor Sara Carter. "And it's being laced into marijuana, heroin, meth, cocaine, and street drugs."
Of course it's possible to lace marijuana with fentanyl, just as it's possible to, say, mix dog food with chocolate. And on rare occasions it happens: Police say dozens of people overdosed on fentanyl-laced pot at a park near Yale University in August. But that was an isolated and unusual incident; there's no sign it happens with any sort of frequency.
People talk about it happening much more often. Several inaccurate stories about weed-laced fentanyl went viral in 2017, according to Snopes, as police departments across the company issued warnings about a "fentanyl-pot craze." In March of that year, Sen. Rob Portman (R–Ohio) claimed Ohio police had told him drug dealers were putting fentanyl in marijuana. The police later said this wasn't true. But that didn't stop Portman from making an almost identical claim almost a year later.
In June 2017, a Drug Enforcement Administration spokesman told the Cincinnati Enquirer he hadn't heard of any cases where marijuana had been mixed with fentanyl. That's partly why in September of that year, Snopes rated the claim that fentanyl-laced marijuana is "a real and growing concern in the United States" as "false." Meanwhile, the American Addiction Centers has said that weed is "probably less likely to be intentionally laced with other psychoactive substances than many other illicit drugs."
But the scaremongering didn't stop. In March 2018, Secretary of Health and Human Services Alex Azar tried to convince young people at a White House event that weed is part of the opioid crisis. "These are very sophisticated operators, and they are lacing other illegal drugs with fentanyl to get you hooked on opioids and bring you into their system," he said. "Marijuana laced with fentanyl, all kinds of other products laced with fentanyl."
As Salon noted at the time, one reason this myth is promulgated is that coroners find traces of both marijuana and fentanyl in the bodies of people who have died of drug overdoses. They later discover that the substances were consumed separately, and that the fentanyl, not the weed, was the cause of death.
This wasn't the only, or even the worst, moment of scaremongering during the panel discussion. At one point Carter claimed that young people are having "'Skittles parties,' where they bring pills and put them into bowls and everybody picks a pill that they want and takes them. I mean, it's kind of shocking when I heard about this, randomly taking pills."
Someone on stage with @KellyannePolls at #CPAC2019 is saying that kids go to parties where they toss drugs into big bowls and then randomly take whatever…

— Nick Gillespie (@nickgillespie) March 1, 2019
Sound ridiculous? That's probably because it is.