Will One of Arizona's More Vocal Drug Warriors Get a Seat on the State's Supreme Court?
Years after the state legalized medical marijuana, Maricopa County's top attorney served as a barrier.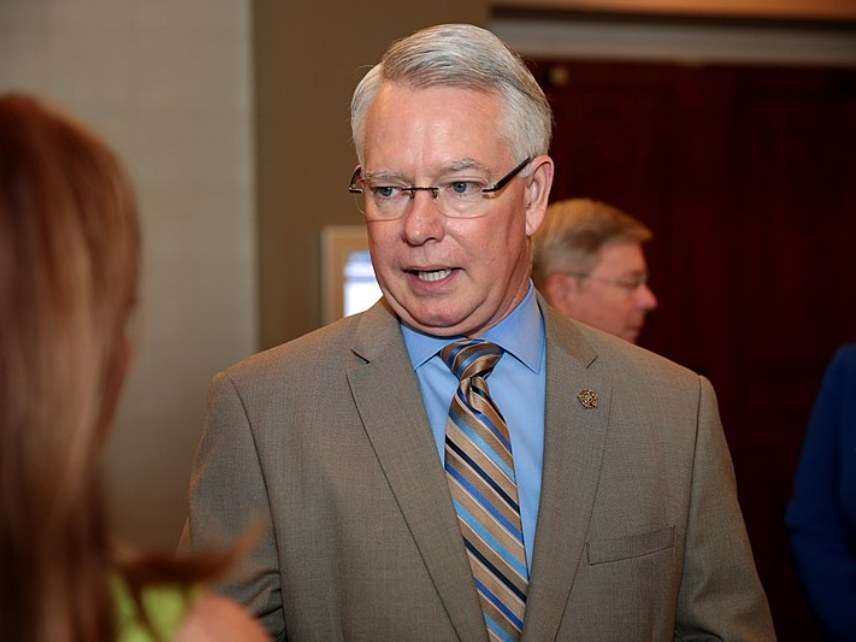 An Arizona prosecutor who threatened to go after people who used marijuana extracts to treat medical conditions even after state voters legalized it has applied for a spot on the state's Supreme Court.
Bill Montgomery, Maricopa County's attorney, is one of 11 candidates vying for the seat of retiring Justice John Pelander. Republican Arizona Gov. Doug Ducey will choose one from at least three of these candidates that are recommended to him by a judicial nomination commission following the interview process.
There's no legislative confirmation step for these positions in Arizona, so if Montgomery is advanced and Ducey chooses him, it's a done deal. There is no avenue for the average Arizona citizen to pressure their state representatives to vote in a particular way.
So, unsurprisingly, people are concerned about the possibility of Montgomery getting the nod. Montgomery was elected into office in 2010, the same year that Arizona voters passed the Arizona Medical Marijuana Act (AMMA), which allowed for medicinal pot cultivation and sale.
But Montgomery served as a massive barrier to actually implementing medical marijuana in Maricopa County (home of Phoenix and therefore one of the most populous counties in the country). He attempted to argue that regardless of the passage of AMMA, the county could not actually legally zone for marijuana dispensaries without violating federal law. He was ultimately smacked down unanimously by a panel of state judges.
Montgomery would also attempt to argue that AMMA only legalized the use of marijuana, the plant, as a medical treatment, not extracts like cannabidiol or CBD oil, which has been used, often successfully, to help treat and prevent certain types of seizures in children. He threatened to prosecute those who attempted to use CBD oil. The parents of a 5-year-old boy named Zander Welton in Mesa, Arizona, took Montgomery to court to fight for their right to use CBD oil to treat him. This time a county judge ruled that Montgomery was wrong and the parents did have the right to try to help their child with CBD oil. The drug did reduce Welton's seizures for a time, but he ultimately died in 2015 at the age of 7.
Getting defeated by the courts on marijuana policy on both the state and county level didn't stop Montgomery. In 2017 he penned an opinion piece at The Hill urging Congress not to pass the Rohrabacher-Blumenauer Amendment, which stopped the Department of Justice from spending money to enforce federal marijuana laws in states that have decriminalized it. Far from simply making the case that Arizona had to submit to the supremacy of the federal government, Montgomery was actively lobbying for the federal government to enforce the law and crack down on marijuana. He concludes:
I urge Congress to again take a firm stance against illegal drugs by opposing the Rohrabacher-Blumenauer amendment. If they are unwilling to continue to acknowledge the harmful effects of marijuana, then they must be willing to amend federal law and take on the tasks of research and regulation to ensure the health, welfare and safety of the public.
Even after getting slapped down by judges, and even after Welton's parents said the CBD eased the boy's seizures for a time, he even demands that the feds specifically forbid the use of marijuana by children. Not exactly a voice for federalism is this gentleman who wants to be on the state's highest court.
His distaste for marijuana use flared up in a debate in 2015 that he actually called a veteran an "enemy" of the Constitution for stating that medical marijuana had actually helped him.
He's also been a noted supporter of harsh police and prosecutorial practices (and a huge fan of the death penalty). His defense of SWAT policing tactics led to a debate between him and former Reasoner Radley Balko. It was a bit of a strange debate, in that part of Montgomery's attempt to counter Balko's arguments about the militarization of our police is primarily semantic—he complains that Balko says some police departments have tanks, but they're actually armored personnel carriers.
Watch the debate between the two men below:
Ducey will be making his choice for the new Arizona Supreme Court justice in March. More on Montgomery's background and record here (including the fact that his father was arrested and went to jail for smuggling marijuana into Texas when Montgomery was a teen, which might maybe explain a few things).
This blog post has been updated to correct the process of how an Arizona Supreme Court justice is selected.