N.C. Mom Says SWAT Team 'Terrorized' Her 6-Year-Old Autistic Son
"My son with autism was forced out of the home with military-style rifles aimed at him and made to sit on the cold, wet ground for over an hour."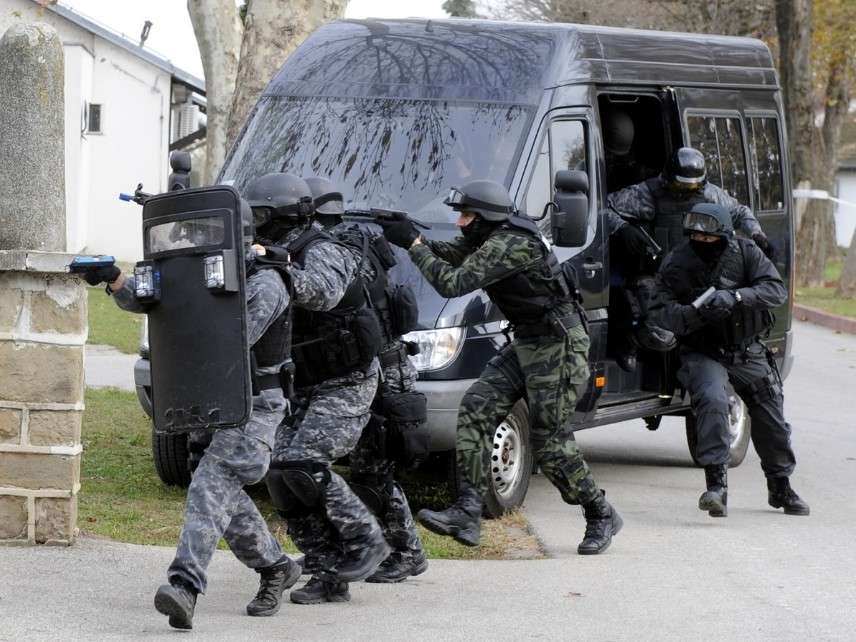 This week a North Carolina mom told the Raleigh City Council that police "terrorized" her parents and her 6-year-old special-needs son.
A Selective Enforcement Unit (SEU) team—Raleigh's version of SWAT—had a warrant to search Michael and Wanda Clark's home last November. Michael's nephew, Brian Clark, was a suspect in a recent armed robbery. Police found a box Brian had left at the scene of the crime with his uncle's name and address on it, Indy Week reports. So they paid a visit to the Clark home, where Michael and Wanda's daughter LaDonna had dropped off her son, who has autism and cerebral palsy, before going to work.
Brian Clark did not live at his uncle's house and was not there at the time. Nonetheless, police forced Michael, Wanda, and their grandson to walk out of the house and sit on the ground. "On a 35-degree and rainy night, my son with autism was forced out of the home with military-style rifles aimed at him and made to sit on the cold, wet ground for over an hour by RPD SWAT," LaDonna told the city council Tuesday:
"You can sit down there, or I will handcuff you," an officer told her father, according to a complaint Michael Clark later filed with the department.
"Having guns pointed at a six-year-old was extremely frightening and completely unnecessary," Wanda Clark wrote in a complaint of her own. "Even now, I still have nightmares about those guns being pointed at me and my grandson."
"Not only was I not allowed to see the footage of my son being terrorized," LaDonna told the city council, but the police wouldn't give her an internal affairs complaint number unless she specifically stated which department policies had been broken and agreed to an in-person interview. At this point, the police already had three written complaints describing the incident.
Clark says that in December, police finally let her see a single picture captured from body-camera footage of her father walking out of the house. She told the city council that police eventually offered to give her an internal affairs case number—after she signed up to tell her story to the council.
The American Civil Liberties Union (ACLU) is looking into both the incident itself and thepolice's alleged attempts to quell an internal investigation. Raleigh Police Chief Cassandra Deck-Brown tells WTVD that the incident is "being reviewed by the Raleigh Police Department Office of Professional Standards."
Complicating matters are North Carolina laws that prevent the specific results of internal investigations from being made public. "The internal affairs process remains completely opaque and unavailable to average community members who have a complaint," ACLU attorney Susanna Birdsong tells Indy Week. Moreover, North Carolina generally exempts police recordings from public records laws. So even if there is full body-camera footage of the incident in question, the Clarks might never get to see it.