Justice Department Sues To Block Philadelphia Supervised Injection Site
Just last night the president said he wants to stop the spread of HIV. This move won't help.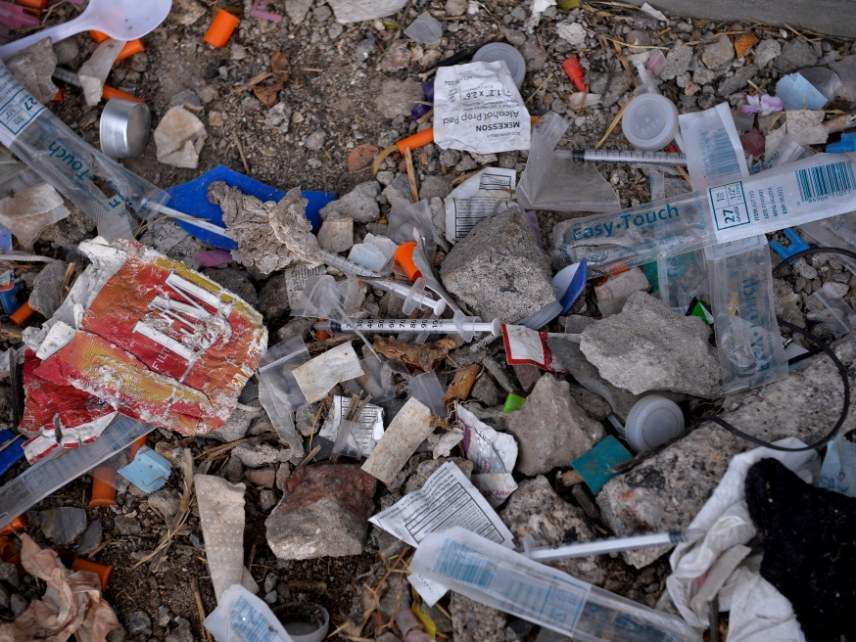 President Donald Trump said in his State of the Union Address last night that he wants to stop the spread of HIV and AIDS in America within 10 years.
This morning, a Justice Department attorney announced he would try to stop a supervised injection site planned for Philadelphia that would help reduce both the spread of HIV among intravenous drug users and overdose deaths.
U.S. Attorney William McSwain of the Eastern District of Pennsylvania held a press conference Wednesday morning to announce he would be seeking a judicial review that might prevent a local nonprofit named Safehouse from moving forward with plans to build a center funded by private donations.
This nonprofit group is not attempting to force this building and program into the city. Philadelphia officials, including the city's mayor, police commissioner, and district attorney, are all supportive of a supervised injection center, where intravenous drug users can be supervised by health workers and counseled about treatment options. Philadelphia has a serious problem with drug overdoses and public use, having seen more than 1,200 overdose deaths in 2017.
Other communities with high rates of overdose deaths and outdoor use, like Seattle and San Francisco, are also considering injection facilities. But the Justice Department says such facilities are illegal under federal law, and federal prosecutors have threatened legal actions if these cities move forward.
McSwain's lawsuit is the first to issue more than just a warning. He's filing a civil suit and seeking a declaration from the judge that operating an injection center would violate federal drug laws.
McSwain tells the Philadelphia Inquirer that the point here is to essentially scare Safehouse into dropping its plans so that he doesn't have to prosecute those involved:
"We want to take an incremental, reasonable approach," McSwain said in the interview. "We're not interested in some sort of criminal confrontation or drama or trying to be heavy-handed. We think it serves everyone's interests for the federal court to issue a declaration as to whether this proposed site is illegal or not."

It is likely that a 1986 federal law will prove central to the case ahead. Known colloquially as the "crack-house statute," the law makes it a felony punishable by up to 20 years in prison to knowingly open or maintain any place for the purpose of manufacturing, distributing or using controlled substances.
You know what would be a more reasonable approach? Allow Philadelphia to experiment and see if this actually helps. Cities outside the U.S. have had considerable success operating supervised injection facilities, which serve as key hubs for referring drug users into treatment (if they want it), reducing the spread of communicable disease, and otherwise helping city residents manage their addictions in a safe environment.
Last night, after Trump declared he wanted to eliminate the spread of HIV in 10 years, I noted that the administration's punitive approach to the opioid crisis is a barrier to achieving such a goal. This is a perfect example. A supervised injection site would not only prevent overdose deaths—it would also reduce the spread of HIV and hepatitis by providing clean needles, and it would allow users who have those diseases but don't know it to get treatment and take preventative measures. A supervised injection facility might not solve Philadelphia's decades-long heroin crisis, but it's highly unlikely to make it worse.