Embattled Virginia Gov. Ralph Northam Signs Bill Authorizing $750 Million in Cash Subsidies to Amazon
No one is calling for the governor's resignation over the huge transfer of taxpayer dollars to a private company.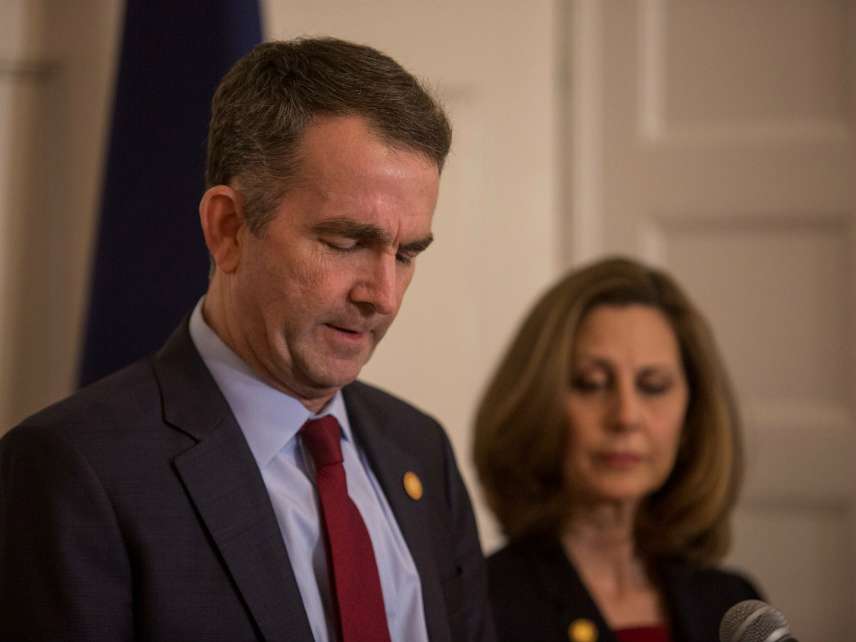 Embattled Virginia Gov. Ralph Northam has signed a huge incentive package aimed at online retailer Amazon that could see the company get millions in taxpayer-funded grants.
On Tuesday, the Richmond-Times Dispatch reported that Northam signed Senate Bill 1255, which creates a new "Major Headquarters Workforce Grant Fund" that will make available $550 million in grants to any "qualified e-commerce company" that invests at least $2 billion in an Arlington County, Virginia headquarters, and adds a minimum of 25,000 jobs paying an average of $150,000 a year.
Should this "qualified e-commerce company" add up to 37,580 jobs at its new Arlington headquarters, it could receive an additional $200 million in subsidies, bringing the grand total of taxpayer assistance authorized by the bill to $750 million.
The intended recipient of the bill is obviously Amazon, which announced plans to add 25,000 jobs at a new Arlington headquarters complex in November of last year.
That same month, Northam publicly released a "Memorandum of Understanding" between the Virginia state government and the e-commerce giant, promising the company an identical deal to what the governor signed today. That memorandum also included a promise of $295 million in state infrastructure investments in and around Amazon's new headquarters.
Offering massive subsidies to companies as a way of luring jobs and investment is hardly a practice unique to Virginia, although this specific proposal to award Amazon nearly a $1 billion in cash payments—as opposed to tax credits or abatements—is somewhat unusual.
The $3 billion in government incentives offered to Amazon to set up another 25,000-person headquarters in New York City, for instance, were mostly city and state tax breaks.
A bill ratifying Northam's Memorandum of Understanding with the online retailer flew through the state legislature. The state senate passed the bill in a lopsided 35-to-5 vote. The state's House of Delegates approved the bill with an equally uneven 83-to-16 vote.
No one was more pleased with the signing of the bill today than its sole recipient.
"This is an investment in the growth of Virginia. It will help diversify the economy and serve as a catalyst for drawing in other businesses and sought-after jobs," said Amazon spokesperson Jill Kerr to the Times-Dispatch.
The subsidy bill signed into law by Northam today, while sizable, is far less than some of the other subsidy deals offered by other states and municipalities in their desperate bid to lure Amazon to town.
One of the last acts of Chris Christie's tenure as governor of New Jersey was to sign a bill greenlighting $5 billion in incentives should Amazon set up shop in the Garden State. Maryland Gov. Larry Hogan floated a similarly sized $5 billion incentive package in January 2018.
The fact that Amazon passed on these more generous bids suggests that the subsidies signed by Northam today were not all that necessary.
"At the end of the day, it suggests that even New York City and Virginia and Nashville didn't really need to offer those subsidies, because Amazon is chasing other factors," Michael Farren, a research fellow at the Mercatus Center, a free market think tank housed at George Mason University, told Reason's Eric Boehm back in November 2018.
(Amazon was awarded $102 million in state and local incentives for adding a smaller, 5,000-person headquarters in Nashville, Tennessee.)
Certainly, one would think that a company capable of hiring 25,000 people at an average salary of $150,000 would be the last entity to need taxpayer support. The money Virginia taxpayers will be spending on Amazon either means fewer dollars for genuine public services, or higher taxes for the state's residents.
Northam is receiving a lot of heat right now for a photo in his medical school yearbook showing a person in blackface standing next to a person in a KKK costume. Northam has forcefully denied being in that picture, but has admitted to wearing blackface during a 1984 dance competition.
These revelations have spurred calls for Northam to resign, something the governor has so far resisted.
His signing over of as much as $750 million in taxpayer subsidies to one of the most successful private companies in the world is a reminder of how terrible politicians can be even when going about the normal business of policy-making.