Google Says E.U. Copyright Plans Will Kill Citizens' Online News Access
Big publishers want new sources of revenue. But trying to force license fees for linking will backfire.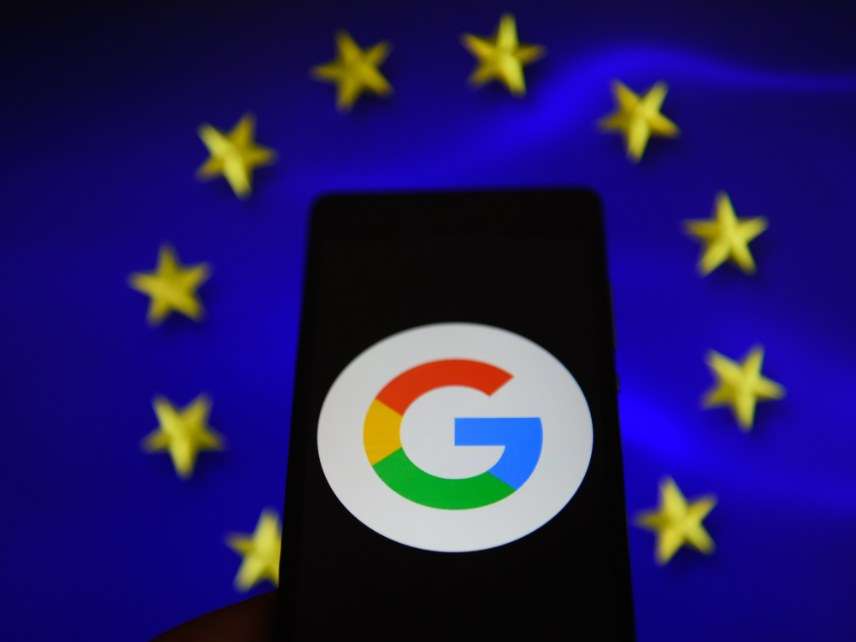 In a warning to European Union leaders of what might happen if a controversial "link tax" is implemented, Google has templated what European news consumers will see if when they search for a news story under the new rule: essentially a bunch of blank pages with publication names, but no preview content, headlines, or descriptive text.
This could potentially be what Google does with its search function in response to Article 11 of the European Copyright Directive, a massive regulatory proposal currently being hammered out that could have disastrous implications for online content sharing.
Article 11 would require those who link back to news coverage with "snippets" or excerpts of the content to get permission from the linked media sites, which would potentially require payment of a fee. This is being presented as a way of protecting journalists and publishers from wholesale copyright theft by republishers.
But stopping sneaky online thieves from mass republishing other peoples' content is not what Article 11 actually does. It's clearly and obviously an attempt by big publishers to get their hands on money raked in by major internet directories like Google. In December, Google's Vice President of News Richard Gringas noted that Article 11 is actually targeting parts of online news services that often don't generate revenue for them. In the end, this could put search engines like Google in the position of deciding who does and not get indexed. That's possibly the actual point. Gringas notes:
Effectively, companies like Google will be put in the position of picking winners and losers. Online services, some of which generate no revenue (for instance, Google News) would have to make choices about which publishers they'd do deals with. Presently, more than 80,000 news publishers around the world can show up in Google News, but Article 11 would sharply reduce that number. And this is not just about Google, it's unlikely any business will be able to license every single news publisher in the European Union, especially given the very broad definition being proposed.

This would mostly benefit larger players. One analysis has forecast that in Germany, small publishers would receive less than 1 percent of the revenue generated by a so-called ancillary copyright—whereas the largest publishing group alone would receive 64 percent. Smaller newsrooms and overall online news diversity will be impacted as a result.
Just as Europe's extremely expansive online privacy laws have made it very hard for small online tech platforms to compete with major players like Facebook and Google, Article 11 seems designed to make sure that the big publishers are able to take precedence and attention away from smaller publishers.
And there's no opt-out process for small publishers (which is how Google wants to solve the problem). They can't just put up some sort of Creative Commons-style disclaimer allowing Google or other aggregators to simply share. Google has to get a license for each publisher. It's very obvious why. Otherwise, all those media outlets who weren't trying to demand money out of Google would be able to continue to compete for eyeballs by simply giving affirmative consent, defeating the whole game.
When Spain introduced a link tax years ago, they actually required that every publisher charge some sort of payment. In response, Google shut down its news aggregation service in Spain. Google's absence reduced online readership of many Spanish news sites, as well as their advertising revenues. (Techdirt explores the studies here).
It's tempting to see free online news sharing as the villain that's costing the industry jobs (BuzzFeed has laid off several talented reporters today), but the data shows that this sort of online linking actually helps readers connect with stories. Article 11 is really about big publishers on a hunt for new revenue sources as they realize they're never going to regain dominance over the advertising marketplace.
Google might not actually "blank out" its news search function for European consumers, but it seems clear that if Article 11 moves forward, news consumers in Europe will lose access to a lot of information. And that suits certain people just fine, as long as they're the ones who come out on top.
But that's assuming it does actually go forward. Article 11 (and the equally controversial Article 13, which demands that all online platforms introduce incredibly expensive automated content filtering tools to stop copyright violations) was passed by the European Union in September. But as Cory Doctorow notes, the long process of getting everything fully approved by member states has gotten bogged down in delays and its future is unclear.