Charges Against Wikileaks Founder Julian Assange Accidentally Revealed by U.S. Prosecutors: Reason Roundup
Plus: the NRA versus New York Gov. Andrew Cuomo and CNN versus the White House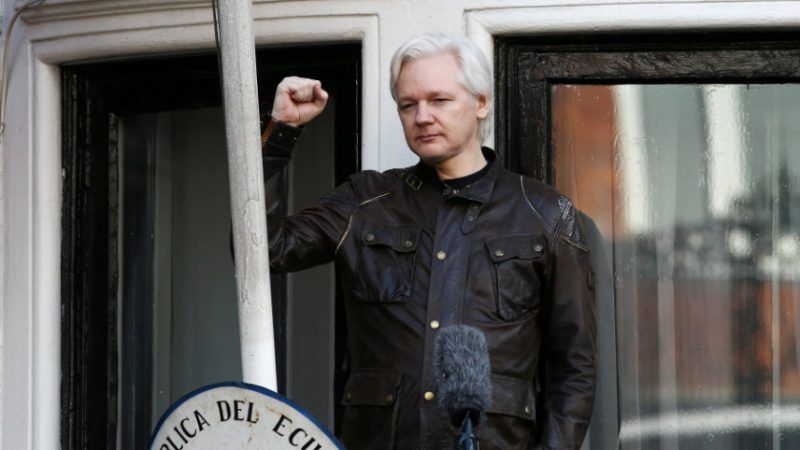 (Neil Hall/REUTERS/Newscom )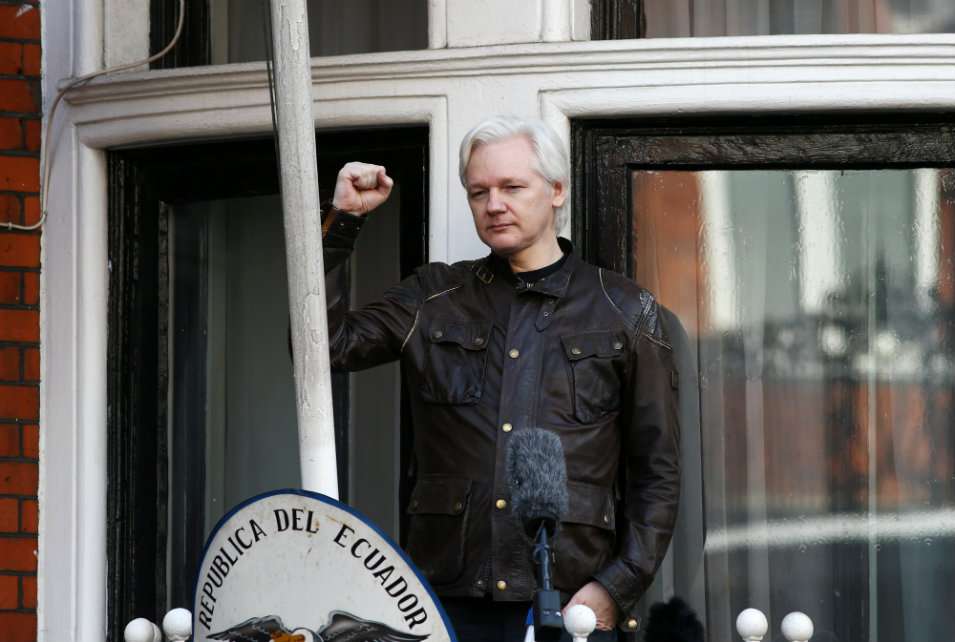 Whoops. "US Department of Justice 'accidentally reveals existence of sealed charges (or a draft for them) against WikiLeaks' publisher Julian Assange in apparent cut-and-paste error in an unrelated case also at the Eastern District of Virginia," tweeted the WikiLeaks account Thursday night, with a link to a federal court filing.
That case—against a person prosecutors were seeking to charge with coercion and enticement of a minor—saw the state attempting to seal the criminal complaint against defendant Seitu Sulayman Kokayi, its supporting documents, and the arrest warrant. "The United States has considered alternatives less drastic than sealing, including, for example, the possibility of redactions, and has determined that none would suffice to protect this investigation," states the motion, which was filed back in August but is only gaining attention now, thanks to the next sentence:
Another procedure short of sealing will not adequately protect the needs of law enforcement at this time because, due to the sophistication of the defendant and the publicity surrounding the case, no other procedure is likely to keep confidential the fact that Assange has been charged.
The odd juxtaposition was noticed yesterday by Seamus Hughes, deputy director of George Washington University's Program on Extremism.
You guys should read EDVA court filings more, cheaper than a Journal subscription pic.twitter.com/YULeeQphmd

— Seamus Hughes (@SeamusHughes) November 16, 2018
Earlier in the day Thursday, a Wall Street Journal piece said that federal authorities were "increasingly optimistic" that the Justice Department "will be able to get [Assange] into a U.S. courtroom." Ecuador is allegedly itching to get Assange out of its London embassy. "The exact charges Justice Department might pursue remain unclear," reported the Journal, "but they may involve the Espionage Act, which criminalizes the disclosure of national defense-related information."
Assange is mentioned a twice in the Kokayi motion. "The complaint, supporting affidavit, and arrest warrant, as well as this motion and the proposed order, would need to remain sealed until Assange is arrested in connection with the charges in the criminal complaint," it says on the second page.
Elsewhere, the document correctly lists Kokayi as the subject of the motion. His case has nothing to do with Assange, who has been living in the Ecuadorean embassy in London since 2012. The reveal appears to have been a mistake, with prosecutors taking language used (or at least prepared) in Assange's case and forgetting to swap out his name for Kokayi's.
"The court filing was made in error," said Joshua Stueve of the U.S. Attorney's Office for the Eastern District of Virginia.
Serious issues for Europeans in USA v WikiLeaks? Yes. US claims jurisdiction over a non-US publisher in Europe publishing from Europe. At the same time US says no 1st Amendment protections extend to Europe. US claims universal jurisdiction for liabilities—but not for rights.

— WikiLeaks (@wikileaks) November 16, 2018
The New York Times speculates that the Assange arrest language may have been lifted from a draft motion and no actual charges against Assange brought to a grand jury yet. But Assange's laywer and Wikileaks suggest otherwise.
"The news that criminal charges have apparently been filed against Mr. Assange is even more troubling than the haphazard manner in which that information has been revealed," Assange lawyer Barry Pollack told the Times. "The government bringing criminal charges against someone for publishing truthful information is a dangerous path for a democracy to take."
On Twitter, the Wikileaks account pointed to a memo it had put out in 2012. "Confidential emails obtained from the US private intelligence firm Stratfor show that the United States Government has had a secret indictment against WikiLeaks founder Julian Assange for more than 12 months," that memo claimed.
FREE MINDS
First Amendment lawsuit updates. A federal judge just ruled to let a lawsuit go forward against the publisher of the neo-Nazi website Daily Stormer.
The NRA's 1st Amendment lawsuit against New York Gov. Andrew Cuomo is also allowed to move forward.
And today, a judge is expected to rule on whether the Trump administration acted illegally in revoking the White House press credentials of CNN reporter Jim Acosta.
FREE MARKET
S
Occupational licensing costs 2 million jobs annually, says study. Research from the Institute for Justice attempts to quantify the economic costs of occupational licensing. "Not only do state occupational licensing laws force people to spend a lot of time and money earning a license instead of earning a living, they also impose real economic costs," the institute reports.
In researching licensing laws in 36 states, it found that "states vary widely in the share of workers licensed, from 14 percent in Georgia to 27 percent in Nevada. At the national level, nearly 20 percent of workers are now licensed, up from just 5 percent in the early 1950s." These barriers come at the price of about 2 million jobs annually, according to the study (with state job losses ranging from near 7,000 in Rhode Island to nearly 196,000 in California).
In addition, a "conservative measure of lost economic value" shows that "licensing may cost the national economy $6 billion." A broader and "likely more accurate measure suggests the true cost may reach $184 billion or more."
QUICK HITS
• Kamala Harris bought 1,100 ads asking people to "protect Mueller" via "emergency legislation".
• Construction workers have the highest suicide rates.
• Ohio Republicans are once again trying to make a ban on abortion after six weeks happen.
• International politics professor Daniel Drezner on why he's "starting to worry about the dollar."
• Facebook and Instagram are getting the Backpage treatment. ""For years now, Facebook and Instagram platforms has permitted sex traffickers unfiltered access to the most vulnerable members of society," say lawyers for a Jane Doe suing the company.
• Election officials in Florida have ordered a manual recount of ballots in the U.S. Senate race between Democrat Bill Nelson and Republican Rick Scott.
• Students and parents at a Colorado charter school are suing after some students were diciplined for liking Facebook posts critical of the school's CEO.