Ex-Nevada Brothel Owner Dennis Hof Wins Assembly Seat Despite Being Dead
He's not the first dead person to win an election.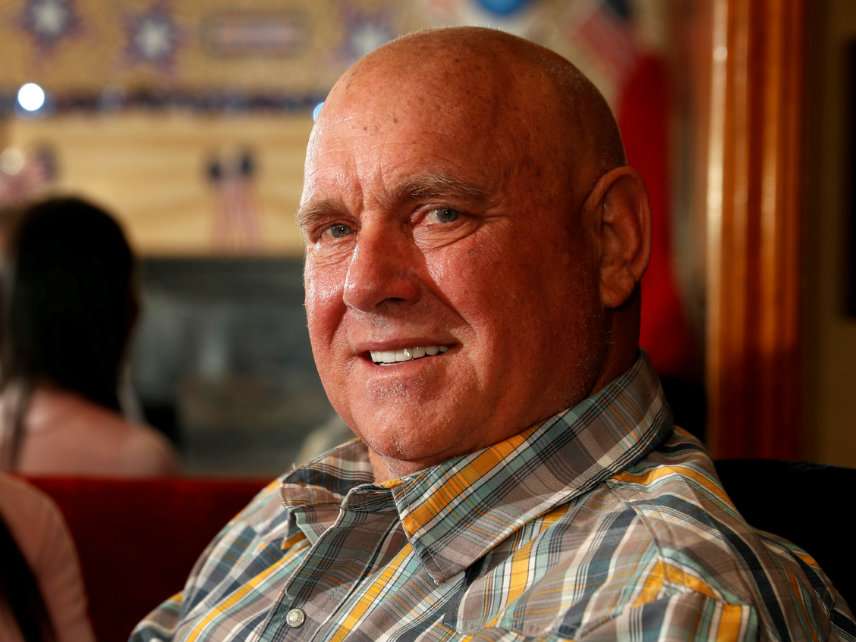 Voters in Nevada's Assembly District 36 must have really not liked the Democrat. That's one way to explain why Dennis Hof, a former brothel owner and reality TV star who died last month, still won in a landslide yesterday over Democrat Lesia Romanov.
Hof ran as a pro-Donald Trump Republican in a district that heavily supported the president in the 2016 election. The former brothel owner, who described himself as the "Trump of Pahrump" (a town in Nevada), was expected to win in the general election after upsetting incumbent Assemblyman James Oscarson. Then, hours after celebrating his 72nd birthday with a wide array of folks that included porn star Ron Jeremy and former Maricopa County Sheriff Joe Arpaio, Hof was found dead at his Nye County Love Ranch brothel on October 17.
By the time he died, it was too late to put another Republican on the general election ballot. As a result, Nevada Republicans encouraged people to vote for him anyway. And as tragic as his death was, Hof campaign manager Chuck Muth previously indicated his boss's passing might actually help his electoral chances.
"There are a lot of Republicans who were uncomfortable voting for Dennis because of the nature of his business and they now know that he is not the one who will be serving," Muth told Reuters last month. "They will feel much more comfortable casting the ballot for him knowing there will be another Republican to replace him."
So who will end up representing Nevada's Assembly District 36? Right now that's not exactly clear, though it will most likely be a Republican. The Los Angeles Times reports that commissioners from the three counties included in the district will decide on a GOP replacement. Each commissioner will choose one candidate before meeting to decide on a final appointee. Nye County encompasses the largest swath of the district, so its commissioner will have the biggest say, according to the Las Vegas Review-Journal.
While this sort of scenario is exceedingly rare, it's actually not the first time a dead man has won an election. In 2014, The Washington Post compiled a list of five people who were elected to Congress despite the fact that they were dead. In fact, there appear to be more examples of dead people winning elections than there are deceased folks losing elections where they were still on the ballot.
Who knows, maybe dying gives you an edge.
Bonus link: ReasonTV interviewed Hof back in 2014 on prostitution, libertarianism, and more. You can watch the exchange below: