2018 Midterm Election Results Include a Lot for Libertarians to Like: Reason Roundup
Amash and Massie will return. Michigan will have legal weed. No Nevada brothels will be banned. And more...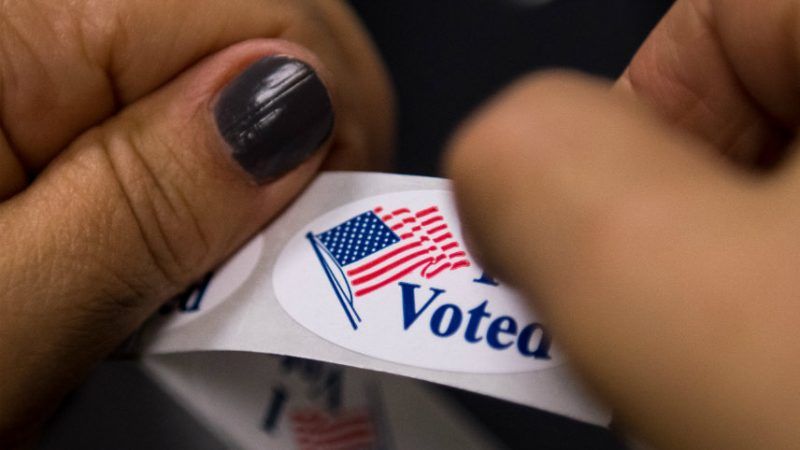 (photo KEVIN DIETSCH/UPI/Newscom )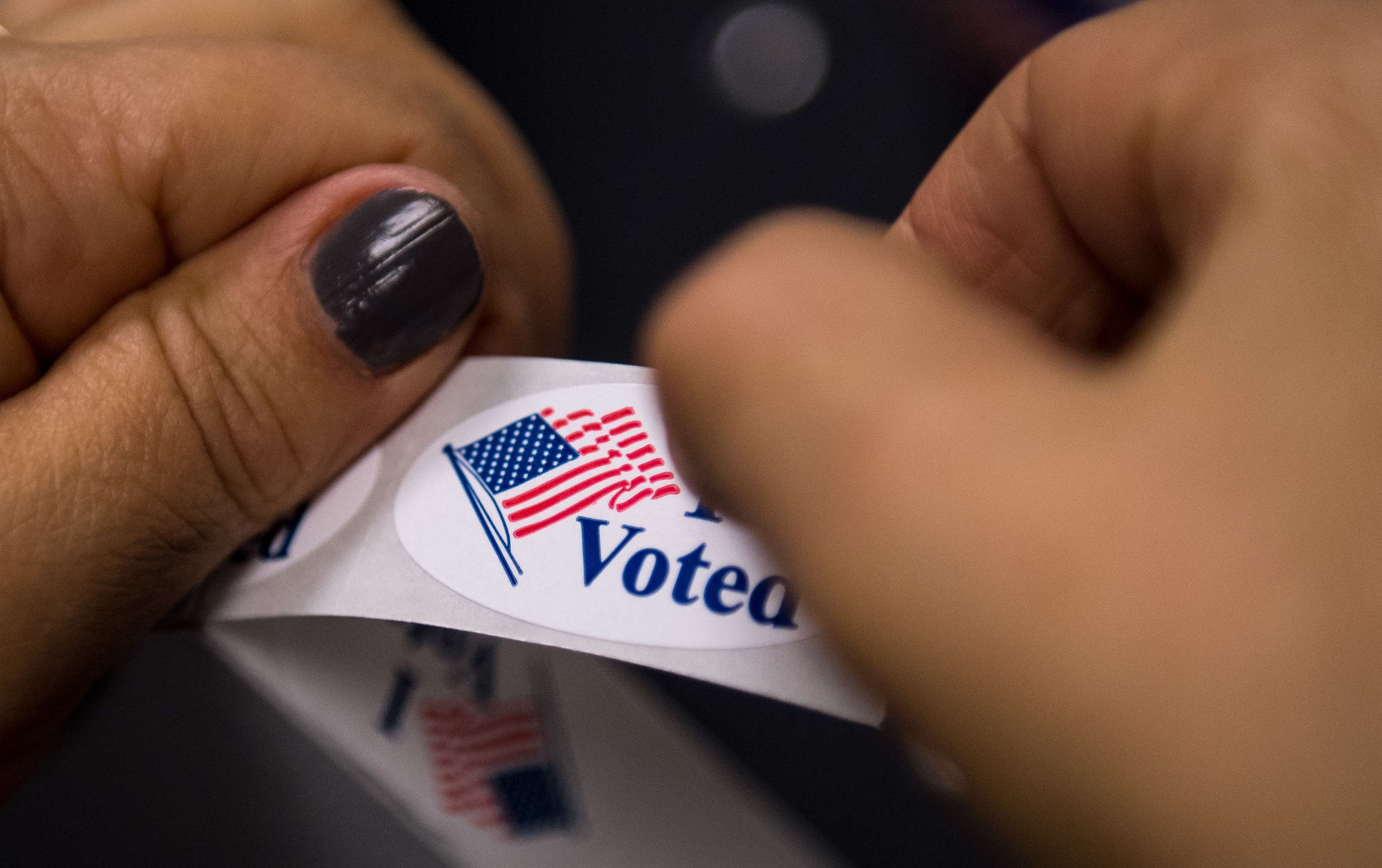 There's a little bit for everybody—even libertarians—to love in last night's election results. And a little for everyone to hate, too, of course. For now, let's focus mostly on the good, which includes a once-again divided government, the ousting of some truly terrible legislators, the passage of pro-marijuana and criminal justice reform ballot measures, the failure of an attempt to take down Nevada brothels, and the re-election of the few friends of liberty we have in Washington.
U.S. House and Senate Races
The big election night news is that Democrats regained control of the U.S. House of Representatives while Republicans grew their ranks and held on to their majority in the Senate.
"As election results go, that's about the best possible outcome," suggests Eric Boehm. "Not only that, but it's an outcome that allows, for one night at least, the faintest hope that the crazy train of American politics over the past two years may be slowing to a more sensible pace."
On the federal front, the 2018 midterm elections also brought us…
• the re-election of Kentucky Rep. Thomas Massie and Michigan Rep. Justin Amash, both part of the Republican Party but the closest thing we've got to libertarian leaders in Congress
• the ousting of some of the worst Congressional voices pushing for sex-trafficking panic, Sens. Claire McCaskill (D-Mo.) and Heidi Heitkamp (D-N.D.). Both Democrats in deeply conservative districts, there are a number of reasons why they lost—and almost certainly none having to do with their support for bad anti-prostitution and anti-speech legislation like FOSTA. Still, it's good to see them go. Even if their Republican replacements are no better—McCaskill defeater Josh Hawley is definitely awful in all sorts of ways; I'm less familiar with Heitkamp replacement Kevin Cramer—they'll join without the fancy committee appointments and clout that both McCaskill and Heitkamp had and thus be capable of less damage.
• the "Bigfoot Erotica guy," a.k.a. Republican Denver Riggleman, defeating actress Olivia Wilde's mom in Virginia to replace outgoing Republican Rep. Tom Garrett.
• Ted Cruz keeping his seat—but barely.
Beating the drum again—but Cruz's race was WAY tighter than it ought to have been. And the map tells at least one obvious story.

Republicans need to try in cities, or, as I've been saying for years, Texas WILL be purple one day. pic.twitter.com/mYh7Zi28GI

— Shoshana Weissmann, Regulatory Reform Muse (@senatorshoshana) November 7, 2018
Libertarian Candidates
Libertarian Party politics saw some wins last night, even if most individual candidates were defeated.
• In New York, LP gubernatorial candidate Larry Sharpe got more than 50,000 votes, securing Libertarians automatic ballot access in the state for the first time.
Good news for @LarrySharpe & the Libertarian Party: He has crossed the 50,000 threshold with just over half of precincts reporting, given the party automatic ballot access in the state for the first time HISTORY. Bad news: He's at 1.57%, in 4th place. https://t.co/kguMCjxMb7

— Matt Welch (@MattWelch) November 7, 2018
• In D.C., the LP roster was able to get enough votes to keep ballot access next year.
• In Wyoming, LP candidate Bethany Baldes came within 53 votes of beating out the incumbent Republican for a seat in the state House.
Marijuana Legalization
Alas, not enough North Dakotans voted in favor of recreational marijuana legalization in their state.
However, the majority of this year's ballot initiatives liberalizing marijauna laws passed. Missouri voters approved Amendment 2 and Utah voters approved Proposition 2, thereby becoming the 32nd and 33rd U.S. states to approve of medical marijuana.
And Michigan yesterday became the first Midwestern state (and the 10th state in total) to legalize recreational cannabis use. "The state's Marijuana Legalization Initiative, a.k.a. Proposal 1, was favored by 57 percent of voters with two-thirds of precincts reporting," noted Jacob Sullum. It "allows adults 21 or older to possess 2.5 ounces or less of marijuana in public, transfer that amount to other adults 'without remuneration,' possess up to 10 ounces at home, and grow up to 12 plants for personal consumption." It also "charges the Michigan Department of Licensing and Regulatory Affairs with creating a licensing system for commercial production and distribution, subject to a 10 percent tax on retail sales."
Criminal Justice Reform
State ballot measures promising criminal justice reform and respect for civil liberties got mixed results at the polls this year. Ohioans failed to pass a good sentencing reform measure (Issue 1). And voters in Arkansas and North Carolina approved measures to require an ID in order to vote.
But Lousiana approved a measure to require unanimous jury verdicts in order to convict someone of a felony. (Oregon is now the only state that requires this.)
And, in Florida, "voters approved a ballot measure Tuesday night that will restore voting rights to an estimated 1.4 million people with felony records in the critical swing state," notes C.J. Ciaramella.
Floridians also voted in Amendment 11, which allows for retroactive reduction of criminal sentences should laws change in the future.
Utah voted in a pro-criminal justice reform district attorney, along with medical marijuana legalization.
Weldon here got sentenced to a 55-year mandatory minimum sentence for a nonviolent drug crime. He was freed in 2016 and now works on criminal justice reform. https://t.co/VJPCGoCUTj

— CJ Ciaramella (@cjciaramella) November 7, 2018
In Alabama:
Over 85% of voters in Alabama's Cullman and Morgan Counties approved referendums that ban their sheriffs from pocketing funds designated for feeding prisoners in the county jail. This issue blew up when it was revealed that a sheriff used the money to buy himself a beach house.

— Sister Helen Prejean (@helenprejean) November 7, 2018
And in Nashville:
Nashville has approved Amendment 1, creating a community oversight board for the Metro police department, by a wide margin. Quite a victory for a movement led by black Nashvillians and black women in particular. https://t.co/8dZEVB2pFL

— Steven Hale (@iamstevenhale) November 7, 2018
Miscellaneous Measures and Candidates
Voters in Lyon County, Nevada—one of just a few places nationwide where prostitution in brothels is legal—overwhemingly said no to a measure to ban brothels from the county.
With only 557 absentee ballots outstanding, Lyon County votes to ban legal brothels: 3,916. Votes to keep brothels legal: 16,206. F-ing a!!!!

— SaveOurBrothels (@SaveOurBrothels) November 7, 2018
Famous multi-brothel owner and Republican candidate Dennis Hof, who died in October, was still elected to a seat in Nevada's state legislature. This isn't as crazy as it sounds, though—a vote for Hof counted as a vote toward Republicans more broadly. Since Hof won, county commissioners will be tasked with choosing another local Republican to fill the seat.
A major Democratic Socialists of America (DSA) or leftist wave failing to materialize. "Progressive groups argued that candidates should unapologetically run on economic populist policies like Medicare for All and debt-free college in red and purple districts across the country," notes Buzzfeed. "On Tuesday night — in Midwestern states like Nebraska, Wisconsin, Pennsylvania, and Kansas — that strategy didn't work."
Bunch of high-profile progressive Dems going down in tough races: Eastman (#NE02), Bryce (#WI01), Balter (#NY24), Watson (#IN09). Not to mention Jealous (#MDGov), Garcia (#AZGov), etc.

Good House election for Dems, not a good election for the high-profile lefty groups.

— Dave Weigel (@daveweigel) November 7, 2018
But yesterday did see the landslide election of 29-year-old Alexandria Ocasio-Cortez to a House seat representing New York's 14th Congressional District—she'll be the youngest woman ever to serve in Congress—and the election of DSA-endorsed Michigan candidate Rashida Tlaib.
And while we're on firsts:
• Tlaib and Minnesota's Ilhan Omar, of the Democratic-Farmer-Labor Party, will become the first Muslim women to serve in Congress. They replace Michigan Democratic Rep. John Conyers and Minnesota Rep. Keith Ellison, respectively. Omar came here as a refugee from Somalia* in the 1990s.
• Rep. Jared Polis (D-Colorado) was elected as governor of Colorado, becoming the first openly gay person to be elected governor of a state (and a right-leaning one like Colorado at that!) in American history.
• Democrat Sharice Davids defeated Republican Rep. Kevin Yoder in Kansas, becoming one of the first Native American woman in Congress along with newly elected New Mexico Democrat Debra Haaland.
• Republican Rep. Marsha Blackburn won a Senate seat, making her the first woman senator from Tennessee.
CORRECTION: Representative-elect Ilhan Omar, not Rashida Tlaib, will be the first Somali-American member of Congress. Tlaib was born in Detroit to Palestinian immigrant parents.