New Restrictions on Vaping, Trans Fats, Food Labeling in FDA Commissioner's Agenda: Reason Roundup
On the upside, agency promises to review over-the-counter drug rules, approve more new drugs, and liberate French dressing.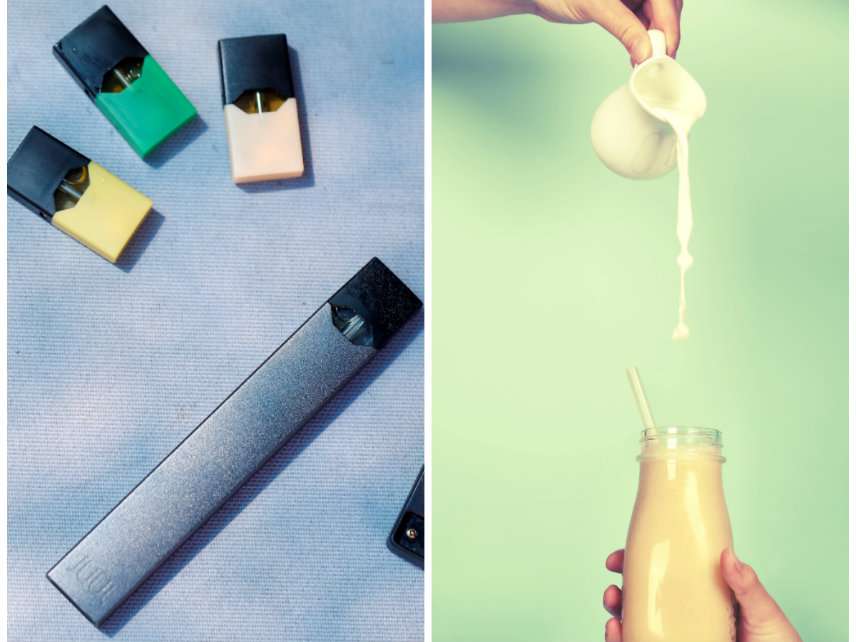 The FDA's new regulatory agenda. The U.S. Food and Drug Administration (FDA) is proposing a slew of changes to food, medicine, and e-cigarette regulation, with very few bright spots. Top items on Commissioner Scott Gottlieb's upcoming food and tobacco agenda include declaring war on e-cigarettes, banning all partially hydrogenated oils (a.k.a. trans fats) in food, further micromanaging the use of the word "healthy," and reconsidering some food standards laws.
The only potential upside there from a deregulatory perspective is the last point, which would could cut down on what Gottlieb calls "old-fashioned" and burdensome requirements. These "standards of identity" rules have driven recent controversies over vegan mayo and almond milk. Gottlieb has previously supported increasing enforcement of such laws when it comes to milk, aiming to exclude nut, seed, and other plant-based products—and even animal milk that doesn't come from a cow—from using the milk label. But his agenda shows interest in revoking outdated standards of identity for French dressing and frozen cherry pie.
When it comes to trans fats and food labels, Gottlieb writes,
we're following up our earlier actions on partially hydrogenated oils in foods with a rulemaking that proposes to remove the remaining uses to further reduce deaths from coronary heart disease. We're also working on updating the definition of the claim "healthy" on food labels so it reflects current nutrition guidelines and to encourage its use.
On smoking products, including e-cigarettes, Gottlieb promises "aggressive steps to address the epidemic of e-cigarette use among youth, through our Youth Tobacco Prevention Plan. This comprehensive plan aims to stop youth use of, and access to, tobacco products—especially e-cigarettes. Significant regulatory and research efforts related to access, marketing are already underway and new steps are forthcoming." He also mentions "standards for characterizing flavors in tobacco products; requirements for tobacco product manufacturing practices; implementing product standards for testing battery safety and battery management systems of e-cigarettes; creating registration and product listings for tobacco products; and, administrative detention of tobacco products."
Last week, the FDA sent out a warning to HelloCig about Viagra and Cialisis containing vape products.
Meanwhile, local news programs and "wellness" gurus are touting the benefits of vaping your vitamins.
Gottlieb does offer some potentially positive changes on the health device and drug approval front, including:
"exploring the amending and/or repealing of existing medical device software regulations to create brighter lines between products we actively regulate, and those that don't fall under our purview," and
"rulemaking to broaden the kinds of drugs that can be made available without a prescription."
So far in 2018, "the FDA has approved 45 novel drugs and biologics, close to our total of 46 in 2017, which was the most approved in more than 20 years," the FDA commissioner notes.
We have record-setting numbers for the total amount of generic approvals in a fiscal year, with 971 total approval actions, including 781 final approvals, and 190 tentative approvals. These totals include 95-first time generic approvals.
This week, an FDA panel preliminarily approved "a new kind of opioid for pain," sufentanil, that "is five to 10 times more potent than fentanyl….The panel vote is not the final step of approval, but the FDA regularly follows the committee's lead." The nod of approval to the sublingual synthetic opioid is already causing controversy but it may offer rapid pain relief to patients who have trouble swallowing.
FREE MARKETS
A Walmart food-safety exec will head the FDA's new Office of Food Policy and Response. In other shakeups at the FDA, Stephen Ostroff, deputy commissioner for foods and veterinary medicine, will retire in January 2019. His role—"a significant food safety and nutrition post at the agency," according to Politico—will be filled by Walmart VP of food safety Frank Yiannas, who's been pushing blockchain tech's role in preventing food contamination.
"Yiannas' role will be different than Ostroff's, with a new title that reflects an ongoing effort to reorganize FDA so the heads of centers, such as the Center for Food Safety and Applied Nutrition, report directly to the commissioner instead of to deputy commissioners," Politico reports. He'll head a newly created Office of Food Policy and Response, pending the conclusion of an ongoing review process.
FREE MINDS
FDA asks for comment on global cannabis restrictions. Last week, the FDA put out a public announcement seeking comment on marijuana reclassification as it relates to international drug treaties. "So far, the agency says it has received more than 2,100 comments—a small fraction of which have been published," reports Marijuana Moment.
The comments range from personal anecdotes about how cannabis has helped patients to arguments about the economic benefits of legalization. Others put the issue more bluntly:

"Just legalize it already." —Anonymous

…The comments will be considered as the United States responds to the United Nations World Health Organization. That response will help inform the international group on "whether to recommend that certain international restrictions be placed on these drugs" or whether that should be reclassified under international drug treaties.
QUICK HITS
An annual Survey of American Fears finds "corruption of government officials" is a top fear for the fourth year running.
President Donald Trump now says that he believes that Saudi journalist Jamal Khashoggi is dead and that the consequences will be "very severe" if the Saudi government had authorized it.
Just met with @realDonaldTrump and @SecPompeo and we have decided, I will not be participating in the Future Investment Initiative summit in Saudi Arabia.

— Steven Mnuchin (@stevenmnuchin1) October 18, 2018