Trump's Tariffs Will Cost More Than Obamacare's Taxes
If Trump presses ahead with plans to tax all Chinese imports, the added costs would cancel out the economic benefits of last year's corporate tax cut.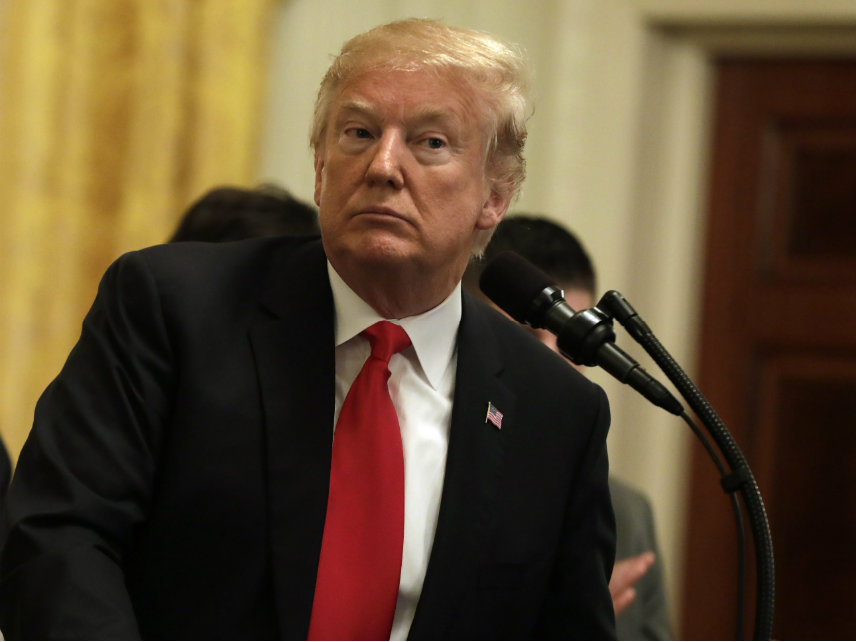 We're not there yet, but President Donald Trump's escalating trade war with China is threatening to completely cancel out the economic benefits of last year's tax cuts—cuts that the president and his supporters have often credited for the growing economy.
Put another way, the potential costs of Trump's trade war could be even more difficult for the president to swallow. The import taxes imposed by the Trump administration will end up being a larger burden for the economy next year than all the taxes associated with the Affordable Care Act—a law that Trump has often described as "a disaster" for Americans.
While Trump has described tariffs as being "the greatest" and promised that his bellicose trade policies will ultimately benefit American workers and the economy, these two new assessments of the costs of those policies should raise questions among Republicans, who largely favored the tax cuts and opposed the new taxes created by Obamacare.
And both assessments come at a pivotal moment in the trade war. On Monday, Trump announced a new round of tariffs targeting $200 billion in Chinese imports, on top of about $50 billion in goods already subject to tariffs. It is a clear escalation of the trade war, and Trump has already signaled a willingness to go further. "If China takes additional retaliatory action, which is almost certain, we will immediately pursue phase three," the White House said in a statement, "which is tariffs on approximately $267 billion of additional imports."
China has already announced plans to retaliate.
We're probably at least several months away from all that coming to pass. The new tariffs announced this week will take effect on September 24, ramping up from 10 percent to 25 percent after the holiday season passes. (The timing seems like a deliberate attempt to shield American shoppers from some of the consequences of the trade war during retailers' most wonderful time of the year.) Any additional trade barriers are likely to remain only threats until after that.
For now, the economy continues to grow—at greater than 4 percent in the last quarter, as Trump likes to remind people. Last year's tax cuts, which reduced the corporate income tax rate from 35 percent to 21 percent, are widely credited with adding significant fuel to the economy's fire. Estimates of the value of those tax cuts vary, but the Joint Committee on Taxation pegs the corporate tax cuts as saving American businesses $125 billion annually.
Those gains could be at risk, if the trade war continues on the course Trump has threatened. Here's how Max Gulker, an economist with the American Institute for Economic Research, breaks it down: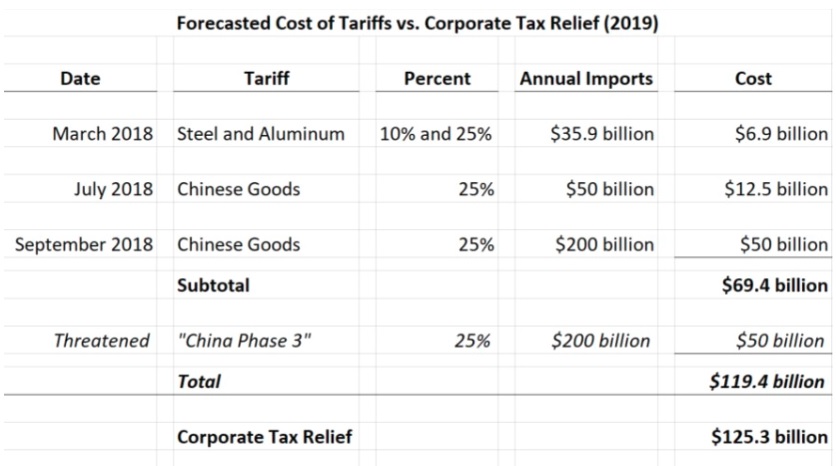 "Tariffs already on the books that will likely hit corporations first have cut into this relief by over half," Gulker writes. "Add on the extra phase of tariffs threatened this week, and corporations can essentially wave goodbye to their 14 percentage-point tax cut."
Of course, these numbers look only at the aggregate. Individual businesses might see greater savings from the tax cuts than what will be lost in higher costs from tariffs, or vice versa. But this analysis makes clear what everyone outside the White House seems to know: Tariffs are taxes too, and higher taxes create a drag on economic growth.
That's part of the reason why economists have been warning the White House for weeks against a further escalation of the trade war. The Federal Reserve says more tariffs will create a "consequential downside risk" for the American economy, and none of the 100 economists polled by Reuters last month said the president's trade policies will benefit the economy in the long-term.
The comparison to Obamacare's taxes is also an unflattering one for Trump.
A new report from the National Taxpayers Union Foundation, a fiscally conservative nonprofit, highlights this comparison. During the effort to repeal and replace Obamacare in 2017, the Congressional Budget Office projected that Obamacare's myriad taxes—not including the individual and employer mandates—would cost $67.2 billion in 2019 and $609 billion over 10 years.
Trump's tariffs targeting steel, aluminum, washing machines, and solar panels will soak the economy for more than $9 billion in new taxes over a full year, according to NTUF's analysis. Tariffs against Chinese-made goods had already totaled about $12.5 billion annually, and the new round of Chinese tariffs announced this week will cost Americans another $50 billion over a full year.
Do the math. Trump's tariffs are more costly than Obamacare's taxes.
What remains to be seen is whether Trump's signature policy and its associated tax increases will generate the same sort of political backlash as President Obama's signature policy and its associated tax increases. Writing in Bloomberg View, Tyler Cowen makes a compelling argument that Trump's trade taxes are sufficiently hidden inside the prices of so many goods that voters won't make the connection between higher prices and the man in the White House.
"It can be said that the new Trump policy makes the high prices salient, but the underlying tariffs not very salient at all," writes Cowen, a professor of economics at George Mason University. "This is the worst possible scenario. The higher prices will reduce consumption and output, yet the invisibility of the tariffs will limit voter pushback."
Many of Obamacare's taxes were also less direct than property taxes or gasoline taxes—examples of taxes with high degrees of political salience, in Cowen's view—and Republicans had little difficulty finding reasons to object to them. If conservative voters don't rebel against Trump's tariffs, then, it probably has more to do with who is taxing them than with how much they are being asked to pay.
The great irony here is Trump continues to flog the benefits of the tax cuts—on Wednesday morning he tweeted again about the economy's growth spurt under his watch—as proof that his economic policy is working, while he's simultaneously escalating a trade war that could very well eliminate those gains.