Kavanaugh Friends Have 'No Memory' of Party Where Alleged Sex Assault Took Place: Reason Roundup
Plus: Trump orders FBI text messages declassified and Tyler Cowen on why "the trade war may be worse" than expected.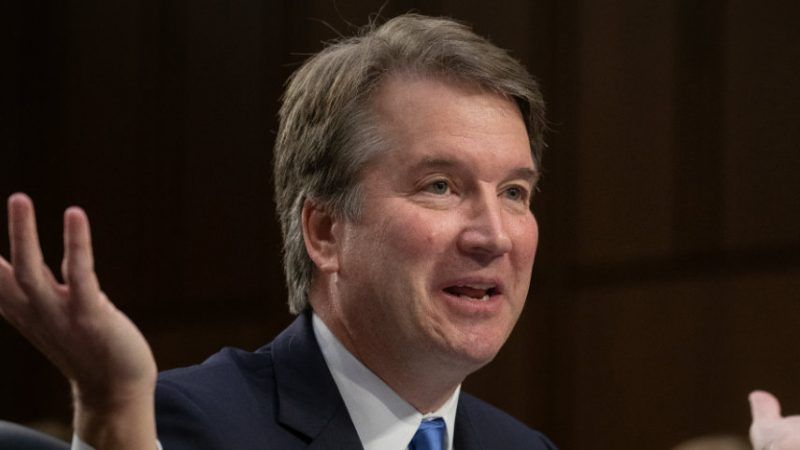 (Jeff Malet Photography/Newscom)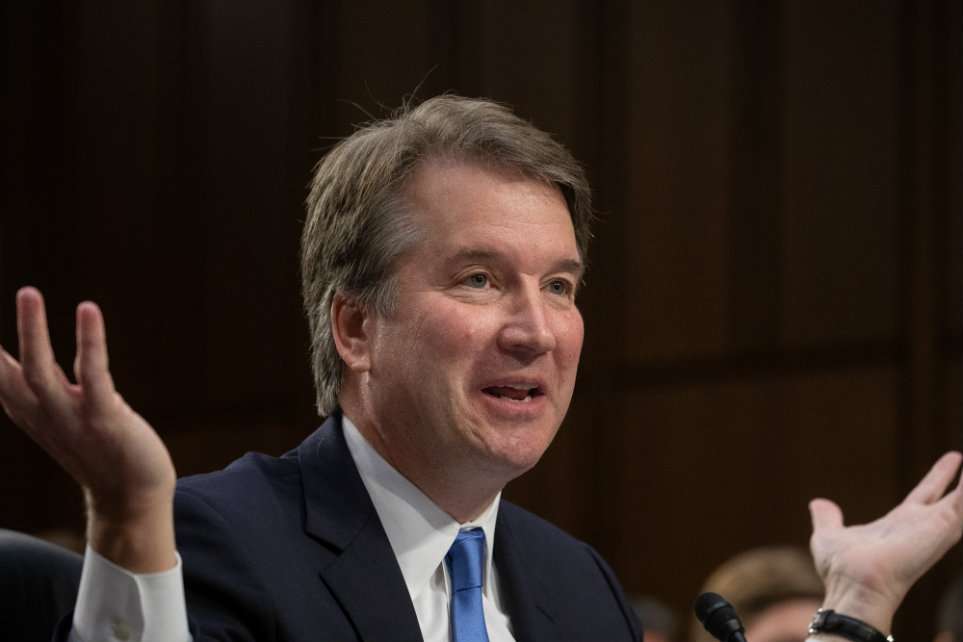 "If we don't hear from both sides on Monday, let's vote." Another person at the decades-old party where SCOTUS nominee Brett Kavanaugh allegedly attacked Christine Blasey Ford has spoken out about the night in question. Patrick J. Smyth, a former classmate of Kavanaugh's at Georgetown Prep, sent a letter to Sens. Chuck Grassley (R-Iowa) and Dianne Feinstein (D-Calif.) after being (non-publicly) identified by Ford as one of four teen boys at the party.
"I am issuing this statement today to make it clear to all involved that I have no knowledge of the party in question; nor do I have any knowledge of the allegations of improper conduct she has leveled against Brett Kavanaugh," wrote Smyth, according to CNN.
Like so many of the statements in favor of either Ford or Kavanaugh, this doesn't actually tell us very much. In the story Ford told The Washington Post, it wasn't so much a party as a random Bethesda, Maryland, summer-night gathering of four Georgetown Prep boys and several girls from nearby girls private school, Holton-Arms. Kavanaugh and then-classmate Mark Judge allegedly attacked Ford in an upstairs bedroom after she had left the downstairs group to go to the bathroom. Afterward, she fled out the front door without saying anything to other guests. There's no particular reason Smyth should have remembered the night, nor known what may or may not have happened in an upstairs bedroom.
But it seems everyone who knew them at the time has had something to say (even when it can't conceivably get us closer to the truth). Actress Julia Louise Dreyfuss—Holton-Arms class of 1979—is even weighing in:
I was class of '79 & signed this letter. https://t.co/5ssttu9uzT

— Julia Louis-Dreyfus (@OfficialJLD) September 17, 2018
Both Kavanaugh and Ford have been invited to testify before the Senate Judiciary Committee this Monday. But Ford's lawyer Lisa Banks argued yesterday that the FBI must investigate first, and that Ford was not ready to testify on such short notice. "She will talk with the committee," Banks said on last night's Anderson Cooper 360.
She is not prepared to talk with them at a hearing on Monday. This just came out 48 hours ago.
Hillary Clinton and Sen. Kamala Harris (D-Calif.) have also been calling for an FBI investigation (to no one's surprise).
Republicans have said the hearings will go on Monday with or without Ford. "If she'd prefer to do this in a closed setting, that's her choice," said Sen. John Cornyn (R-Texas). "But we've offered her basically either an open or closed setting"—so long as it happens Monday.
"After learning of the allegation, Chairman @ChuckGrassley took immediate action to ensure both Dr. Ford and Judge Kavanaugh have the opportunity to be heard, in public or private," tweeted Sen. Bob Corker (R-Tenn.).
Republicans extended a hand in good faith. If we don't hear from both sides on Monday, let's vote.
Without Ford, the hearing will feature only Kavanaugh and two others. This makes it "impossible to take" seriously, said Feinstein in a statement. She noted that 22 witnesses were called to testify at the 1991 hearing into Anita Hill's sexual harassment allegations against Clarence Thomas.
What about other witness like Kavanaugh's friend Mark Judge? What about individuals who were previously told about this incident?
Judge also issued a (strangely worded) statement Tuesday, saying he had "no memory of this alleged incident" nor does he remember the party Ford described, though he was friends with Kavanaugh. "The only reason I am involved is because [Ford] remembers me as the other person in the room during the alleged assault."
FREE MINDS
On Tuesday evening, the White House announced that President Trump had ordered the Office of the Department of National Intelligence and the Department of Justice (DOJ) to declassify 24 pages of the FISA court application the FBI submitted for former Trump adviser Carter Page. The order also told the agencies to declassify "all FBI reports of interviews with Bruce G. Ohr prepared in connection with the Russia investigation" and "all FBI reports of interviews prepared in connection with all Carter Page FISA applications."
Trump ordered the agencies to make public "all text messages relating to the Russia investigation, without redaction, of James Comey, Andrew McCabe, Peter Strzok, Lisa Page, and Bruce Ohr."
Trump told The Hill that exposing the FBI's Russia "hoax" might be one of the "crowning achievements" of his presidency.
FREE MARKETS
U.S. Commerce Secretary Wilbur Ross said our trade war with China—including a 10 percent tariff on $200 billion in Chinese imports and, on China's side, newly announced tariffs on $60 billion in American-made goods—won't even register with consumers. The tariffs are "spread across thousands and thousands of products," said Ross, so "nobody is going to actually notice it at the end of the day."
So far, the stock market hasn't noticed: Despite the tariff news, "the stock market rallied again Tuesday," notes The Los Angeles Times.
But the nobody-caring factor "is also a reason that the trade war may be worse, not better, than expected" suggests Tyler Cowen at Bloomberg:
In other words, tariffs distort consumer decisions more than sales taxes do. It may well be true that consumers don't notice tariffs as such. But they respond by buying less, lowering their well-being and also possibly lowering GDP and employment.
QUICK HITS
Here's an updated 2-pager on the impact #SESTA/#FOSTA has had on #sexworkers—increases in homelessness, street-based work, vulnerability to violence—feel free to share/send to reps/use however you find helpful #LetUsSurvive #SurvivorsAgainstSESTA https://t.co/iExI6QDYO3

— Kate (@KateDAdamo) September 17, 2018
The latest liberal snowflake trying to get controversial people prohibited from campus is [checks notes] the President's lawyer Jay Sekulowhttps://t.co/OjsK4Ql2re

— SupersedingHat (@Popehat) September 18, 2018