Trump Says His Crummy Google Results May Be a Crime: Reason Roundup
Plus: "Sheriff Joe" Arpaio faces voters again, states go after sexual-assault NDAs, and Louisiana florists fight licensing exams.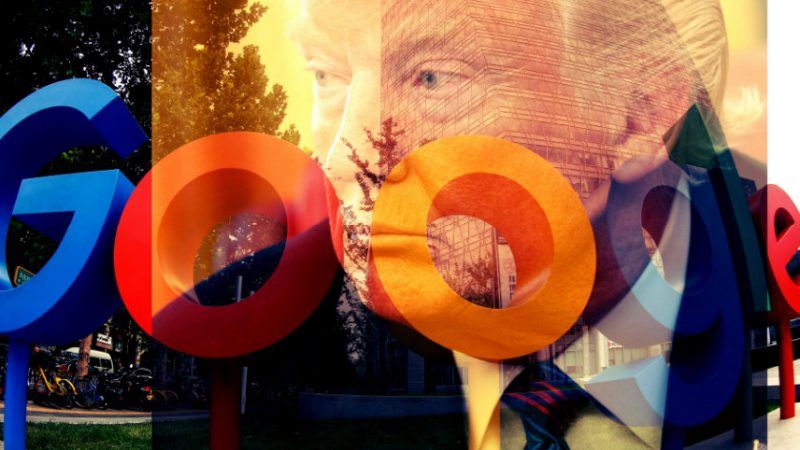 (Google photo: Thomas Peter/REUTERS/Newscom; Trump photo: PAPPIS JEAN PIERRE POLARIS/SIPA/Newscom)
President says poor search results might be illegal. On Tuesday morning, President Donald Trump was apparently up early and searching for himself on Google—and he did not like what he saw. Too much "Fake News Media" and CNN, not enough pro-Trump news from "Republican/Conservative & Fair Media."
Trump's tweets come close to the now common genre of self-own in which someone can't believe the odd or lurid search results/Facebook ads/etc. that they're being served and announce it publicly, ostensibly without realizing that these results are generally tailored to individuals based on their web history. I won't go so far as to say that Google algorithms aren't political (they even agree to cooperate with government and advocacy groups to feature public-service announcements when people search for certain topics; and yesterday's image honored John McCain); but they're not political in a partisan or traditional way.
Their biggest determinate, broadly speaking, is based on how popular a given page or website is and how relevantly packaged to a particular search term. If pro-Trump "Fair Media" isn't getting prominent play in Google, it's a matter of quality and demand, not conspiracy.
Trump's Twitter tantrum over Google has the quaint ring of someone's muttering granddad…until you get to the last bit: "Illegal?"
Google search results for "Trump News" shows only the viewing/reporting of Fake New Media. In other words, they have it RIGGED, for me & others, so that almost all stories & news is BAD. Fake CNN is prominent. Republican/Conservative & Fair Media is shut out. Illegal? 96% of…

— Donald J. Trump (@realDonaldTrump) August 28, 2018
And it gets worse:
….results on "Trump News" are from National Left-Wing Media, very dangerous. Google & others are suppressing voices of Conservatives and hiding information and news that is good. They are controlling what we can & cannot see. This is a very serious situation-will be addressed!

— Donald J. Trump (@realDonaldTrump) August 28, 2018
So now, in addition to data-grubbing and ad-micromanaging senators, social-media monitoring cops, Russia-bot hysteria in Congress, politicians playing to the worst tendencies of online outrage mobs, "net neutrality," the rising popularity of digital deplatforming, and generally mounting online censorship, we have a president who thinks his poor Google results are a crime. This doesn't seem particularly likely to end well.
Even if Trump's comments are off-the-cuff and absurdly petty—another one of the president's impotent (and often self-defeating) public cursings of his perceived enemies—they coincide with a growing popularity among Democrats and Republicans in D.C. for demanding more "accountability" from online platforms. Pretty much all ruling power in Washington right now would like to have more control over what appears in Google results, on YouTube, on Twitter, and all over the web. Until recently, that would have proved too politically unpopular to gain much traction.
But the European Union has gotten away with increasing clampdowns. Once radical tech companies have grown big enough that their bottom lines require increasing fealty to the state. The Russia situation has melted at least a third of Americans' brains (approximately) to the point where they're ready to hand over post-9/11-get-the-Muslims levels of control for alleged protection.
And rank-and-file liberals and conservatives, with their demands to do something about offensive speech and about supposed partisan bias being so much as allowed by private companies, have played right into the hands of Trump, Sen. Mark Warner (D-Va.), Rep. Ann Wagner (R-Missouri), and all the other authoritarian dopes in D.C. clamoring to control what we read, watch, and say online.
Drudge is claiming credit for Trump's tweets this AM on Google favoritism for the Fake News Media. He links to a piece that cites a Sharryl Atkisson infographic claiming NYT and WaPo are to the left of Mother Jones, Washington Monthly, BuzzFeed, and The Intercept pic.twitter.com/urOqagd0ip

— Lachlan Markay (@lachlan) August 28, 2018
ELECTION 2018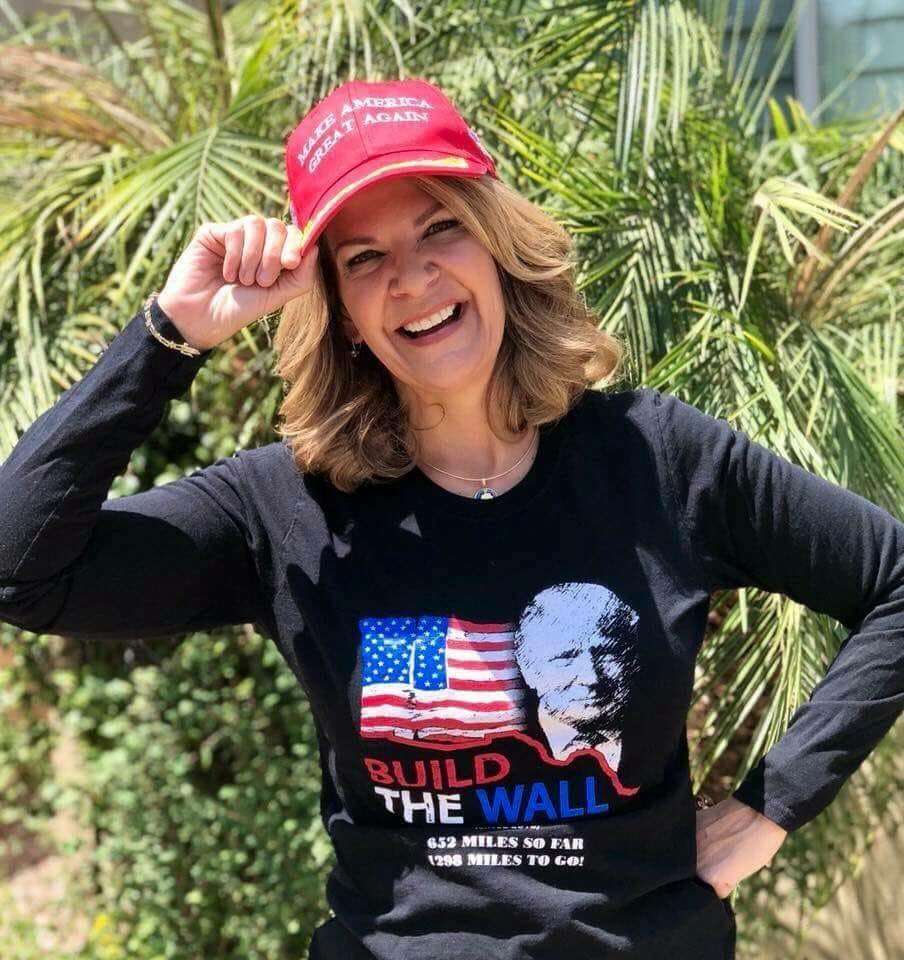 "Sherriff Joe" Arpaio faces voters today, as Arizona, Florida, and Oklahoma hold primary elections. Arpaio—who lost his longtime seat as Maricopa County sheriff in 2016 and was pardoned by President Trump of federal criminal charges last year—is now running in the Arizona Republican primary for a seat in the U.S. Senate. Arpaio faces sitting U.S. Rep. Martha McSally, the establishment conservative candidate, and Kelli Ward, a former state senator who is currently on a bus tour around Arizona with the likes of former alt-right figurehead Mike Cernovich and Fox News contributor Tomi Lahren.
Democrats in Arizona today will choose a challenger for the state's gubernatorial race, in which Republican Gov. Doug Ducey faces reelection. "Democratic state Sen. Steve Farley, Arizona State University education professor David Garcia and Kelly Fryer, the CEO of the YWCA Southern Arizona, face off to challenge Ducey in a traditionally red state that has shifted to the left in recent years," reports CNN.
The primary comes days before Ducey faces a major decision: Who to appoint to fill McCain's seat. He'll have to choose between a Trump-like Republican and someone in the McCain mold—or could try to bridge the gap, potentially with a placeholder pick.
Florida voters today choose Republican and Democratic candidates for governor, as current Gov. Rick Scott is barred by term limits from running again. Scott is now running for U.S. Senate against incumbent Florida Democrat Bill Nelson. "Arizona and Florida also each have several primaries for House seats that are expected to be competitive in November's midterm elections," notes CNN.
In Oklahoma, time is also up for the current governor, Republican Mary Fallin. Democrats are running current attorney general Drew Edmondson to take her place. GOP voters today will choose between businessman Kevin Stitt and Oklahoma City Mayor Mick Cornett as a challenger.
FREE MINDS
States reconsider sexual harassment policies for public and private entities. In the wake of the #MeToo movement's turning its gaze on political leaders, the force to Do Something was strong. "About half of all state legislative chambers have followed through with at least some sort of change to their sexual harassment policies, most often by boosting their own training," the Associated Press reports.

Others have been taking aim at the way private companies can arbitrate sexual harassment claims. Lawmakers "introduced bills in at least 16 states this year to restrict the use by private employers of non-disclosure agreements in sexual harassment cases, according to the National Conference of State Legislatures." In Arizona, Maryland, New York, Tennessee, Vermont, and Washington, these measures passed. "Lawmakers in California also took action this past week, sending two bills to the governor," notes AP:
One, championed by actress Jane Fonda and former Fox News anchor Gretchen Carlson, would prohibit employers from requiring nondisclosure agreements related to sexual misconduct as a condition of getting or keeping a job.

The other would ban settlements in sexual harassment or discrimination cases that seek to keep the circumstances secret. It would apply to the private sector, government agencies and the Legislature.

Legal experts say it's not clear yet what effect such legislation will have on sexual harassment in the workplace. Some warned that the new laws could have unintended consequences.
FREE MARKETS
Fighting back against Big Florist in the deep south. Louisiana is "the only state in the union that requires florists to pass a licensing exam before they can make and sell flower arrangements," notes Danny Heitman at The Wall Street Journal. After failed attempts at legislative reform, it's become clear that "the path to fixing Louisiana's burdensome licensing requirements" runs "through the courts, not the GOP Legislature," Heitman suggests.
Critics of licensing have scored a victory on another front, however. Confronted by a lawsuit, Louisiana's Board of Cosmetology dropped many of its requirements this spring for practitioners of a hair-removal technique known as eyebrow threading. The state had required eyebrow threaders to take 750 hours of beauty-school courses and three exams, at a cost of $6,000 to $13,000. The Institute for Justice, the libertarian nonprofit behind the lawsuit, agreed to drop the case after regulators backed off. Now eyebrow threaders need to pass one test and obtain a permit. Total cost: $50.
QUICK HITS
They're really going with this analogy, huh? https://t.co/WK6fXD5JNe

— Chris Hayes (@chrislhayes) August 27, 2018