Sessions' Escalating Drug War Causing Cold Feet Over Safe Injection Centers
San Francisco was supposed to have sites up and running this month. It does not.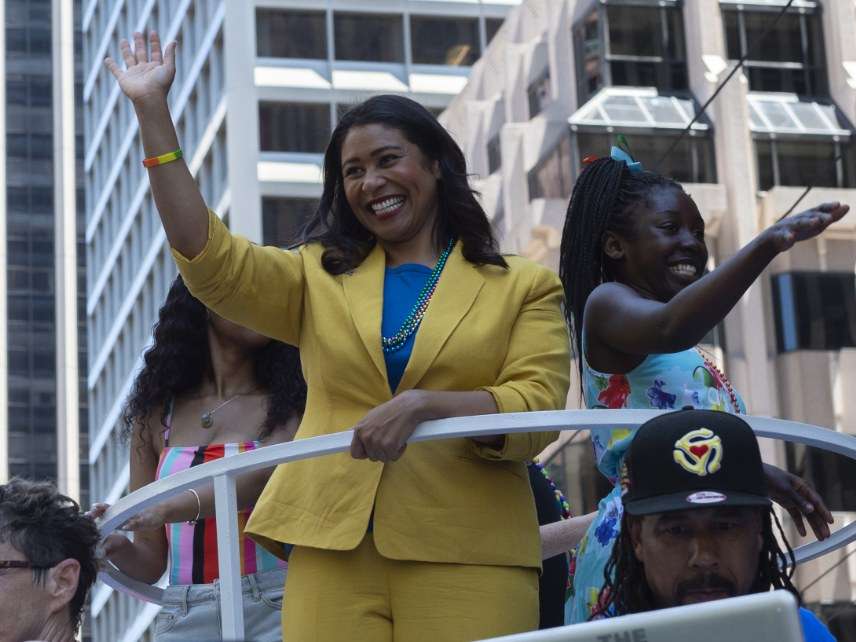 Privately operated, privately funded safe injection sites were supposed to open in San Francisco this month, allowing addicts to use drugs safely in a place where they can be monitored to prevent overdoses. These were going to be the first safe injection centers to open in the United States.
But no facilities have opened yet. The newly elected mayor, London Breed, supports the injection facilities as a way to help clean up the city. (Residents have been sending the local media picture of drug needles found at local train stations.) But for now, she and the city are taking a step back and instead opening a "demonstration" injection center at a church, so that members of the community can see what they're actually like before one opens.
According to the San Francisco Chronicle, the mock site will be open to visitors at the end of August. Clearly the city will miss its July deadline.
Chronicle columnists Phillip Matier and Andrew Ross say there's more to this delay than just easing community fears about injection centers. City Hall sources told them that City Attorney Dennis Herrera is deeply concerned that the city could be found legally liable for allowing injection facilities to operate:
One City Hall source privy to the conversations told us Herrera was particularly worried about the threats from the Trump administration to go after drug dealers and new guidelines issued by Attorney General Jeff Sessions in March applying the death penalty to numerous drug-related crimes under existing law.

"The threats from his government are no joke, and the city attorney advised (Farrell and other city officials) that heroin is a Schedule 1 drug…with a lot of legal liability," said the source, who was not authorized to speak for the record. "San Francisco's public health director could wind up being put in jail" for allowing people to shoot up, no matter the surroundings.
Recall that under President Barack Obama and Attorney General Eric Holder, the Department of Justice continued to shut down and charge people involved in medical marijuana operations with federal crimes in California for years before they backed off. And the Sessions Justice Department has been openly hostile to non-punitive responses to drug issues.
San Francisco isn't the only place that seems to be getting cold feet about moving forward with the injection centers. NPR notes that 13 different communities are considering sites but are worrited about what the Justice Department might do. Nobody wants to be the first:
Scott Burris, director of Temple University's Center for Public Health Law Research, says municipalities are worried about a showdown with Jeff Sessions' Department of Justice.

"You can talk about cities racing to be first," Burris says. "But my guess is that you have a lot of cities who are actually racing to be second."
Last December the U.S. Attorney's Office in Vermont put out a statement warning against safe injection sites, stating that they "would violate several federal criminal laws, including those prohibiting use of narcotics and maintaining a premises for the purpose of narcotics use. It is a crime, not only to use illicit narcotics, but to manage and maintain sites on which such drugs are used and distributed. Thus, exposure to criminal charges would arise for users and [safe injection site] workers and overseers. The properties that host [safe injection sites] would also be subject to federal forfeiture."
Reason's Mike Riggs has blasted the U.S. attorney's completely incorrect claims that injection facilities encourage dangerous drug use and lead to more overdoses.
The government may be wrong on the facts and the science, but it's the one with the guns and the prison cells. Last week Sessions announced an opioid prosecution "surge": He is ordering prosecutors in 10 federal districts to go after every single synthetic opioid dealer they can get their hands on. He is making it clear that he has a hammer-nail approach to the opioid crisis, and the last thing any injection facility owner would want is to be perceived as a nail.
That injection sites would probably do a better job of reducing drug overdose deaths than this cruel enforcement scheme. Sessions does not appear able to process that possibility. So even if San Francisco believes injection sites would actually help clean the place up, officials have to be wary about a harsh response from the Justice Department if they actually try it.