America's Biggest Rental Car Company Is Lobbying to Drive Away Competitors
Enterprise is the dominant player in the rental car market, and it has every incentive to restrict the operations of upstart competitors.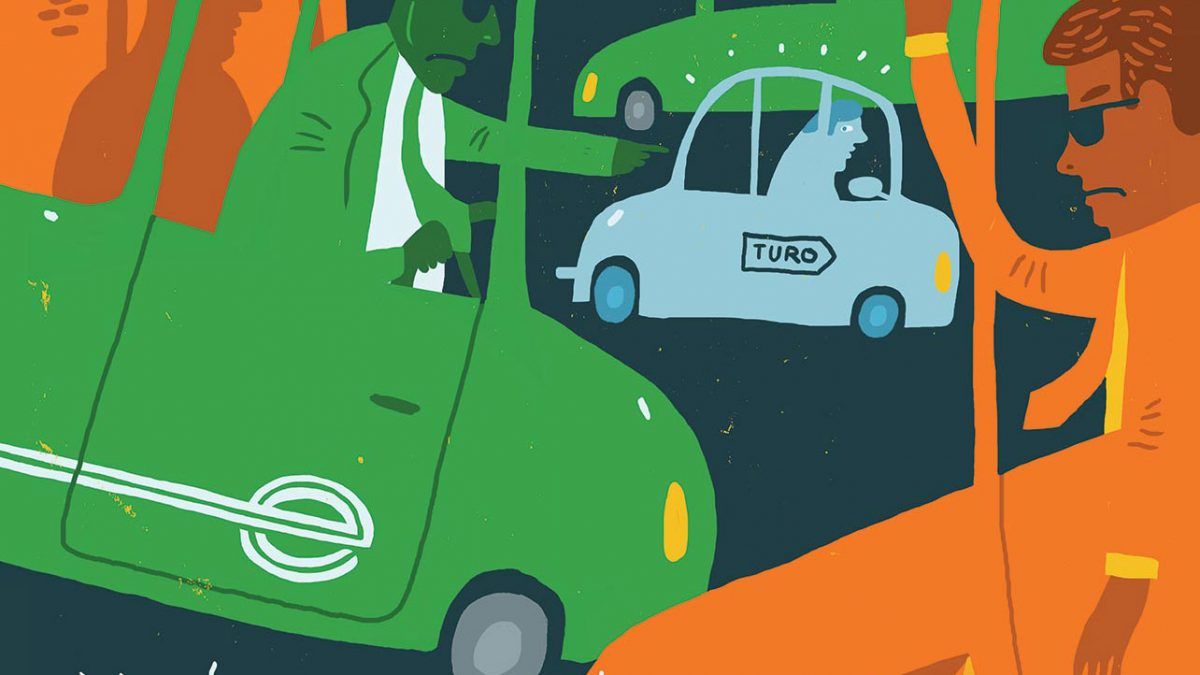 The first time New Hampshire State Rep. Sherman Packard (R–Rockingham) heard of the car-sharing startup Turo, it was from a lobbyist.
Enterprise Rent-A-Car, Packard says, has a "huge footprint in my community. So they called me up and said, 'Hey, let's be fair about this.'"
To the Enterprise lobbyists, being fair meant forcing Turo—which is basically Airbnb, but for your car—to pay a 9 percent tax, the same one the state charges on hotel rooms, meals, and other tourist expenses, including rental cars. (New Hampshire has no general sales tax.)
The appeal to fairness worked. In January, Packard introduced a bill in the state legislature that would tax and regulate businesses like Turo as if they were rental car companies. Enterprise and its lobbyists had won.
That may seem like a routine dispute between a state government and a disruptive new technology that doesn't easily fit in existing boxes for tax and regulatory purposes. But Packard's bill is just one small part of a national effort by traditional rental car companies to use their political clout against a newcomer that threatens the old business model.
It's a fight that's still happening mostly behind the scenes—at statehouses, in courthouses, and within airport authorities. But it could explode into the mainstream as the peer-to-peer rental model expands beyond Turo and its immediate competitors (see: Maven, Getaround). And at the center of the effort to stunt the competition is the same company that first reached out to Packard: Enterprise Rent-A-Car.
Emails obtained by Reason via open records requests show how lobbyists for Enterprise helped shape public policy at a major airport near Washington, D.C., by calling upon existing relationships with airport officials, state lawmakers, and even Maryland's Secretary of Transportation. The emails reveal both how thoroughly Enterprise and its lobbyists are connected in local politics and how aggressively the rental giant has sought to use its accumulated political muscle to crush an upstart.
Turo's fight with Enterprise has been most visible in San Francisco, where the company has battled the city—and, by proxy, traditional rental car companies—over airport fees.
Those fees constitute 11.5 percent of the annual operating budget at San Francisco International Airport (SFO), according to a lawsuit filed against Turo last year by the city. For several years, Turo held a permit to operate as an "off-airport" rental car company, which required the payment of an $18 fee for every rental contract executed and a 10 percent tax on all rentals. A Turo user who shared her car for $500 and exchanged the keys at SFO would have to pay the airport $68. By comparison, Uber and Lyft pay a mere $3.80 fee for every drop-off or pick-up.
The permit also mandated that Turo users, like all on- and off-airport rental car services, only do business at the airport's rental car center, which requires travelers to leave the main terminal and take a free light rail train. The cost of the train is covered by the rental car fees.
Michelle Peacock, the company's director of government relations, says Turo tried for years to renegotiate the terms of its contract to allow for curbside drop-off and pick-up, which would give the service a leg up over traditional rental car companies. It was never allowed to do so.
In August 2017, Turo allowed its permit with the airport to lapse and went ahead with offering direct drop-off and pick-up from the main terminal. That hasn't gone over well with the airport, or with the city, which filed a lawsuit against the company seeking fines of up to $2,500 for every violation of the rental car rules.
"As a result of Turo's willful noncompliance with SFO's permit and fee requirements, Turo has been able to advertise and charge lower prices than competitor rental car companies who play by the rules," says San Francisco City Attorney Dennis Herrera. In a statement, he called Turo "a textbook example of unfair competition."
Consumer advocates, however, have asked why Turo should have to pay a fee to cover the cost of light rail rides to a rental car facility that the company isn't using.
"If the city could force Turo owners to pay these exorbitant airport fees, then it could likewise impose the fee on anyone driving into SFO to pick up friends or family," says Steve DelBianco, president of NetChoice, a trade association of online businesses that advocates for consumer freedom. "That's ridiculous. But so is the aim of this lawsuit."
The legal struggle over Turo's operations in San Francisco has garnered some national attention—in part because Turo is fighting back.
"Enterprise views Turo as an existential threat," Turo's attorneys argue in a counter-lawsuit filed against the city of San Francisco. The company is trying "to use its influence to regulate, tax, or litigate Turo out of the peer-to-peer car-sharing market," they say. Both lawsuits are still pending in district court as the two sides try to reach a settlement. In response to questioning from the San Francisco Chronicle, attorneys for the city have denied the allegation that they are working as an extension of Enterprise.
In Maryland, the collusion between Enterprise, state government, and airport authorities is, if anything, even more blatant.
In October, the state Department of Transportation's Maryland Aviation Administration ordered Turo to cease and desist operations at Baltimore–Washington International airport, remove "BWI" from the list of airports at which Turo provides service, and block potential customers from being able to search for vehicles for pick-up at the airport. A FedEx receipt obtained via public records request reveals that a copy of the cease-and-desist letter was forwarded from the state agency to an attorney at Rifkin Weiner Livingston LLC, a Maryland law firm that represents Enterprise.
Enterprise approved of the order, and it let airport officials know. In an email obtained by Reason, Elbert Sheppard, Enterprise Holdings' senior director of airport relations, congratulates Morris Williams, manager of Commercial Business Activities at BWI, on being firm with Turo. "Saw your latest C & D letter," wrote Sheppard in a message dated November 3, 2017. "Nice work!"
Sheppard offered to introduce Williams to two contacts at Denver International Airport who are organizing a committee of airports opposed to Turo. "The committee periodically holds conference calls," Sheppard wrote, "to share notes about each's efforts to lead Turo to be proper airport participants." (Sheppard did not reply to requests for clarification about what was intended by that phrase.)
Other correspondence between Turo and BWI—including a January 4, 2017, letter from airport officials asking to arrange a meeting with Turo to discuss permitting options—included the law firm that represents Enterprise, despite the fact that Enterprise was, in theory at least, not involved in the dispute between the airport and the car-sharing company.
In an email sent two weeks after Turo's cease-and-desist letter, an attorney from the same law firm expressed his interest in getting Ray Wagner, Enterprise's national government relations director, into a face-to-face meeting with Pete Rahn, the Maryland Secretary of Transportation. On the agenda for the meeting: Turo.
"The rental car industry supports the actions of [the Maryland Aviation Authority] and supports the legislation to reign [sic] in these rogue operators," the attorney wrote, referring to the cease-and-desist letter.
A meeting was arranged for December 15.
On January 12—just two days after the new legislative session opened in Annapolis—an email thread that included the director of the Maryland Department of Transportation's Office of Government Affairs, several top executives at BWI, and an attorney at the Maryland Insurance Administration discussed the potential introduction of a bill to legalize Turo's operations in the state.
"If the city could force Turo owners to pay these exorbitant airport fees, then it could likewise impose the fee on anyone driving into SFO to pick up friends or family."
"This is an issue," wrote Tom Curtin, state legislative officer for the Maryland Department of Transportation. At the time, Turo was still operating at BWI in defiance of the cease-and-desist letter sent three months earlier, he noted. Curtin closed his email by saying that he had "recently met with Enterprise on this matter," seemingly a reference to the meeting that had been scheduled for the previous month.
Attendees at the December meeting included Dale Hilliard, head of policy and corporate affairs at the airport, and Rahn, according to Curtin's email. A spokesman for BWI said communications between Turo and the airport were shared with rental car lobbyists because those companies "are important parties in the process that would potentially permit Turo to operate its car sharing platform at the airport."
Much of the conflict between Enterprise and Turo boils down to what looks like a simple question: What is a rental car company?
To Packard, in New Hampshire, the answer is obvious. After the lobbyists from Enterprise told him about Turo, he recalls checking out the company's website and seeing that it allowed customers to share their cars with other people in exchange for a fee. "If that's not a rental car company, I don't know what it is," he says.
Yet in many ways, Turo doesn't look anything like a traditional rental company. It doesn't have a physical presence anywhere. It has no rental counters and no parking lots. Technically, it doesn't even have any cars. The company exists in the cloud and in a handful of offices in San Francisco.
"Find another rental car company that looks anything like we do," Peacock says. Lawmakers who refuse to see the difference, she adds, are not looking very closely. Some states have already recognized the distinction in law—California, for instance, regulates peer-to-peer car sharing services under a different statute than rental car businesses. That law serves as the basis of Turo's countersuit against San Francisco.
Enterprise generates substantial tax revenue for local governments. According to the National Conference of State Legislatures, which tracks state policy making, 40 states levy some sort of charge on rental cars—with rates ranging from 2 percent to 19 percent—and 15 states allow local governments to do the same.
The fact that Turo wasn't paying New Hampshire's "meals and rooms tax" is what hooked Packard into siding with Enterprise. "If they want to rent cars in New Hampshire, fine. But pay us the 9 percent," he says. "If they pay the 9 percent, then I have no problem with it."
The relationship between rental car companies and state governments often goes both ways. In nearly every state, cars purchased by such companies are not subject to sales tax. NetChoice estimates that this tax break saves them as much as $3 billion annually. Just in California, where other residents have to pay a 7.25 percent tax on the price of a new car, it saved rental car companies more than $560 million in 2016. Peacock argues that if state governments want a level playing field, they should consider giving all residents access to the same exemption.
Ironically, Enterprise has its own history as a disruptive newcomer.
When the company launched in 1957, almost all rental car business was done at airports. Most of it still is today, but Enterprise moved the industry into new markets, opening small rental facilities in cities and towns. With its promise to pick up customers at home or work—"Pick Enterprise. We'll pick you up" has been the brand's slogan for more than 20 years—the company's selling proposition is that convenience matters. Enterprise says it cannot pick up or drop off customers at airport terminals "due to security regulations," but none of the legal actions against Turo suggest a security-related reason for prohibiting curbside car delivery at airports. (Enterprise referred all questions about peer-to-peer rentals to the American Rental Car Association.)
"We intuitively understand and appreciate the challenges of being a startup in a highly competitive marketplace," a company spokesperson told the San Francisco Chronicle in February. "However, we believe the playing field should be level and fair for everyone involved in ground transportation."
The "level playing field" argument cuts both ways, though. There is the question about whether Turo is a "rental car company" as traditionally defined in public policy. Turo says it is not one—and in many ways, it really isn't. The related question of whether it should have to pay rental car taxes and airport fees is more ambiguous. The platform certainly appears to be openly flouting rules that its competitors are required to follow. Of course, it's not exactly being given a fair chance by local and state governments that want it to fit neatly into an existing regulatory box—or by the traditional rental car industry, which argues that Turo should pay all the same levies as other companies despite having a business model that does not benefit from the tax breaks they enjoy.
Enterprise, which also owns the Alamo and National rental car brands, reported more than $20 billion in revenue last year. It is the dominant player in the rental car market, and it has every incentive to restrict the operations of upstart competitors.
Beyond calling for a "level playing field," Enterprise and its allies repeatedly fall back on two arguments about safety as reasons that government regulation, and even bans, are necessary.
First, they argue Turo is unsafe for customers because renters don't know anything about the person from whom they are renting a vehicle.
It's similar to the argument that hotels have tried to use against Airbnb and other home-sharing services. It assumes that consumers are unable to weigh the risk of renting a vehicle or place to sleep through an online platform against the supposedly smaller risk of making the same transaction with a more well-known business. But as the successes of Airbnb, Uber, Lyft, and now Turo demonstrate, consumers make those sorts of calculations all the time. Indeed, as the sharing economy has grown, they have become more adept at doing so.
The second safety argument Enterprise makes is that Turo customers have no way to know whether a car they're renting is subject to a mandatory recall. That's a public safety issue, Packard says, which justifies government getting involved. "Rental car companies have all these regulations—they have to go through their fleets if there is a recall," he says.
Peacock believes this worry is overblown. "These are people's cars. Cars they are driving some days and renting out on others," she says. "Are you going to take a risk of driving your own car when there's a problem with it?" Still, the company is working on integrating an alert system into its website that will inform consumers about recalls and could even block vehicles from being rented if they are subject to one.
Insurance, in one form or another, can solve most of the serious complications that arise with a service like this. (Turo works with Liberty Mutual to offer up to $1 million in liability insurance that protects owners, a.k.a. "hosts," from potential lawsuits if their vehicle gets into an accident while rented. They can opt to purchase additional insurance, at the cost of handing over a larger share of the rental price to Turo, or they can decline that coverage if they have a commercial policy that also covers renters, a.k.a. "guests.")
The preferences of individual users can pretty much handle the rest: Those worried about safety or reliability can always turn to the traditional rental car industry and have a mostly predictable experience.
Regardless of what happens to Turo, the car-sharing model isn't going anywhere. In April, Uber's new CEO, Dara Khosrowshahi, announced the company's plans to offer cars for rent. Ford, GM, and other auto manufacturers are increasingly exploring what alternatives to traditional car ownership might look like. The entry of large, well-known corporations into the market will likely encourage more consumers to experiment with peer-to-peer rentals.
In the end, Turo may be displaced as more competitors crowd into its niche. But no matter what, the staid world of Enterprise, Avis, and Thrifty is changing faster than either governments or entrenched operators can keep up with. Which means that the essential question—just what is a rental car company, anyway?—will be increasingly difficult to answer.
This article originally appeared in print under the headline "America's Biggest Rental Car Company Is Lobbying to Drive Away Competitors".