'I Kill Motherfuckers'
A white police officer threatened to detain two black men for "walking in the street."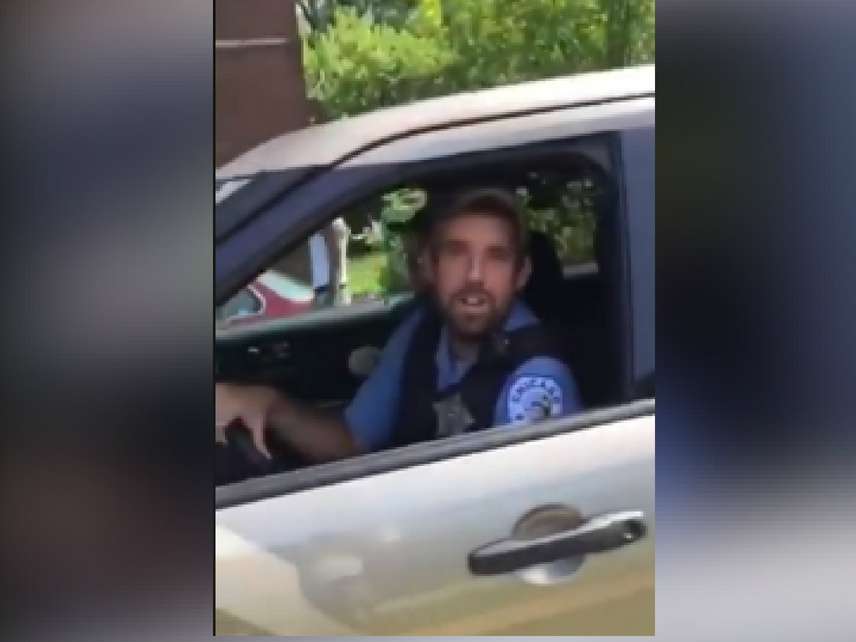 A viral video appears to show a Chicago police officer telling a pair of black men, "I kill motherfuckers."
The video, posted to Facebook on Monday, begins with a white police officer in an unmarked car being approached by at least two young black men. "I kill motherfuckers," the cop says, before telling them to stop filming him. "How about I lock you up for walking in the street?" he adds.
The officer claims the man filming was "illegally" walking across the street. Eventually, he gets out of his car and starts following both men. "You want to know the good news though?" the officer asks. "Illinois is a two-party consent state and I don't consent to you recording me."
The man filming, meanwhile, replies that he was recording himself on Snapchat and the officer "hopped in the camera." The officer then claims the man filming hit his shoe, and uses that as an excuse to get in his face.
The officer was correct in his assertion that Illinois is a two-party consent state, but that doesn't seem to appy here. In Illinois, citizens don't need consent to film others, including police officers, as long they aren't doing so secretly and aren't infringing on the other party's reasonable expectation of privacy. Since this incident occurred in public, and the officer knew he was being filmed, it doesn't appear that the man filming did anything wrong.
According to WFLD, the Civilian Office of Police Accountability has opened an investigation into the incident.
Police misconduct has been a nationwide theme in recent days. A video posted to Facebook last week showed an unnamed El Paso police officer pointing a gun at a group of children, then arresting the young man who filmed the incident. Earlier in the week, a drunk off-duty officer with the New York Police Department allegedly crashed his car and punched a witness before attempting to flee the scene.