Federal Judge Rules Against Suspending Poor People's Driver's Licenses for Unpaid Court Fines
"[A]s applied to indigent drivers, the law is not merely ineffective; it is powerfully counterproductive."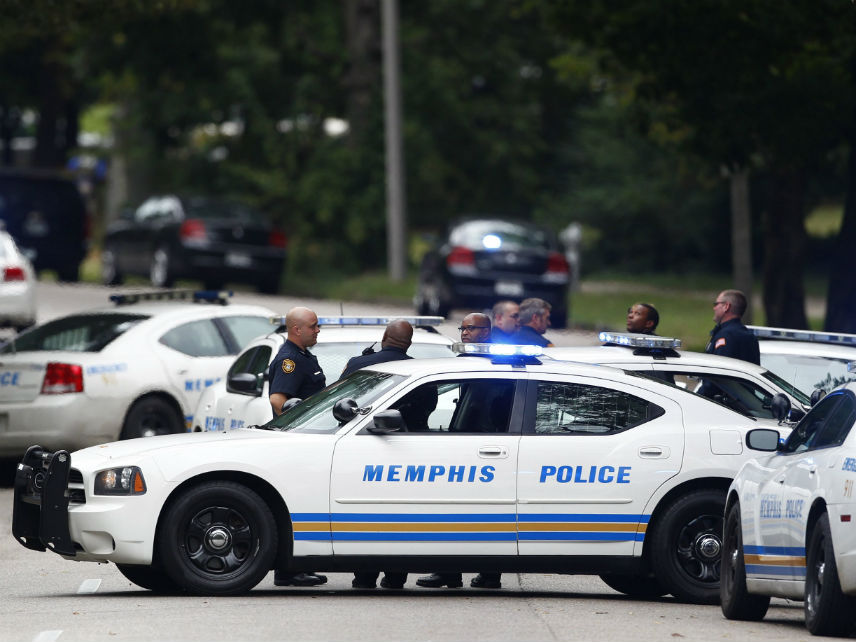 A federal judge has blocked Tennessee's practice of suspending driver's licenses for unpaid court fees without first determining if the debtors are too poor to pay. The policy, U.S. District Judge Aleta Trauger ruled yesterday, violates poor residents' due process and equal protection rights under the 14th Amendment.
"[A]s applied to indigent drivers, the law is not merely ineffective; it is powerfully counterproductive," Trauger wrote. "If a person has no resources to pay a debt, he cannot be threatened or cajoled into paying it; he may, however, become able to pay it in the future. But taking his driver's license away sabotages that prospect."
Trauger ordered the state to cease suspending licenses for unpaid court debts and to give all residents who had their licenses suspended for such reasons an opportunity to have them reinstated.
License suspensions for unpaid court fines, drug violations, and other non-moving violations came into the spotlight in 2014 following the police shooting of Michael Brown in Ferguson, Missouri. Investigative reporting revealed the town's rapacious use of fines and fees to generate revenue, sparking a nationwide look at how cities use petty fines and fees.
Many states across the U.S. passed license suspension laws to go after scofflaws, but civil liberties groups say they often trap poor residents in a debt spiral by depriving them of the means to make money in the first place.
The two lead plaintiffs of the case, James Thomas and David Hixson, were physically disabled and living in a homeless shelter, respectively. Both had their licenses suspended for unpaid court fines.
States across the country have suspended more than 7 million licenses, according to The Washington Post. Virginia alone suspends 900,000 licenses—11 percent of its total population—at any given time for unpaid fines and fees.
Tennessee suspended 146,211 licenses for unpaid court fines and fees between 2012 and 2016, according to the lawsuit. That doesn't include suspensions for unpaid traffic fines.
Trauger's decision was not a surprise. The judge lambasted the state's policy in earlier decisions in a parallel case challenging suspensions for unpaid traffic fines—one commanding Tennessee to immediately reinstate the licenses of two lead plaintiffs, and the other allowing the lawsuit to proceed as a class action.
In both, Trauger wrote that the practical effects of Tennessee's license suspension policies appeared to be at complete odds with the rules' stated purpose—that is, collecting debt.
"Taking an individual's driver's license away to try to make her more likely to pay a fine is not using a shotgun to do the job of a rifle: it is using a shotgun to treat a broken arm," the judge wrote last year.
Trauger noted that Tennessee towns and cities are "pervasively structured" around motor vehicles, and that one didn't need "reams of expert testimony to understand that an individual who cannot drive is at an extraordinary disadvantage in both earning and maintaining material resources."
In January, another federal judge in Michigan enjoined the practice when it is applied to the very poor, ruling that suspending licenses without determining the debtors' ability to pay likely violates due process.
A lawsuit challenging Virginia's policy was dismissed on technical grounds last year but still spurred the state to reform its practices. Nevertheless, Virginia still suspended nearly 1 million licenses last year.
The Tennessee lawsuit was brought by Civil Rights Corps, a group challenging bail policies and license suspensions in several states, as well as by the National Center for Law and Economic Justice, Just City, and the law firm Baker, Donelson, Bearman, Caldwell and Berkowitz.
"This is an incredible victory for low-income Tennesseans whose contact with the criminal system leaves them saddled with court debt and unable to get around in a state that lacks adequate public transportation?," Civil Rights Corps founder Alec Karakatsanis said following the ruling. "Today, one immense barrier to escaping the cycle of poverty and criminalization has been removed?—people will be able to go to work, see their families and friends, get to the grocery store and doctor's office, and do all of the things that we all take for granted and that give life meaning.?"