For Once, Police Officer Promptly Charged in Shooting Death of Unarmed Black Teen
Since 2005, just 32 officers involved in fatal shootings have been convicted on criminal charges.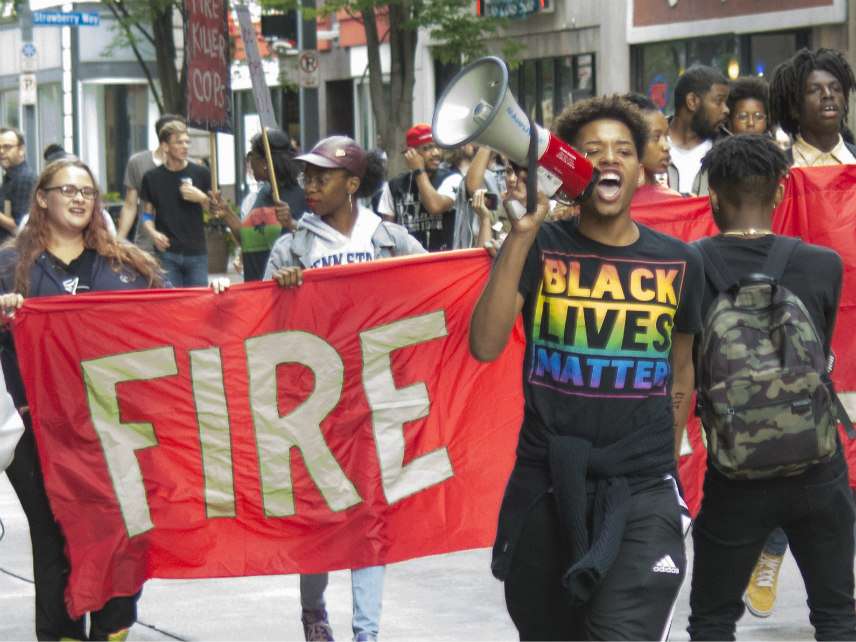 An East Pittsburgh police officer was charged with criminal homicide Wednesday in the shooting death of a 17-year-old unarmed black teenager.
Michael Rosfeld, 30, represents an aberration, as most police officers involved in fatal shootings do not face criminal charges.
Rosfeld turned himself in on Wednesday morning. His bail was set at $250,000 and he will appear in court for a preliminary hearing on July 6, according to court documents.
Rosfeld, who is white, allegedly shot Antwon Rose Jr. three times on June 19 after police pulled over the car Rose and two others were in at the time.
Police believed the car matched the description of a vehicle that was involved in a drive-by shooting.
But after the car was pulled over, Rose and another male attempted to flee the scene on foot. At that point, Rosfeld allegedly opened fire.
No gun was found on Rose's person, but police said there were two firearms in the vehicle he fled from. The driver of the vehicle was questioned and then released, while the other passenger was arrested for his alleged involvement in the drive-by shooting.
Rosfeld had years of experience as a police officer, but he was officially sworn in to the East Pittsburgh Police Department just hours before the shooting.
After the incident, he was placed on administrative leave.
Though nearly 1,000 people are shot and killed by police every year—504 so far in 2018, according to The Washington Post—it's quite rare for officers involved in these shootings to be charged with a crime.
In fact, just 85 state and local police officers involved in on-duty fatal shootings have faced criminal charges since 2005, the Post reported in March, citing Bowling Green State University professor Phil Stinson.
Of those 85, just 32 have actually been convicted. Roughly half of those convictions resulted from guilty pleas.
Responding to the news that Rosfeld had been charged, the executive director of the American Civil Liberties Union of Pennsylvania indicated that it was a good first step, while noting that "the severity of the charge" has not yet been made clear.
"Too often, law enforcement use excessive or lethal force on people of color without any accountability or condemnation from the department or state prosecutors," Reggie Shuford said. "That said, the severity of the charge is still unclear. No one is above the law and we hope the charge is commensurate with the severity of the crime."
The shooting has led to protests in the Pittsburgh, due in part to the fact that a witness captured a video of Rose falling to the ground after being shot.
"This is a small stride toward justice but we have a very long road ahead," Rose family attorney Lee Merritt tweeted Wednesday, referring the criminal homicide charge against Rosfeld.
He added that Rose's "family regards the charging of Michael Rosfeld with guarded optimism. The family will settle for nothing less than a conviction and appropriate sentencing."