Libertarianish Rep. Jared Polis Leans Left to Snag Colorado Dem Governor Nomination
As a congressman, he worked with libertarian conservatives on privacy and surveillance issues, none of which factored into his campaign.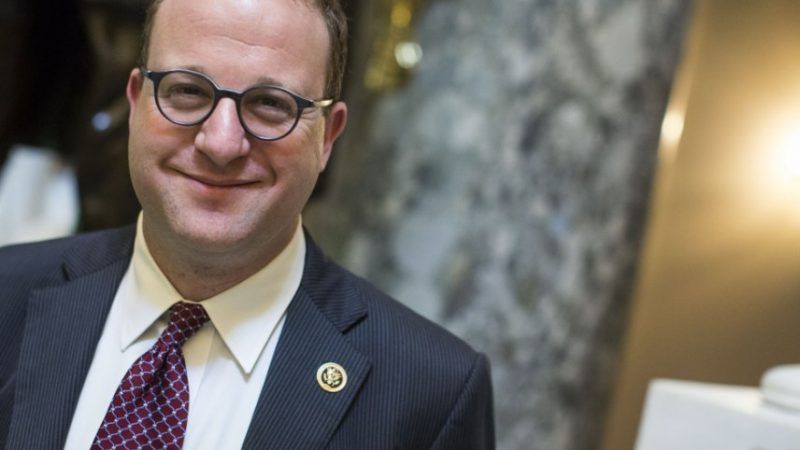 (Al Drago/CQ Roll Call/Newscom)
Libertarian-friendly Democratic Rep. Jared Polis may end up saying goodbye to some of his Republican buddies like Rep. Justin Amash of Michigan and Rep. Thomas Massie of Kentucky this fall. Last night he clinched the Democratic nomination for governor of his home state of Colorado.
Polis handily beat three other Democrats, getting 45 percent of the vote. He'll face off against Republican Walker Stapleton, the state's treasurer (as well as several independents and Libertarian Party candidate Scott Helker). Here's his victory speech:
Unfortunately, there wasn't anything remotely libertarian about Polis' campaign. While Polis may be rated as a "moderate Democrat" based on his voting history, he ran about as far left as he could manage for the primary. He's running on universal health care under a single-payer system, universal full-day pre-K programs, and an emphasis on developing renewable energy sources and pushing for adaptation of electric vehicles. He even supports shelling out money to research high-speed rail transit for Colorado.
But as a congressman, Polis frequently crossed the aisle to find common ground with libertarian Republicans. He has been a force pushing for rescheduling marijuana so that it's no longer a Schedule 1 drug. He even helped launch a bipartisan congressional caucus focusing on marijuana policy. He's been a strong supporter of bolstering Fourth Amendment protections against unwarranted searches and surveillance. He pushed for stronger warrant requirements before the feds can access your old emails and has consistently joined lawmakers like Amash, Massie, and Sen. Rand Paul (R–Ky.) in efforts to rein in the surveillance state.
Polis' intersection with libertarian ideals on privacy and personal choice (he's a supporter of charter schools, and has even founded them—though he's opposed to vouchers and not a Betsy DeVos fan) prompted a Reason magazine profile of Polis back in 2014. You can watch my interview with him in D.C. here. Later in 2014 he wrote a piece for Reason himself encouraging libertarians to vote for Democrats as a counterpart to a piece by Grover Norquist encouraging libertarians to vote Republican.
Polis' strong support for due process protections (he's a member of the congressional Fourth Amendment Caucus) came under question when he supported colleges using remarkably low evidentiary thresholds to justify tossing out students on the basis of just allegations of rape or sexual misconduct. He said in a hearing on college sexual assault, "If I was running a [private college] I might say, well, even if there is only a 20 or 30 percent chance that it happened, I would want to remove this individual." He took it even further, adding, "If there are 10 people who have been accused, and under a reasonable likelihood standard maybe one or two did it, it seems better to get rid of all 10 people. We're not talking about depriving them of life or liberty, we're talking about them being transferred to another university, for crying out loud."
He defended his position when asked about it by Reason, but then subsequently acknowledged he "went too far by implying [he] support[s] expelling innocent students from college campuses… ."
If Polis wins, he'd be the first openly gay governor to do so (there have been governors who have come out while in office). That this doesn't seem to be a big deal to anybody is an interesting indicator of political and cultural shifts.
He may have run to to the left to win the nomination, but that didn't stop buddy Amash from tweeting out praise for Polis' win:
Congrats to my friend—and the lone Democratic member of the @libertycaucus—@jaredpolis on his big primary win for governor of Colorado!

— Justin Amash (@justinamash) June 27, 2018