Man Protests Police Department's Violation of Speech Rights, So Cops Arrest Him
Stamford, Connecticut, police chief objects to salty language on a sign. That's not a crime.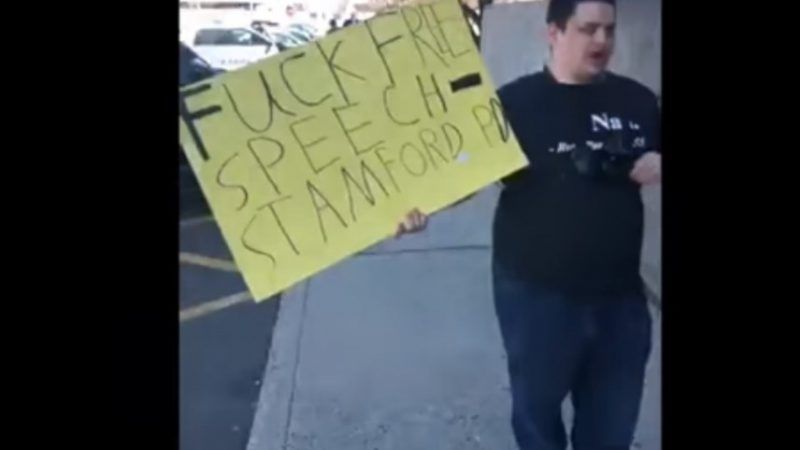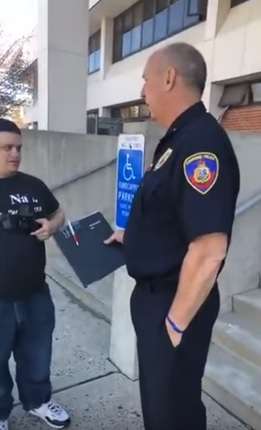 The chief of police of Stamford, Connecticut, personally oversaw the arrest of a protester who held a sign that criticized the police department's disrespect for freedom of speech.
In April, Michael Picard staged a protest outside the Stamford courthouse with a sign that read "Fuck Free Speech —Stamford PD." Picard was showing support for a buddy, Michael Friend, who had been arrested earlier that month for standing around in public holding a sign warning drivers of a police checkpoint designed to catch and ticket distracted drivers.
Police ordered Friend to dump the sign. He refused. He was then charged with a misdemeanor count of interfering with police.
That arrest, of course, was a violation of Friend's speech rights, and that's why Picard showed up in front of the courthouse with his own sign when Friend was being arraigned. He had a fellow protester, Dawud Talib, recording him. Picard provided video of what happened next to Reason. Picard and Talib wandered next door to the police station, and that's where they were confronted by Police Chief Jon Fontneau, who ordered them to put the sign down or face arrest for breach of peace. When Picard refused, he was arrested by three other officers and escorted into the police station, leaving Talib out on the curb.
While Picard's arrest report claims witnesses saw him jumping out in front of pedestrians with his sign, I did not see anything like that in the video, which shows hardly any foot traffic near the police station. According to the report, "Michael was publicly displaying offensive and indecent language." The report says Picard was ordered to move to the public sidewalk under the threat of arrest for breach of peace. In the video, he is clearly on a public sidewalk in front of the police station.
Picard posted a shorter, edited version of his arrest on YouTube. Watch below:
This is not Picard's first brush with Connecticut police in connection with checkpoints, warning signs, and free speech. Picard is a regular protester of police checkpoints who uses signs to warn drivers of their presence. Connecticut state troopers seized his video camera in 2015 as he was holding signs warning drivers of a DUI checkpoint and ticketed him. The troopers accidentally left his camera rolling, and it recorded them apparently conspiring to find a reason to file charges against Picard. With the help of the American Civil Liberties Union, he filed a civil rights lawsuit against the state police in 2016. The charges against him were subsequently dropped. Picard also has previously been arrested (and then released without charges after being held for hours) for distributing jury nullification pamphlets outside the courthouse in Bronx, New York.
On Tuesday, prosecutors dropped the charges against Friend. Supervisory State's Attorney Steven Weiss suggested that Friend's "Cops Ahead" sign actually helped police. Via the Stamford Advocate:
"This person set up his position upstream from the police with the sign," Weiss told Judge Gary White. "He thought he was interfering with the police, but the irony was he was helping them do their job because the point was to get people off their cellphones and that is exactly what he accomplished—probably more so than the police would have working alone. I thanked him for helping the police and I nolled the case."
Whether a person's speech helps or hinders police efforts to curb distracted driving does not determine whether it's legally protected by the First Amendment, but nice face-saving effort. Obviously the police didn't see Friend's behavior as helpful, because it kept them from handing out citations, which is exactly why Picard and Friend engage in these protests. They see these checkpoints as a way to make money, not protect public safety.
Fontneau's office did not return a call from Reason to answer questions about Picard's arrest. Picard was scheduled to be arraigned this morning.