Walmart's 7-Day Opioid Prescription Limit Is Medically Unsound and Could Backfire
Like state legislators, the chain is taking its cue from the CDC's guidelines.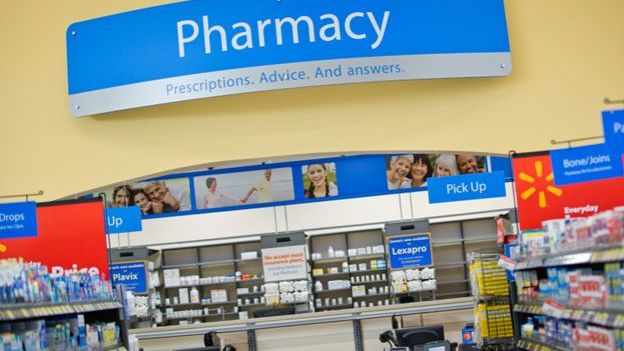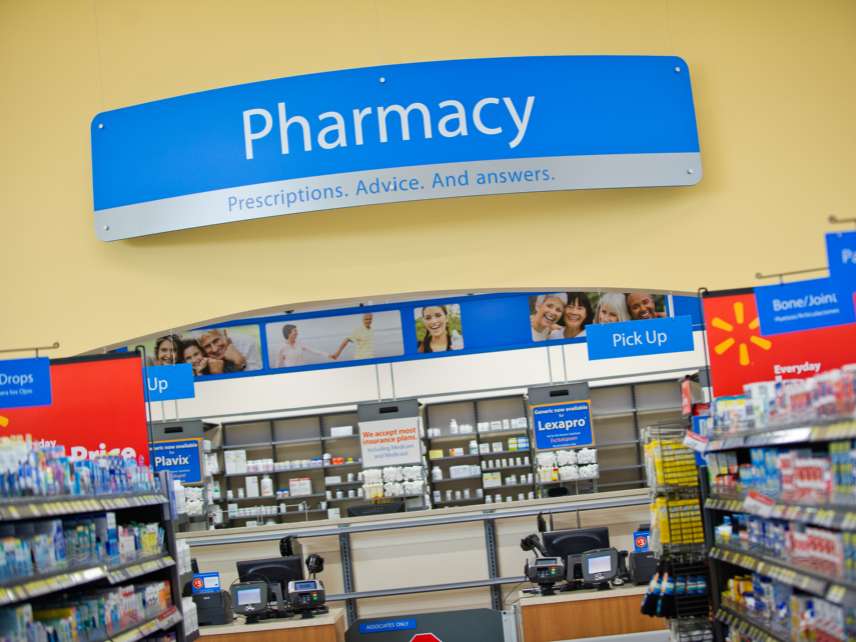 This week Walmart announced that its pharmacies will refuse to fill initial opioid prescriptions for acute pain that last longer than a week. That policy, aimed at preventing opioid abuse, will impose a burden on patients who need relief for more than seven days and could backfire by increasing refills, meaning more unused pills will be available for diversion.
Walmart says the seven-day limit is "in alignment with" the opioid prescribing guidelines issued by the U.S. Centers for Disease Control and Prevention in 2016. According to the CDC, "three days or less will often be sufficient" for acute pain, while "more than seven days will rarely be needed." Apparently taking their cue from the CDC, legislators in 18 states have limited the length of initial opioid prescriptions for acute pain since the guidelines were published, according to a tally by the National Conference of State Legislatures (NCSL). Seven days is the most common limit, although some states allow only three, four, or five days. Legislators in another nine states have authorized regulators to impose prescription limits.
The problem, as a study reported in JAMA Surgery last January pointed out, is that some patients need more than seven days of pain medication. That means they are apt to seek refills but may end up using only part of the second prescription, leaving more rather than fewer pain pills in circulation.
Harvard surgeon Rebecca Scully and her collaborators looked at prescription data for more than 200,000 patients who took pain medication after surgery, 19 percent of whom received at least one refill. The prescription length associated with the lowest probability of a refill was nine days for general surgery, 13 days for women's health procedures, and 15 days for musculoskeletal procedures. "In practice," Scully et al. conclude, "the optimal length of opioid prescriptions lies between the observed median prescription length and the early nadir," i.e., the point where a refill was least likely.
That rule of thumb would put the optimal prescription length between four and nine days for general surgery, between four and 13 days for women's health procedures, and between six and 15 days for musculoskeletal procedures. "Although 7 days appears to be more than adequate for many patients undergoing common general surgery and gynecologic procedures," Scully et al. write, "prescription lengths likely should be extended to 10 days, particularly after common neurosurgical and musculoskeletal procedures, recognizing that as many as 40% of patients may still require 1 refill at a 7-day limit."
According to the NCSL's summary, some states with prescription limits make exceptions for postsurgical pain, but most do not. Neither does the policy described by Walmart, which will apply even in states that allow longer prescriptions. When the evidence suggests that a 10-day prescription of pain medication is more appropriate for certain categories of patients than a seven-day prescription, an arbitrary and indiscriminate one-week rule is clearly not conducive to good medical practice, and it may not even achieve the avowed goal of reducing nonmedical use of narcotic analgesics.
More generally, the continued focus on restricting access to pain pills makes little sense in response to an "opioid crisis" that mostly involves illegally produced drugs. In fact, to the extent that such restrictions work as intended, they will drive more nonmedical users toward deadlier black-market substitutes, fueling the upward trend in fatalities involving heroin and illicit fentanyl.