Backpage Plea to Texas Sex Trafficking Charge Turns On CEO's Admission to Brokering Adult Prostitution
Backpage CEO Carl Ferrer turned over the company and seven other executives in exchange for leniency.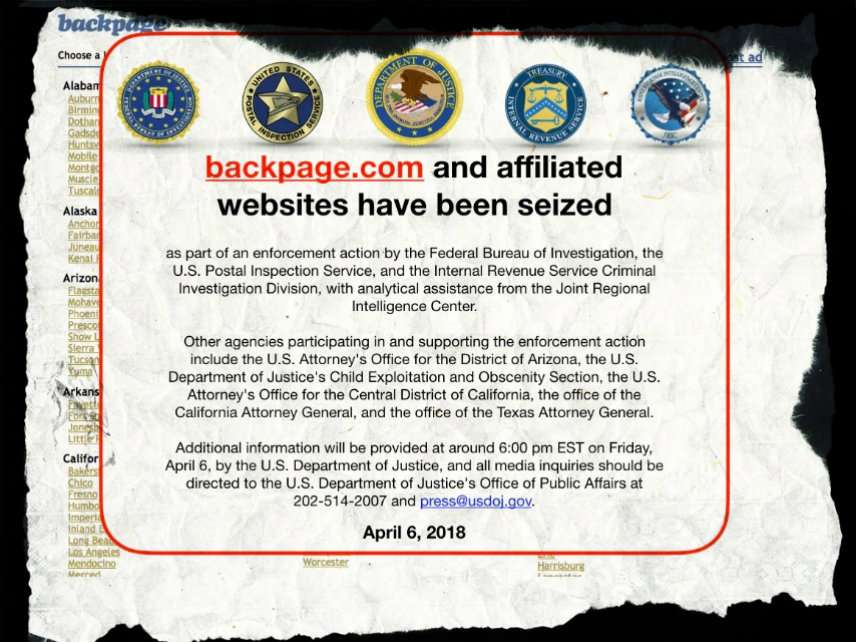 The classified ads site Backpage and its leaders now face more than 100 criminal charges between them. Many—including the Department of Justice (DOJ) and the Texas Attorney General's Office—are reporting this as a confirmation that the company encouraged the sexual exploitation of minors. Yet all of the federal charges pending against Backpage executives are for money laundering or facilitating prostitution, not sex trafficking.
The one trafficking charge in all this comes from Texas, where Backpage LLC plead guilty to "knowingly receiving a benefit from participating in a venture" that caused the compelled prostitution of Erika Brewster, then around age 16 or 17. On behalf of Backpage, CEO Carl Ferrer has entered a guilty plea to one count of trafficking in persons and one count of engaging in organized criminal activity (in addition to one count of money laundering on his own behalf).
In a statement, Ferrer said he knew that the "escort" section of Backpage was largely ads for prostitution, which is illegal in 49 states and most of Nevada. But he does "not concede" that Backpage or any other defendant entities "had knowledge that the victim in this case…was underage at the time the Backpage.com advertisements of her were posted."
Ferrer entered the guilty plea nonetheless, he said, because he was "aware that the Defendant Entities are guilty under the law 'regardless of whether the defendant knows the age'" of a victim.
As part of the plea, Texas Assistant Criminal District Attorney Kirsty Melton recommended that Ferrer pay the victim restitution and pay the state a fine of $20,000 per defendant entity, as well as "take all necessary steps to dissolve Backpage.com and related companies." She did not recommend that Ferrer serve any prison time.
Court documents in the cases against Ferrer and Backpage don't reveal any damning new information about the company, nor any new discoveries that allowed authorities to make their case this time—just the shrewd application of existing overbroad laws in combination with political and legal pressure. While seven other Backpage executives or owners are awaiting trial on charges of money laundering and facilitating prostitution, Ferrer took a plea deal, turning on his colleagues and turning over control of Backpage (and all of its subsidiaries, servers, information, and assets) to the government.
In the end, all Backpage has admitted to is allowing a forum for adult sex-related advertising that was not impermeable to minors or those looking to exploit them. And nothing in this particular joint state/federal investigation, the draconian Senate subcommittee investigation into Backpage last year, or the years of federal civil suits and state-level prosecutions of Backpage has revealed more than that.
But this time, Ferrer decided to break from his colleagues and play ball with the state rather than fight. In exchange for the plea deal, he'll provide information on the Travel Act and money-laundering cases against his colleagues, including Backpage co-founders (and longtime newspaper publishers) Michael Lacey and James Larkin.
Money-laundering may sound sinister in itself, but it's one of those charges (like conspiracy) that our nation's cops and courts often abuse. In this case, Backpage originally accepted payments for its adult-section ads (as well as payments for other services on the site, such as preferential placement of ads in other sections) via typical digital payment mediums, including Paypal and all the major credit cards. But thanks to hounding and intimidation by various government entities, Backpage was forced to stop accepting all those payment methods.
Illinois Sheriff Tom Dart intimidated Visa, MasterCard, and American Express into ceasing their relationships with Backpage, in a case that went all the way to a federal appeals court and wound up in a win for Backpage. In the end, the federal court held that Dart's act was unconstitutional.
Meanwhile, the Obama administration's Operation Choke Point encouraged banks to cease business with all sorts of legal businesses, including porn companies, gun and ammunition sellers, and sex-toy shops. Federal pressure and regulations, plus the efforts of folks like Dart, led Backpage to encourage people to use cryptocurrency for payments. The company also created intermediary companies to handle payments, so that the transactions wouldn't raise alarms with risk-paranoid bankers and financial processors.
Ultimately, the money-laundering that Backpage and Ferrer admitted wasn't about shielding assets in offshore tax havens or otherwise hiding the company's profits from government tax collectors. (The subsidiary companies, or "Defendant Entities," were legally registered and paid state and federal taxes.) But without subsidiaries and crypto, Backpage had no way to accept payment for "escort" ads or any of the many legal ads paid for and posted by users.
It's worrying enough that the government essentially criminalized Backpage making money at all. But the charges also imply that merely accepting or encouraging cryptocurrency payments is itself some sort of crime—or at least serves as an element of a crime, should it be found that someone has used your platform to accomplish an illegal transaction.