Antifa Group Calls for 'Revolutionary Violence' Against Black Sociology Professor
"Reactionary violence, like rape and domestic violence and torture, can only be responded to with revolutionary violence."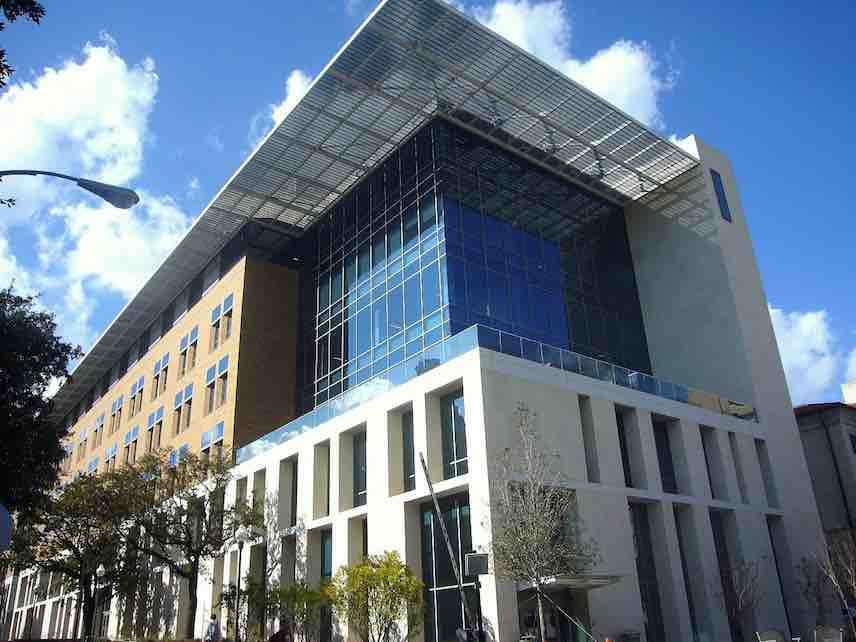 A far-left group of students and activists at the University of Texas–Austin has called for "revolutionary violence" against a sociology professor.
This is partly because a former girlfriend is accusing the sociologist of pressuring her into unwanted sex six years ago. Activists are also enraged that the professor failed to report a student to the authorities after the student expressed concern that he might not have always lived up to the requirements of affirmative consent.
But the campaign against the professor started for a much milder reason: He dared to say something about consent that the activists deemed heretical.
In an essay for Vox, Assistant Professor Robert Reece summarized conversations he has had with various men—including male students in his Masculinities in America class—about whether they had ever failed to practice affirmative consent, which requires the participants in a sexual encounter to constantly assess whether the other participant is still interested in the activity. "Men discuss the gray areas of intimate encounters" was the subhed.
In the eyes of the activists, there can be no gray areas. By approaching a complicated issue with nuance, Reece has made it clear that "he believes women should get used to rape and abuse as a condition of their gender," claims the Revolutionary Student Front, an anti-capitalist antifa group.
Reece has an impressive intersectional-leftist pedigree. (The American Spectator writes that he "checks so many politically correct boxes that he'd normally be immune from criticism.") He's a person of color who studied critical race theory at Duke; he writes about gender, race, and inequality for a number of left-wing outlets; he collects Black Panther memorabilia. Still, he expressed an opinion that conflicts with the campus Jacobins, and such "reactionary violence" can be remedied only with "revolutionary violence":
But change is not elusive to us. Reactionary violence, like rape and domestic violence and torture, can only be responded to with revolutionary violence. We are inspired by women across the world from revolutionary movements who have turned on abusive husbands and serial rapists, reclaiming violence and wielding it against their oppressors. Fighting back is the first step. The deep social change needed to end the creation of future rapists will not begin in a university classroom or in the highest levels of the US government. In a capitalistic system, men will always be granted some ownership over women and will feel entitled to much more. A feminist movement for working women must be created, one that intends to topple not only patriarchy, but capitalism imperialism as well.
Penning an insufficiently radical op-ed isn't Reece's only crime. A former girlfriend—a D.C.-based pro-choice activist named Jazmine Walker—has accused him of pressuring her to have unwanted sex with him. (She has subsequently claimed that other women told her he mistreated them too.) An uncharacteristically shoddy story in Inside Higher Ed characterizes this as a charge of rape, although Walker's tweets describe not direct coercion but emotional manipulation within the context of a "toxic ass relationship" involving mutually bad behavior.
Reece is also accused of covering for other rapists. In his op-ed, he mentioned that one of his male students seemed uncomfortable during an in-class discussion of sexual violence. Reece later reached out to the student, who confessed that he worried not all of his past sexual encounters had cleared the high bar of affirmative consent. Reece comforted the student and suggested counseling. The activists excoriated Reece for failing to swiftly report the student to the campus authorities.
"We find this to be direct proof that Reece is an active threat to students on campus," the activists write. "Through his course, he is uniquely able to identify potential rapists, yet he does nothing to stop them—and worse, he shows them his sympathy as a fellow misogynist and abuser."
The university administration has apparently caught wind of the controversy. According to Inside Higher Ed,
Walker has tweeted, tagging the university's official Twitter account, to say that Reece is a potential safety risk to the Texas community. She said she's received no response thus far. J. B. Bird, university spokesperson, said via email that Texas "takes all accusations of sexual misconduct seriously and follows up on accusations through its Title IX office and the Office of Inclusion and Equity, following established procedures, as it will do in this case. Sexual harassment or violence in any form is unacceptable and in contradiction of our core values."

Walker said some of what she's heard about Reece from other women…allegedly involves his time at Texas. In any case, universities can investigate rumors and allegations that don't pertain to specific, alleged incidents at their institutions, in the interest of maintaining campus safety. But such investigations are usually confidential until there is any finding of misconduct.
I emailed UT-Austin for clarification regarding whether Reece is indeed the subject of a Title IX investigation. A spokesperson told me the university is aware of the allegations made on social media, but does not generally comment on personnel matters.*
Reece concedes that he has behaved badly in past relationships, though he did not admit specific wrongdoing. It's possible that he hasn't learned from past mistakes, and it's possible that he is a threat to students' safety. But that's a fundamentally different matter than saying his failure to call for punishing all men who fall short of affirmative consent is itself a crime.
[Hat tip: The College Fix]
UPDATE: This post has been updated to include the university's response.