California Lawmakers Aim to Crack Down on Police Shootings, Open Police Conduct Records
Law enforcement is already resisting.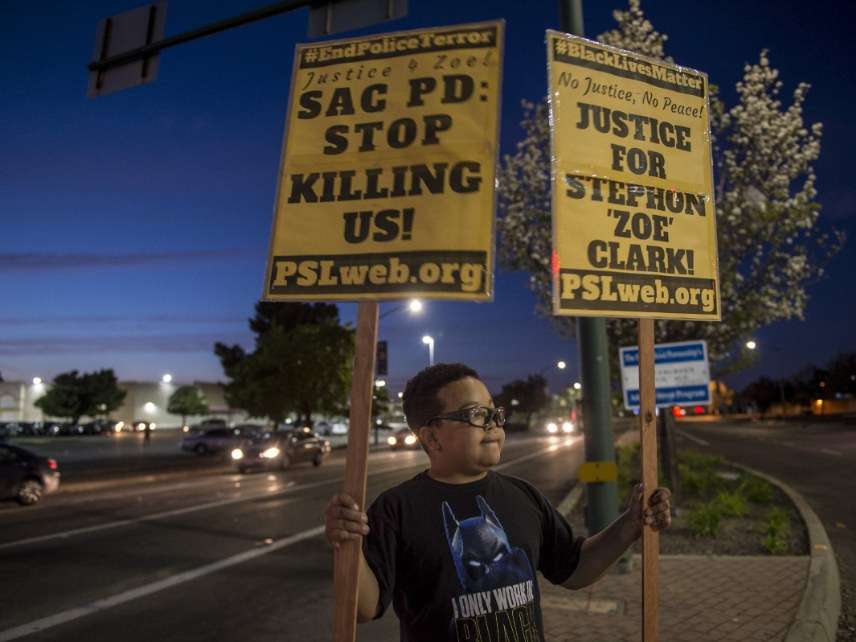 The authorities are still investigating the circumstances that drove two Sacramento officers to shoot Stephon Clark, 22, in his own backyard while screaming that the unarmed man had a gun. But the outcry over the case has prompted one California lawmaker to introduce a bill that would change the rules about when police can shoot to kill. Another reform bill would chip at the massive wall concealing information about police misconduct from the public.
The first bill, introduced by Shirley Weber (D–San Diego), is the Police Accountability and Protection Act. It would increase the legal threshold for when officers are allowed to engage in deadly force.
California cops currently can use deadly force if they have "reasonable fear" that they are in danger. This has created a police culture where officers are encouraged to say and even believe they are under a potential dangerous threat with every single encounter ("The suspect was reaching for his belt"). One psychologist even teaches police to be afraid of every encounter with citizens; when they shoot people, he serves as an expert witness to convince juries that the officer was justified because he or she was afraid.
Under Weber's bill, police would not be permitted to use deadly force unless "it is necessary to prevent imminent and serious bodily injury or death," with no reasonable alternative courses of action. The bill also makes it clear that a homicide is not justified if a police officer's "gross negligence" contributed to a situation where lethal force became necessary.
The Peace Officers Research Association of California (PORAC), the state's powerful police lobby, denounced the legislation before its members had even seen it. The group sent out a press release complaining that it was not consulted in the bill's drafting:
Since we have not actually seen the complete language and can only go by what the authors explained is the content of their bill, we are concerned that this reactionary legislation will handcuff peace officers and their abilities to keep communities safe. Uses of force incidents occur quickly, and while we have always supported greater training and body cameras, this legislation takes a dangerous new step. The legislation will require officers in every rapidly advancing, extraordinarily dangerous situation to employ a checklist that ultimately places everyone at risk.
PORAC says it wants to work with lawmakers on Weber's bill, but it is already signaling that it won't accept an increase in the threshold to allow for the use of deadly force.
Weber's proposal seems to be getting more attention, but a transparency bill introduced by Sen. Nancy Skinner (D-Berkeley) could have more impact if it passes. Under her bill, the public would gain access to police records involving officers who use their gun or use force that results in death or serious injury; to officers' records involving on-the-job sexual assault, including offering sex "in exchange for lenience"; and to records involving police dishonesty in reporting, investigating, or prosecuting a crime.
These are much-needed reforms. California is infamous for laws that conceal information about police misconduct—not just from the public but from other government agencies. Citizens thus don't know if misconduct is being appropriately punished, and officers booted from law enforcement agencies can quietly find police work elsewhere.
Whether either bill will get anywhere after the outrage over Clark's shooting fades is another question.