Food and Agriculture Organization
Iowa's Small Farms Are a Treasure. Why Won't Regulators Leave Them Alone?
"It seemed like every time we had a conversation with our county we had to spend thousands of more dollars to stay in compliance with their regulations."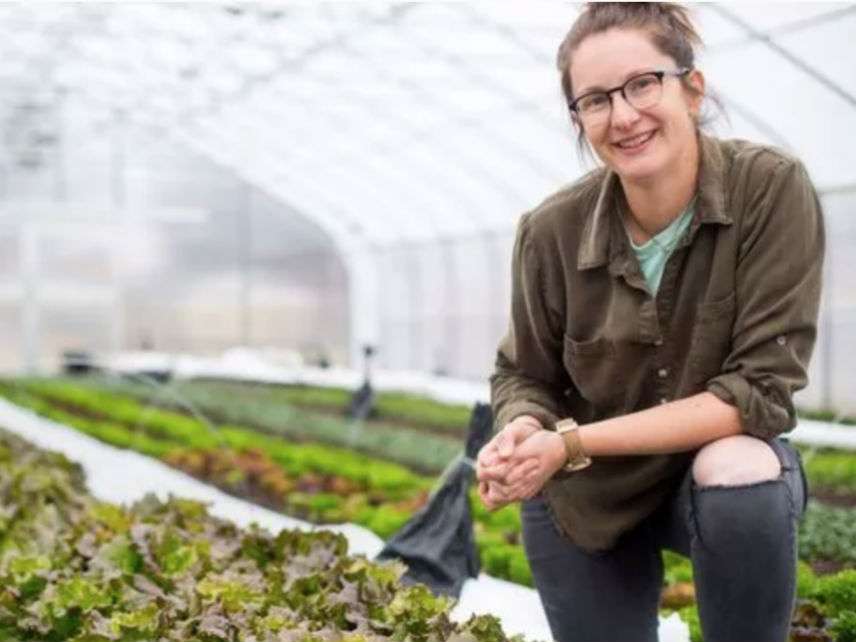 Earlier this week, members of the Polk County, Iowa, Board of Adjustments decided not to force the lone for-profit farm in Des Moines, the county's largest city, out of business.
While that sounds like the county played nice, the truth is that the small, beloved farm, Dogpatch Urban Gardens, faced this grave crisis for no legitimate reason whatsoever.
Farm owners Jenny and Eric Quiner launched Dogpatch "to promote health/nutrition, enhance community, environmental conservation, and instill family values for their children." Last year, Dogpatch's second in business, the farm "produced over 7,500 pounds of organically grown food," an impressive amount given its quarter acre of active farmland.
But regulators' growing demands on Dogpatch have proven costly and legion. According to The Des Moines Register, among the changes the county required or sought to require of Dogpatch were creation of a site plan; installation of restrooms, a septic system, a paved parking lot, and fencing; the planting of dozens of trees; and creation of "a berm in accordance with a flood plan for the area, a[l]though they'd already spent $7,500 adding drainage tile to mitigate the threat of their crops flooding."
This week's hearing was described as the thing that could "tip the scale on whether the couple's two-year-old business ultimately succeeds or fails."
The Quiners say they're happy with the outcome of this week's board meeting. But uncertainty over the future of their business has proven costly. The couple has spent about $10,000 so far, and anticipates even after the board's decision this week that their that the costs will rise.
"The added costs due to our county regulations have put some of our new business ideas on hold as we had to shift our focus to regulatory compliance rather than enhancing our business endeavors," Jenny Quiner told Reason.
But it's not just the money, Quiner says.
"Aside from the financial aspect, this past year has been very stressful," she says. "There were a lot of unknowns with the business and it seemed like every time we had a conversation with our county we had to spend thousands of more dollars to stay in compliance with their regulations."
One thing is certain about Dogpatch: locals have been quick to eat up Dogpatch's bounty.
"The local restaurants who utilize her organic produce are a who's who of the Des Moines culinary scene," the Register reported this January, before regulators came calling. The paper also included Jenny Quiner on its list of "People To Watch for 2018" and notes she's "a leader in the Des Moines food scene."
I traveled to Des Moines in fall 2016. On that, my second trip to Iowa, I served as a guest faculty member at a student food-law summit at Drake University Law School and also gave a book talk at the city's great Beaverdale Bookstore.
Des Moines is a foodie heaven. It boasts easily the best farmers market I've been to in the United States. Downtown's Iowa Taproom features 120 Iowa craft beers (not a typo) on tap.
But costly regulations like those that have threaten Dogpatch are frustratingly common in the area.
Polk County is also home to Clare Heinrich, a teen beekeeper. It was just before my 2016 visit to Iowa that I learned Heinrich's hometown, Urbandale, had ordered her to get rid of her bees, claiming the bees amounted to illegal livestock.
"It's hardly a stretch to suggest that we should be making it easier for local farmers to connect with eager consumers," I wrote in an op-ed that appeared in The Des Moines Register. "And yet rules so often do the opposite."
Small farms such as Dogpatch are becoming increasingly rare in Iowa. "Iowa farms are dwindling in number and growing in size," the Register reported in 2014. According to USDA data, Polk County lost more than 20 percent of its farmland between 2007 and 2012.
Dogpatch and other small farms in Iowa and across the country already face uphill battles as they fight for consumer dollars. The last thing they need is for regulators and regulations to simply pile up more existential obstacles.