House Passes 'Anti Sex-Trafficking' Bill Opposed by Both DOJ and Trafficking Survivors
The bill makes "promoting prostitution" a federal crime, holds websites legally liable for user-posted content, and lets states retroactively prosecute offenders.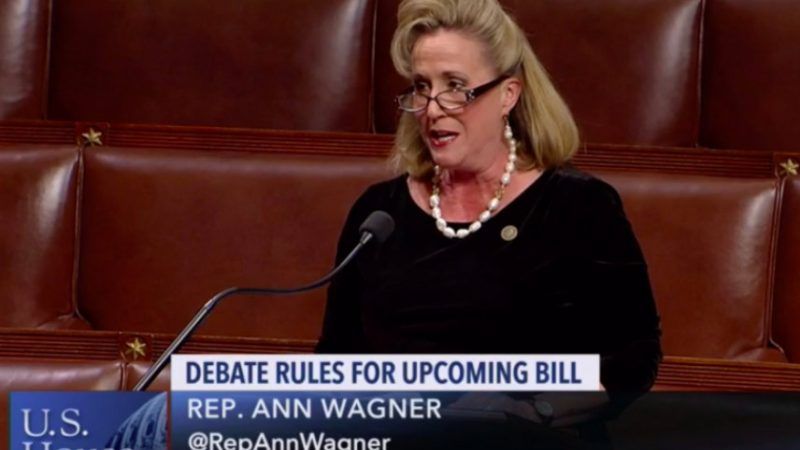 With bipartisan enthusiasm, the U.S. House of Representatives has just passed a bill that would endanger sex workers, make life even worse for human trafficking survivors, put both free speech and social media in serious jeopardy, and drastically expand federal prosecutorial power.
The bill, H.R. 1865, is euphemistically named the "Allow States and Victims to Fight Online Sex Trafficking Act" (FOSTA), despite the fact that there's nothing stopping state authorities from punishing sex traffickers and their allies at present and despite the fact that trafficking victims can already sue abusers in civil court. FOSTA's actual targets are adults consensually engaging in prostitution as well as web platforms that allow user-generated content.
One of many similarly misleading bills that have gained traction in recent years, FOSTA amends Section 230 of the federal Communications Decency Act to hold online publishers, apps, and services legally liable for the actions of people who post there or connect through them. What this means in practice is that social media sites such as Snapchat and Facebook, classified ad sites such as Craigslist and Backpage, chat apps, search engines, and many other communication tools could be both criminally charged and sued in civil court—by individuals or by states—anytime anyone uses them to meet someone with whom they would eventually engage in commercial sex.
As Rep. Sheila Jackson Lee (D-Texas) explained on the House floor yesterday,
H.R. 1865 creates the new offense of intentional promotion or facilitation of prostitution while using or operating a facility or means of interstate or foreign commerce, such as the internet. A general violation of this offense will be punishable by a sentence of upwards of 10 years.
The bill, sponsored by Rep. Ann Wagner (R-Missouri), has had bipartisan support in the House from the get-go, despite objections from a wide range of stakeholders, from victims' advocacy organizations to the U.S. Department of Justice, which has already declared the bill "unconstitutional."
On Tuesday, it passed the House with 388 votes in its favor.
Ivanka Trump and a host of liberal Hollywood celebs, government-funded nonprofits, and former #Pizzagate conspiracy theorists cheered.
Please call your congressperson today to vote YES on HR1865 #FOSTA #SESTA: https://t.co/ZjujurMiXT #ListenToSurvivors #IamJaneDoe @RepJerryNadler @RepZoeLofgren @GOPLeader

— Amy Schumer (@amyschumer) February 27, 2018
But the response from sex workers, sex-trafficking survivors, free speech advocates, human rights activists, tech companies, due process proponents, and many others was much less positive.
The bill "marks an unprecedented push towards Internet censorship, and does nothing to fight sex traffickers," the Electronic Frontier Foundation (EFF) declared yesterday. "Facing huge new liabilities, the law will undoubtedly lead to platforms policing more user speech," going out of business, or failing to launch in the first place.
"The tragedy is that FOSTA isn't needed to prosecute or sue sex traffickers," the EFF continued. "As we've said before, Section 230 simply isn't broken. Right now, there is nothing preventing federal prosecution of an Internet company that knowingly aids in sex trafficking. That includes anyone hosting advertisements for sex trafficking, which is explicitly a federal crime" already thanks to the 2015 "SAVE Act."
Voting against FOSTA were just 14 Republicans and 11 Democrats. Among them were staunch criminal justice reform advocate Rep. Bobby Scott (D-Virginia), pro-Trump Republican Rep. Matt Gaetz (Florida), longtime women's rights and anti-violence advocate Rep. Barbara Lee (D-California), and most of the House Liberty Caucus, including Reps. Justin Amash (R-Michigan), Thomas Massie (R-Kentucky), and Mark Sanford (R-South Carolina).
In a statement, Rep. Scott explained that he voted against the bill because it "establishes an overly-broad federal crime that is not limited to the advertisement of sex trafficking victims, which is already illegal, and punishes conduct which is much less serious than what is ordinarily viewed as 'sex trafficking.'"
"By targeting prostitution broadly, [FOSTA] may also force markets for consensual commercial sexual activities offline, which would increase risks of violent crime against vulnerable populations," said Scott.
I was a #sexworker organizer for years in NYC. #FOSTA would undermine almost every single thing I would tell people for how to stay alive. ALL screening, ALL peer references, ALL bad date lists I could send. #SurvivorsAgainstFOSTA

— Kate (@KateDAdamo) February 26, 2018
The House Liberty Caucus warned that the bill would subject sites like Facebook, Twitter, and Yelp "to substantial liability unless they're able to continuously remove all illegal content—which is effectively impossible to do." FOSTA, in its initial or amended form, "will significantly burden the rights of hosts and users" while increasing "risks of violent crime against vulnerable populations."
The Constitution reads: "No Bill of Attainder or ex post facto Law shall be passed." (Art. I, §9)

Congress just passed this ex post facto law by a vote of 388-25. (I voted no, of course.) https://t.co/xD42cnrjYt

— Justin Amash (@justinamash) February 27, 2018
It's also all sorts of unconstitutional, the Liberty Caucus notes.
FOSTA "violates the Tenth Amendment by establishing a broad new federal crime for using or operating a website with the intent to promote or facilitate the prostitution of someone else," which is "not limited to the advertisement of sex trafficking victims" (already illegal). Rather, the bill "covers prostitution broadly, which the Constitution does not permit the federal government to regulate through criminal laws."
The caucus adds that on amendment to FOSTA "violates the Constitution by allowing states to use the bill's changes retroactively to prosecute conduct that states could not prosecute at the time it occurred." This goes against Article 1 and the Rule of Law, which forbid "ex post facto laws that retroactively apply criminal liability to actions that occurred before the law is passed."
Rep. Bob Goodlatte, chair of the House Judiciary Committee, spoke against this retroactive facet of the bill on the House floor yesterday. "Though I applaud my colleague's dedication to this issue and fully appreciate the suffering of victims, I have concerns about this amendment which states that the provisions of the bill apply regardless of whether the conduct alleged occurred or is alleged to have occurred before, on, or after such date of enactment," said Goodlatte. "I hope we have an opportunity to fix this problem as we move forward with the bill."
During a private call last week, a source in the House said Goodlatte's office was upset about the situation with FOSTA but wouldn't seriously try to fight it. Another source said on background that Goodlatte's decision not to fight followed an "expletive-laden exchange" between the Judiciary Committee and House leadership in which Republican Reps. Paul Ryan of Wisconsin and Kevin McCarthy of California made it clear that they were going ahead with the bill as written despite Judiciary's concerns.