FDA Begins Implementing Awful Food-Safety Law
FSMA will put many small farmers out of business.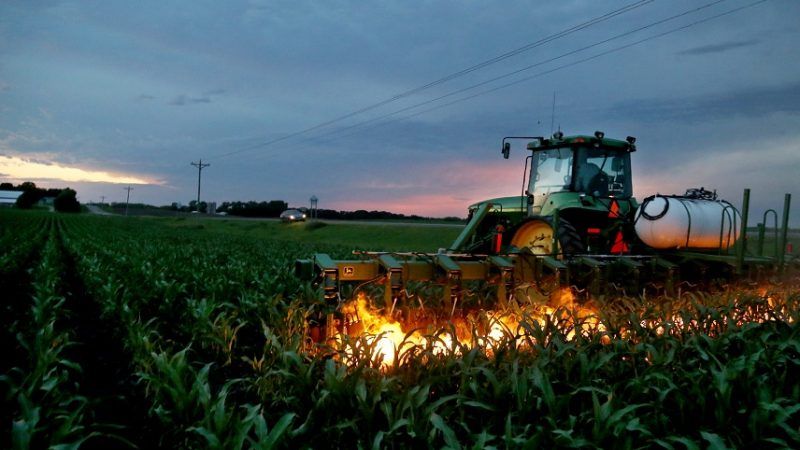 (David Joles/ZUMA Press/Newscom)
America's farmers are on the alert this week as key provisions of the Food Safety Modernization Act (FSMA) begin to take effect. The law, which is being rolled out by the Food and Drug Administration (FDA) over several years, could have far-reaching implications for who grows—and doesn't grow—the food you buy.
When Congress passed FSMA (pronounced FIZZ-muh) in late 2010—President Obama signed it into law during the first days of 2011—supporters touted the law as the most sweeping update of our nation's food-safety laws in more than 75 years.
But both the law and its implementation are controversial. Many small farmers feared—and still fear—that the new regulations and high costs of complying with the law could squeeze them out of business. As evidence, they point to the giant farms and food producers who supported the law.
While FSMA contains several provisions, one key facet of the law requires the FDA to "establish science-based minimum standards for the safe production and harvesting of fruits and vegetables."
Bigger farms must comply sooner. Hence, as of this week, the produce rules apply only to America's largest farms. That means that this year, farms with more than $500,000 in sales will have to comply with FSMA. Next year, the rules will also cover farms with between $250,000 and $500,000 in sales. And in 2020, the rules will cover very small farms—those with revenue between $25,000 and $250,000.
While this gradual implementation is likely better for small farmers than the alternative—being forced to comply right now—that hasn't allayed their fears.
Many of those fears pertain to compliance costs. The relative compliance costs for small and large farms are stark. As I've noted previously, the FDA estimates FSMA will cost America's small farms about $13,000 each per year and its larger farms about $30,000 per year. That means that for some small farmers, compliance costs could eat more than half of their revenue. For larger farms, compliance costs will amount to less than one percent of revenue.
As I detail in my book, Biting the Hands that Feed Us: How Fewer, Smarter Laws Would Make Our Food System More Sustainable, small farmers' concerns about that part of the law have been legion.
This week, one Maine farmer shared his concerns about the law. Farmer Goran Johanson, while embracing some of what FSMA requires, says the law will place "a huge financial burden on us as farmers." He worries "there could potentially be a lot of infrastructure needs necessary" at his farm, including that he'll have to scrape together funds "to build a new produce packing house that will have washable surfaces on everything, which is an expensive investment."
Just how much will FSMA benefit consumers? According to the FDA itself, not much.
Even if FSMA is implemented perfectly, the law won't make our food supply much safer. That's according to the FDA's best-case estimates which, I wrote in 2014, would mean "a paltry reduction in cases of foodborne illness of between 3.7 percent and 5.4 percent." Again, that's the best-case scenario. A more likely outcome, I estimated, also using FDA data, is that foodborne illness cases might drop by around 2.6 percent.
Why such little impact? As I detailed in 2015, FDA regulations are only capable of preventing, at most, "only one out of every five cases… of foodborne illness." That's because four of every five cases of foodborne illness can be traced to causes that have nothing to do with foods regulated by the FDA.
Congress never should have passed a law with such high costs and such little return.
Around the country, state agriculture departments and agricultural extension agents are working feverishly to help local farmers prepare to comply with the regulations. In five years, when there are even fewer small farmers than there are today, we'll be able to look back to this week as the beginning of that sad and unnecessary end.