The Puffy Coat Makers at Patagonia Want You to Subsidize Their Rich Customers
There are better ways to pay for hiking trails.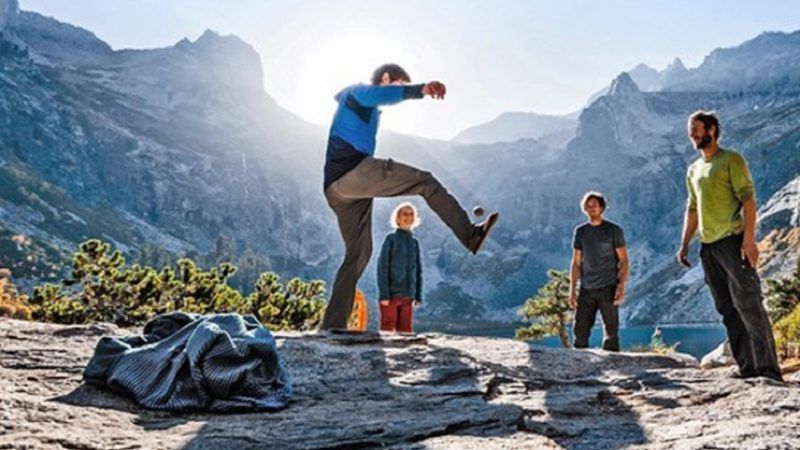 "The President Stole Your Land." That was the message, in stark white letters against a black background, that replaced the usual bright-colored images of puffy jackets and backpacks on the outdoor retailer Patagonia's website last month. "In an illegal move," the text continued, "the president just reduced the size of Bears Ears and Grand Staircase-Escalante National Monuments. This is the largest elimination of protected land in American history."
The pop-up was probably jarring for anyone browsing to buy a thermal base layer. It was also inaccurate. Even if the administration's monument reductions survive legal challenges, the area in question wasn't "stolen" from the public: It remains federally owned public land.
Patagonia wasn't the only outdoor recreation company to rail against President Trump's announcement that he would shrink the two monuments. REI's website noted "the loss of millions of acres of protected lands this week," a disingenuous line given the numerous laws and statutes—from the National Environmental Protection Act to the Archaeological Resources Protection Act—that already protect federal lands.
The outdoor recreation industry's politics share a common conviction: that public lands should be "free" for everyone because they belong to all citizens, and that many more acres should be set aside for recreation. In arguing for stricter protections at Bears Ears in particular, companies like Patagonia play a familiar role, albeit one not usually described in such terms: Corporate interests get their policy preference despite vehement opposition from the locals.
Trump is also guilty of framing the public lands dispute spuriously, having called his predecessor's designation of Bears Ears as a national monument a "massive federal land grab." In fact, the area was already federal land—managed by the Bureau of Land Management (BLM) and the U.S. Forest Service—before Barack Obama made it a national monument during his last month in office. (Monument designations can be controversial because they usually impose land-use restrictions, such as limiting or prohibiting activities such as livestock grazing or mineral development.)
In its calls to limit uses on more and more public lands, Patagonia tends to come across as what most of its devotees no doubt see it as: a noble, thoroughly "green" company simply seeking a higher calling. Much of the media buys into that rendition: "Patagonia has long been an active participant in the fight to protect the environment," The Washington Post declared in its coverage of the splash page. The company's actions could just as accurately be described as a corporate interest lobbying for policies that will help its bottom line.
The outdoor recreation industry certainly thinks its success hinges on public lands. A 2017 report by the Outdoor Industry Association called public lands and waterways "the backbone of our outdoor recreation economy." Patagonia CEO Rose Marcario used similar language when attacking Utah's elected officials for "their blatant disregard for Bears Ears National Monument and other public lands, the backbone of our business." Patagonia founder Yvon Chouinard has complained that Utah politicians "don't seem to get that the outdoor industry—and their own state economy—depend on access to public lands for recreation."
Most of the visitors to those public lands are decidedly well-off when compared to the typical American household. According to the National Park Service and Forest Service, in recent years slightly more than half of visitors to national parks and forests had household incomes over $75,000. Both agencies also reported that less than 10 percent of visitors had household incomes under $25,000.
Meanwhile, the public lands that bolster outdoor companies' profits are anything but "free." Collective maintenance needs for national parks and forests alone exceed $16 billion. According to a 2015 study by my colleagues at the Property and Environment Research Center, from 2009 to 2013 the Forest Service spent $2.81 per recreation visitor but only recouped $0.78 in revenue for each. When it came to BLM lands, each recreation visitor cost $1.49 but brought in only $0.31 for the agency. The shortfalls are borne by taxpayers, who subsidize the hikers, climbers, and puffy-jacket-wearing visitors who enjoy national forests and other federal recreation areas.
There are much better ways to fund public lands used for recreation than by subsidizing the well-heeled people who use them. The fairest and most direct way would be to charge recreation fees to the people who use public lands. This already happens to a limited extent, but the laws that govern the ways agencies can collect and spend fees are so onerous and inflexible that few public recreation sites charge fees: Less than half of the more than 400 sites managed by the National Park Service levy fees, and less than 2 percent of all BLM and Forest Service sites do.
By paying modest fees, climbers, hikers, mountain bikers, and other recreationists would contribute revenues that could support the land agencies tasked with providing recreation opportunities on public lands. You need a fishing license to fish in public streams. Why not charge for a climbing permit to climb on public lands?
And if taxpayers must foot the bill, then at least the citizens paying the taxes could be selected more narrowly. Hunters and anglers already fund conservation through federal excise taxes on products from guns and ammo to fishing tackle and boat fuel. Such levies generated $1.1 billion in 2016, revenue earmarked for conservation efforts. The resulting habitat restoration and wildlife conservation benefit a wide range of recreationists, giving them somewhat of a free ride on the spending of hunters and fishers. A comparable tax on backpacks, tents, hiking boots, and other outdoor equipment could generate more than $10 billion in a single year—almost enough to wipe out the entire National Park Service maintenance backlog.
It's hard to blame the outdoor recreation industry for fighting a tax on itself. But it's easy to question its insistence that all taxpayers should subsidize wealthy recreationists on public lands, especially when the current policy boosts the sector's profits.
The industry's trade group says that outdoor recreation is responsible for $887 billion in consumer spending, arguing that it's "as much our responsibility to invest in [public lands] as it is our right to enjoy them." It's not clear why they'd expect taxpayers or lawmakers to be sympathetic when its corporate members and well-off patrons are still getting a largely free ride.