Sessions Still Is Not Leading a Cannabis Crackdown
The attorney general's memo gives U.S. attorneys the discretion they always had to target state-legal marijuana suppliers.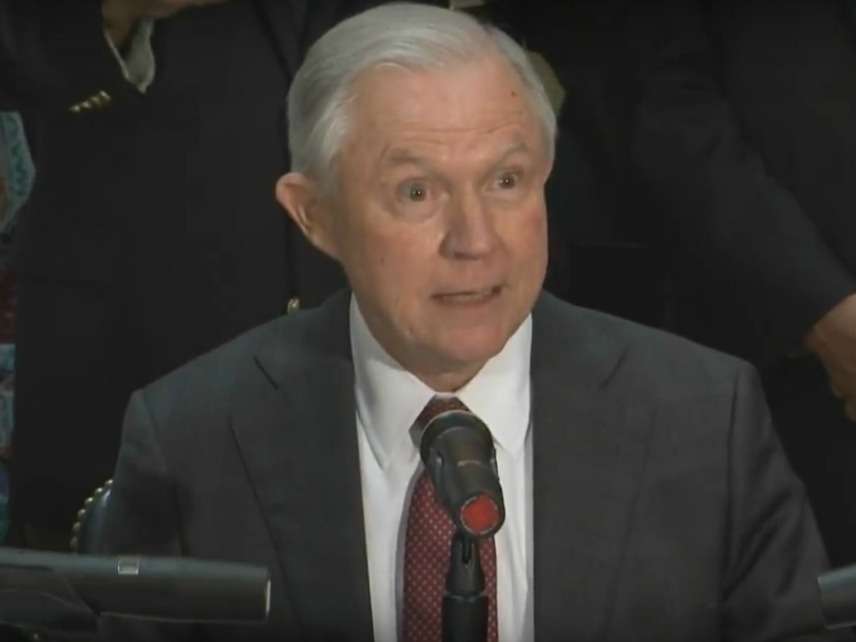 Today Attorney General Jeff Sessions rescinded a 2013 Justice Department memo that signaled a policy of prosecutorial restraint for state-licensed marijuana businesses. Rather than suggesting to U.S. attorneys how they should decide which marijuana cases to pursue, Sessions is letting them decide for themselves. Although that move reflects Sessions' well-known opposition to marijuana legalization, it is not clear how big an impact it will have on the cannabis industry, because federal prosecutors have always had broad discretion but limited resources in this area.
"Given the Department's well-established general principles," Sessions writes in a one-page memo he sent U.S. attorneys today, "previous nationwide guidance specific to marijuana enforcement is unnecessary and is rescinded, effective immediately." He is referring mainly to a 2013 memo in which James Cole, then the deputy attorney general, said U.S. attorneys, in deciding whether to target marijuana suppliers who comply with state law, should be guided by "certain enforcement priorities that are particularly important to the federal government." Cole listed eight priorities, including the prevention of interstate smuggling, sales to minors, and drugged driving or other "adverse public health consequences." He added that "nothing herein precludes investigation or prosecution, even in the absence of any one of the factors listed above, in particular circumstances where investigation and prosecution otherwise serves an important federal interest."
On paper, the Cole memo left U.S. attorneys free to prosecute state-legal marijuana growers and distributors, as long as they could invoke an important federal interest. That would not have been hard, given the breadth of the goals specified by Cole and his warning that the list was not exhaustive. But in practice, U.S. attorneys since 2013 generally have refrained from targeting marijuana businesses unless they violate state as well as federal law.
Sessions could have tried to change that without rescinding the Cole memo. As a senator and as attorney general, he has said the memo provides sound prosecutorial guidance while suggesting that it has not been applied as aggressively as it should have been. He could easily have defended a broad cannabis crackdown based on the priorities Cole listed. Every marijuana merchant, for example, arguably contributes to drugged driving and underage consumption (through diversion from adult customers if not through lax ID checks), so shutting down the biggest operations through prosecution or forfeiture fits comfortably within the contours of the Cole memo. But Sessions has not attempted anything like that.
On paper, Sessions' memo does not change DOJ policy. By his own account, it merely eliminates gratuitous guidance that was already implicit in the DOJ's "well-established general principles." The question is whether U.S. attorneys will now be more inclined to go after the many highly conspicuous, state-licensed marijuana suppliers who are openly committing federal felonies every day. Although the Justice Department does not have the resources to prosecute all of them, a few raids, or even a few threatening letters, would seriously disrupt the industry.
It's not clear that's what Sessions wants to see, notwithstanding his strong anti-pot prejudices. Most Americans think marijuana should be legal, and an even larger majority, including most Republicans, says the decision should be left to the states. Sessions' boss, who is already irked at him because of the Russia investigation, has repeatedly said states should be free to legalize marijuana for medical or recreational use (although he is less enthusiastic about the latter option). Marijuana is legal for recreational use in eight states, home to one in five Americans. Medical marijuana is legal in 29 states. A cannabis crackdown would anger officials from those states, creating political headaches that neither Sessions nor Donald Trump needs. And since home cultivation is legal in seven of the eight states that allow recreational use, a crackdown would shift the supply from relatively few visible and regulated sources to myriad uncontrollable growers.
The response to Sessions' announcement illustrates the political peril of trying to shut down the cannabis industry. "This reported action directly contradicts what Attorney General Sessions told me prior to his confirmation," Sen. Cory Gardner (R-Colo.) said on Twitter. "With no prior notice to Congress, the Justice Department has trampled on the will of the voters in CO and other states." Gardner noted President Trump's promise of marijuana federalism, adding, "I am prepared to take all steps necessary, including holding DOJ nominees, until the Attorney General lives up to the commitment he made to me prior to his confirmation."
A "senior DOJ official" who spoke to reporters on the condition that he not be named was cagey about the goal of Sessions' memo. "I can't sit here and say whether it will or will not lead to more marijuana prosecutions," he said. "We believe U.S. attorneys' offices should be opened up to bring all of these cases that are necessary to be brought." Which is also what Cole said.
I would be more inclined to believe that Sessions is bent on wrecking the legal cannabis industry if he challenged state marijuana regulations in federal court. There is a credible argument to be made that licensing marijuana cultivation and distribution, as opposed to merely repealing state penalties for those activities, conflicts with the Controlled Substances Act and is therefore preempted under the Supremacy Clause (leaving aside the shaky constitutional basis for applying the CSA to activities that do not cross state lines). But as Cole noted in 2013, a successful legal challenge to state licensing systems, like a successful effort to shut down cannabusinesses through prosecution and forfeiture, would make marijuana production and sales harder to monitor and control.
Sessions' memo is obviously not good news for the cannabis industry or supporters of legalization. In addition to the 2013 memo, Sessions rescinded a 2009 memo from David Ogden, Cole's predecessor, addressing medical marijuana; a 2011 Cole memo on the same subject; a 2014 Cole memo dealing with banking services for the cannabis industry; and a 2014 memo from another DOJ official extending Cole's guidance to tribal lands. None of those documents provided any guarantees or even clear guidance for people trying to avoid trouble with the federal government. But withdrawing them compounds the uncertainty surrounding businesses that are deemed legitimate by most states yet qualify as criminal enterprises under federal law. Perhaps Sessions' saber rattling will encourage Congress to resolve that conflict in a way that does not depend on fuzzy and fleeting memoranda.
Addendum: Bob Troyer, whom Sessions picked as the interim U.S. attorney in Colorado last November, issued a press release saying today's memo will not affect his prosecutorial choices. "The United States Attorney's Office in Colorado has already been guided by these principles in marijuana prosecutions—focusing in particular on identifying and prosecuting those who create the greatest safety threats to our communities around the state," Troyer said. "We will, consistent with the Attorney General's latest guidance, continue to take this approach in all of our work with our law enforcement partners throughout Colorado."