Will This Awful Bill Allowing Warrantless Domestic Snooping Get Shoved Into an End-of-Year Spending Plan?
Congress might quietly expand the feds' surveillance powers without any actual debate.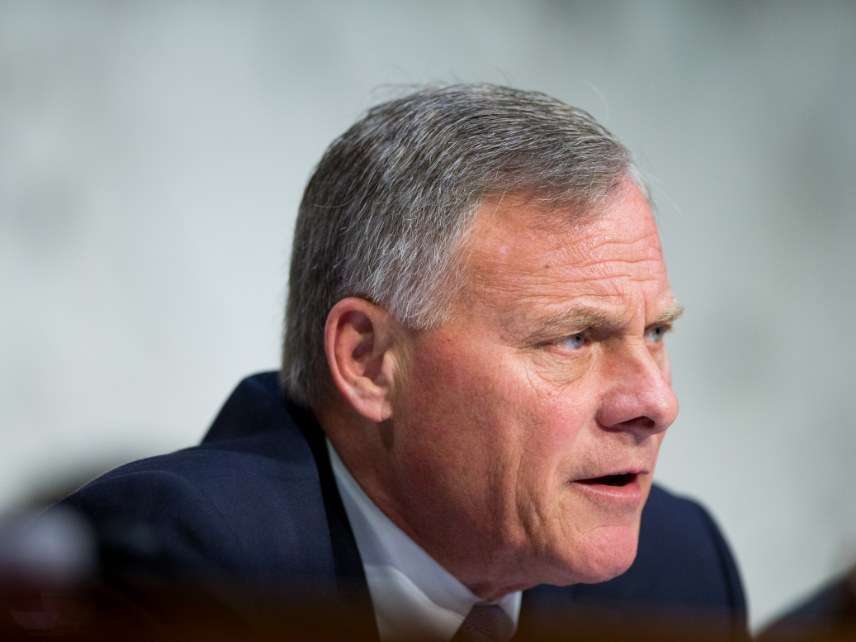 Senate Intelligence Committee Chairman Richard Burr (R–N.C.) is attempting to insert a bill authorizing warrantless domestic surveillance into must-pass end-of-year omnibus legislation.
Burr's bill reauthorizes Section 702 of the Foreign Intelligence Surveillance Act (FISA) Amendments. These amendments (and their secretive FISA court) allow the secret surveillance of foreign targets outside of America's borders without the use of warrants. They have grown increasingly controversial because the surveillance has also scooped up untold (as in, not publicly revealed) amounts of domestic communications, and that information is being used for domestic crimefighting purposes. This puts the program at odds with the Fourth Amendment's protections against unwarranted searches.
Section 702 will expire at the end of the year unless Congress acts. There are several bills in play to renew Section 702 with various levels of protections against unwarranted domestic surveillance. (Not familiar with them? Check out my primer from last week.)
Burr's bill is flat-out the worst of the lot. It openly authorizes the use of Americans' communications collected without a warrant for a host of domestic crimes. It also authorizes the use of "about" searches, where intelligence officials access communications that merely reference a target, not just communications to or from that target.
Ordinarily Burr's bill would have no chance of passing. Too many legislators in both parties, particularly in the House, are opposed to such measures for them to get through under normal circumstances. But I've previously warned that Burr and Senate leadership might try to add this reauthorization to a massive end-of-year bill that has to be passed to keep the government functioning. And Burr now tells The Hill that that's exactly what he's going to try to do:
House lawmakers have characterized Burr's legislation as dead on arrival in the lower chamber, where there is a larger group of reform advocates—but Burr dismissed those concerns Tuesday.

"I heard that argument before we marked up and I think we found language that accommodated everybody's belief that this didn't just leave unfettered access to this information," he said. "Some of that is still rough around the edges but the architecture is there."

Close watchers of the debate have long speculated that Senate Majority Leader Mitch McConnell (R-Ky.) may follow a version of the playbook he used in a failed 2015 bid to pass a clean reauthorization of the Patriot Act—wait for the House to go first, then try to pass a clean renewal at the last minute in an attempt to jam it through the lower chamber.
That trick didn't work, thanks in part to filibustering from the likes of Sens. Rand Paul (R-Ky.) and Ron Wyden (D-Ore.). Paul and Wyden are currently teaming up to push a rival piece of legislation, so don't expect them to be any more deferential to unwarranted surveillance this time.
When part of the PATRIOT Act expired, we ended up with the compromise USA Freedom Act, which authorizes warrantless collection of metadata from Americans but places significant limits on officials' ability to search and access that metadata. Similarly, there is a compromise Section 702 reauthorization bill called the USA Liberty Act. The House bill has wide enough exceptions, surveillance experts say, that intelligence officials could easily bypass restrictions and continue to access domestic communications. Right before the Thanksgiving holidays, some senators released a version of the USA Liberty Act that tightens up those exceptions and made the warrant demands stronger.
Burr recognizes that a compromise is going to have to happen again, but he believes his bill is going to be the framework and that there's absolutely no chance that stricter warrant requirements are going to be part of the final reauthorization.
Burr, obviously, is no disinterested observer. He wants to sell the idea that his bill is the only one that can make it through the Senate, regardless of whether that's true. That just makes it all the more important to stay on top of this Section 702 debate, and for privacy and civil liberties groups to warn about the dangers of bills like Burr's.
A final reminder: Reason has been on the federal surveillance beat for years now, helping readers stay informed about exactly how this domestic snooping violates our privacy. If all this reporting has been useful to you, consider a contribution to our webathon. We take bitcoins!