No Bail for Wisconsin Cop Nabbed for Sex Chat With Teen
Snapchat and Facebook exchanges with a 15-year-old have Wisconsin officer Basil O'Kimosh facing life in prison.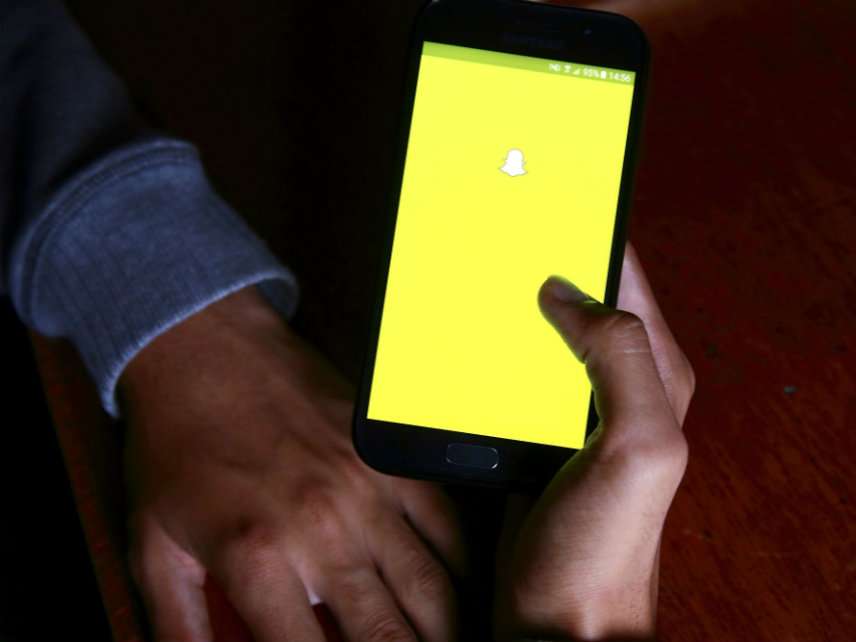 Basil O'Kimosh, a former cop in Green Bay, Wisconsin, faces federal charges for exchanging sexually explicit Snapchat messages with a teenage girl he met on Facebook. If convicted, the 39-year-old man faces 25 years to life in prison.
According to FBI Agent Sarah Deamron, O'Kimosh began interacting with the girl last January through Facebook Messenger; in April he asked if he could contact her on Snapchat. The contact continued through October. At first O'Kimosh did not know the girl was only 15, but continued to discuss sexual topics with her after learning her age, "repeatedly requesting through the Snapchat application" that they meet for sexual activity. When investigators impersonated the girl on November 1, O'Kibosh asked "her" to send an explicit photo. He also asked to meet for oral sex and, when "she" agreed, showed up at place they had arranged.
O'Kimosh was charged in a complaint filed last Friday in the U.S. District Court for the Eastern District of Wisconsin. On Tuesday, U.S. Magistrate Judge James R. Sickel ordered O'Kimosh be held in a federal corrections facility pending trial, based on his "potential risk of flight due to the significant sentence that may be imposed if convicted" and on the fact that the alleged offenses happened while he was on duty as a Menominee Tribal Police officer.
"The Court finds the information set forth by the defense is not sufficient to rebut the presumption of detention and no set or combination of conditions would assure the safety of the community," wrote Sickel.
While it's refreshing to see a cop get held accountable for a change, calling O'Kimosh a threat to community safety seems a bit melodramatic. No adult, especially not one sworn to uphold the law, should be sexting with a teenager, let alone propositioning one. But considering the kinds of things that cops in this country frequently get away with—murder, sexual assault, physical abuse, actual sex with minors—the severe concern in this case rings either a bit paranoid or a bit hollow.
The feds didn't step in, for instance, when dozens of cops were under investigation for sexting and having sex with an underage girl in Oakland, California. Or when a Chicago cop was arrested for trafficking a 14-year-old. Or in the recent case of a Bronx officer arrestd for paying to make sex tapes with a minor. And I could go on.
But U.S. prosecutors have been big lately on exercising jurisdiction over both social media and sexting, and these have also been the subject of much attention in Congress lately. All of this helps suggest the decision to make this a federal matter is based more on opportunism and political agendas than the severity of O'Kimosh's crime or his threat to the public.
The federal government has been exercising increasing control over sex-crime-related matters of all sorts lately. But getting the feds involved in cases like these is generally an awful idea (though O'Kimosh's position as a cop on a tribal reservation may have posed some special considerations here). Not only does it take away from matters that can't be handled by local law enforcement, but it subjects those convicted to incredibly harsh prison sentences. And that should concern you even if the plight of someone like O'Kimosh really doesn't, because pushing prison time above and beyond what's required for public safety and/or rehabilitation is how we exacerbate America's mass incarceration problem.
Notably, O'Kibosh doesn't face child pornography charges. Instead, he's charged under lesser-used federal statutes related to sexual exploitation of children, obscenity, and immoral travel (the Mann Act)—offenses related to recent congressional bills on warrantless email snooping, police wiretapping, and online publishing, among other things. A bill in the Senate expands the authorities' power to use wiretapping in cases that involve the Mann Act, obscenity, and sexting with a minor. And the Stop Enabling Sex Traffickers Act (SESTA)—a misleadingly named bill that actually hinders efforts to stop sexual exploitation—would amend Section 230 of the Communications Decency Act to deny legal immunity to websites and services whose sites were found to enable certain sex crimes.
SESTA is fraudulently sold as a way to target only "bad" sites like Backpage, and this week Facebook joined several other tech giants in supporting it. But as the O'Kimosh case (and so many others I've encountered) illustrate, it's not only ad sites like Backpage and Craigslist, or explicitly adult-oriented sites, where Americans advertise, find one another, communicate, and arrange to meet for sexual activity that violates local, state, and federal laws. In cases like this one, Facebook and Snapchat could very easily find themselves on the hook for sex crimes right along with their more demonized digital counterparts.