Rand Paul Worries Whether Surveillance Reform Will Even Be Debated in Senate
Will snooping reauthorizations just get quietly dumped into a spending bill?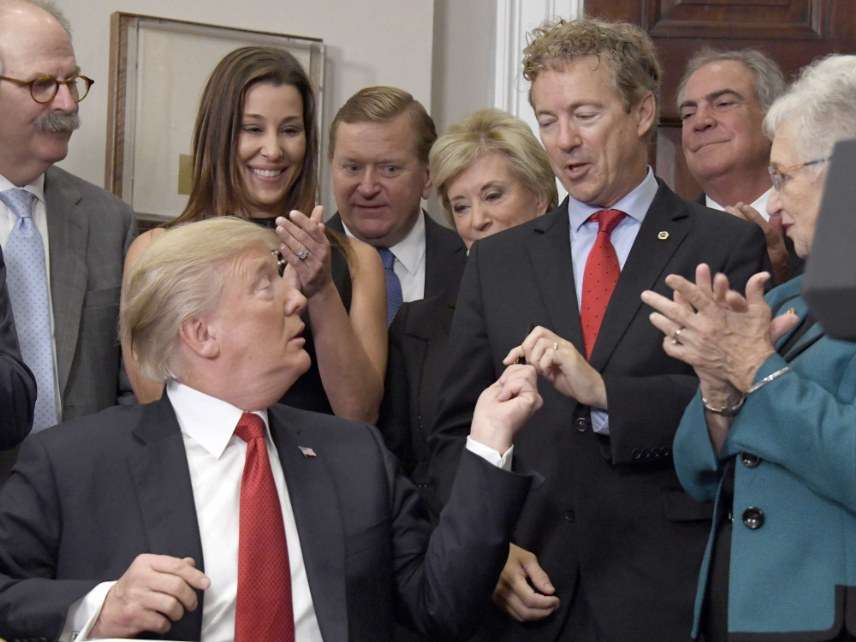 Sen. Rand Paul (R-Ky.) is concerned his peers will attempt to reauthorize and possibly even expand the federal government's surveillance powers without any public debate at all.
Paul spoke with journalists this morning about the USA Rights Act, the bill he has introduced with Sen. Ron Wyden (D-Ore.) to reform the Foreign Intelligence Surveillance Act (FISA). Paul's goal, as when he has called for limits on government surveillance in the past, is compliance with the Fourth Amendment.
"What's most important to me is that, really, if we use less than a constitutional standard to gather information, that information should not be used to prosecute a crime," Paul said.
But yesterday afternoon, hours after Paul and Wyden unveiled their bill, the Senate Intelligence Committee voted to essentially maintain the rules as they are. The way Section 702 of FISA is currently being implemented allows the FBI and other federal agencies to use communications they collect during surveillance of foreign targets to prosecute domestic crimes, all without getting a warrant to access the information. Section 702 expires this year, so lawmakers must either pass something or allow it to expire entirely.
Paul hopes there will be debate on reforming the Section 702 surveillance laws, but he worries that's not going to happen.
"Our hope is that we'll actually get a vote on this," Paul told reporters. "It's disappointing that we may not get a debate or vote. Typically we wait until deadline and then stick it on spending bills."
But if Paul doesn't get a lot of support from his fellow senators, he has bipartisan support from a significant number of representatives in the House. He says that only a handful of GOP senators support his push for restrictions, but he calculates that somewhere between 60 and 100 conservatives in the House are receptive. The conservative House Freedom Caucus opposes renewing Section 702 without better protections for Americans against unwarranted surveillance.
Paul was also asked about his recent interactions with President Donald Trump and whether he pushed for Trump to embrace these reforms. Paul wouldn't get into specifics, but he confirmed that he had been "discussing privacy issues" with the president. The White House has said that it wants Section 702 reauthorized without changes.
Trump's concerns about surveillance privacy have primarily involved the unmasking of people in his orbit during the investigation of possible Russian meddling in the election, and leaks of information about those communications to the media. The line from the White House has typically been that the unmasking and the leaks were illegal and must be stopped. Paul agrees with that. But there's not much evidence that Trump shares Paul's broader concern about surveillance without warrants as an issue affecting everybody else.