Cleveland Cops in Car Chase That Killed Two Get Their Jobs Back
Pursuit started when cops mistook engine backfire for a gun shot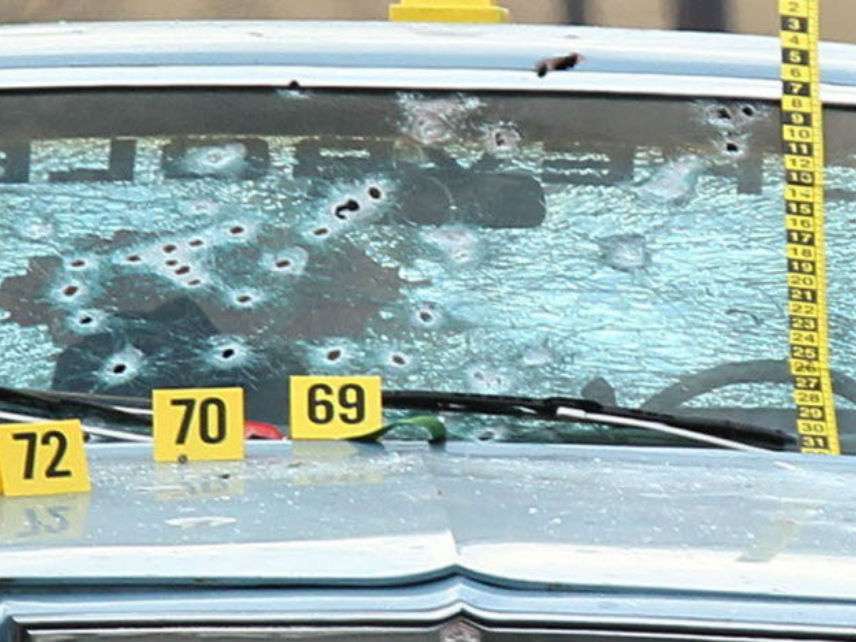 Five Cleveland police officers have gotten their jobs back. The arbitrator who reinstated them did not dispute the irresponsible behavior that had led them to be fired from the force, but he decided the officers had been "good cops" before the incident and therefore should not have their careers ruined.
The incident involved a 23-minute-long chase in 2012 that began when some cops misidentified the backfire from a car's engine as gun shots. (No gun or contraband was found in or near the vehicle.) Sixty-two marked and unmarked police vehicles joined the pursuit, which ended with 13 officers firing 137 rounds into the car. The driver, Timothy Russell, and his passenger, Malissa Williams, were both killed.
Sixty-three cops were suspended, for a maximum suspension of 10 days. Of the 13 officers directly involved in the shooting at the end of the chase, six were fired and five were suspended for 21 days. Only one, Michael Brelo, faced criminal charges. He fired 49 rounds into the car, including at least 15 after Russell and Williams were "no longer a threat." At one point, he jumped on the hood of the vehicle to keep shooting. He was acquitted after a judge decided he could not determine whether Brelo was the only one who fatally shot Russell and Williams.
Brelo was the only of the fired cops who did not get his job back.
It's unclear whether the City of Cleveland will challenge the arbitrator's decision, although the mayor has expressed disappointment in it. "We believe that the City's decision to terminate the other five officers was justified and should have been upheld," he said in a statement. "We acknowledge that the arbitrator concluded that those officers committed serious policy violations; however, we are reviewing our options regarding the officers whose terminations were not upheld."
What's clear is that this kind of arrangement is untenable. Police reform will be unachievable as long as a city's elected leadership is not the final arbiter on disciplining and dismissing police officers.
Police misbehavior will continue as long as union contracts and laws like the "Law Enforcement Officers' Bill of Rights" make the police a privileged class. Getting rid of those protections is not sufficient on its own to reduce police violence, but real change will be impossible unless that reform happens first.