Will Trump Tear Up NAFTA? (Updated)
The latest spat between Trump and Mexico involves requirements for automobile manufacturing.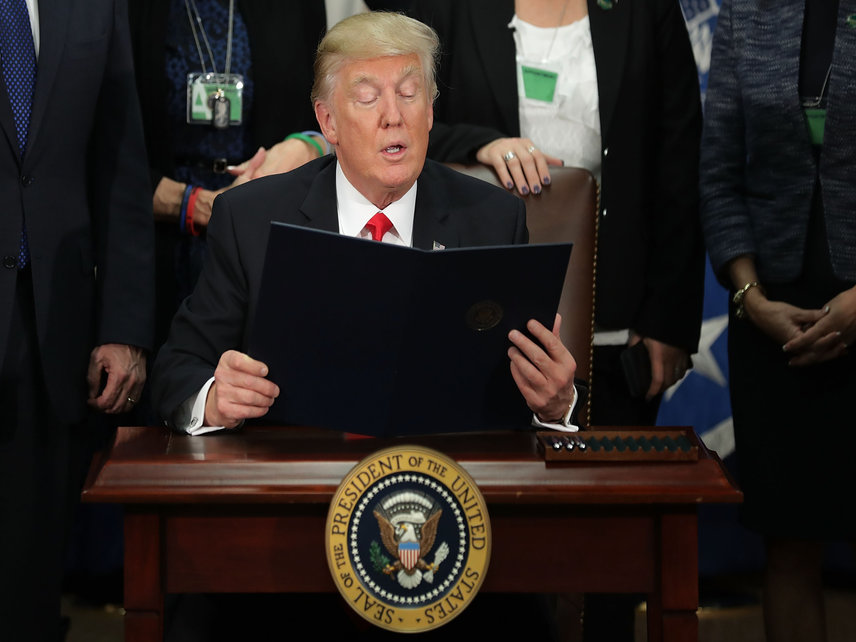 The future of free trade in North America is up in the air as the Trump administration's talks with Mexico and Canada continue to stumble.
U.S. Trade Representative Robert Lighthizer recently announced negotiations on the North American Free Trade Agreement would be pushed back into spring of 2018. But unofficial negotiations are already very much underway—and happening out in the open.
President Donald Trump has threatened to withdraw from the deal if Canada and Mexico aren't more conciliatory. This week, the Trump administration reiterated its hopes that a renegotiated NAFTA deal would require a higher percentage of automobiles' content are made in America. Mexican officials rejected the proposal, leading some to speculate if the president is willing to make good on his promises terminate the trade agreement. Meanwhile, congressional Republicans are trying to restrain Trump's eagerness to dump NAFTA, warning that it would cause economic troubles at home and unnecessary friction with America's neighbors.
Automobiles are at the center of the current spat. Under NAFTA rules, 62.5 percent of a car's component parts must come from Canada, Mexico, or the United States—if not, tariffs are triggered to protect North American production. The Trump administration wants the requirement bumped up to 85 percent, with 50 percent of the total originating in America.
The Mexican auto lobby called the proposal "unacceptable", claiming that the rule change would violate World Trade Organization rules.
Jorge Guajardo, a former Mexican Ambassador and a consultant for both U.S. and Mexican companies, told Yahoo Finance that Mexican businesses are preparing for a world without NAFTA, citing President Trump's anti-Mexican and anti-trade statements as the writing on the wall.
"Psychologically, Mexico has already accepted that NAFTA is coming to an end." Guajardo said.
The U.S. might be moving in the same direction. Lighthizer, recently claimed that withdrawing from the deal is something that he and the president "think about all the time," even though the administration has no specific NAFTA plan in place.
On the campaign trail, Trump denounced the trade deal with Canada and Mexico and threatened to terminate it if better conditions weren't met. He tweeted his grievances this past August, referring to NAFTA as "the worst trade deal ever made" and said termination was on the table.
As cracks in the trade deal grow, some congressional Republicans want to keep Trump and Mexican officials from tearing it all down. The collapse of NAFTA would cause economic pain, they warn.
In an interview with the Independent Journal Review, five Republican senators expressed concern over the prospect of pulling out of NAFTA. Sen. Lindsey Graham, R-S.C., called the prospect of American withdrawal a "disaster." Sen. Pat Toomey, R-Penn., remarked it would be "devastating" to both the American companies and workers.
"Economic protectionism hurts Americans, and we'd object to any move that would increase trade barriers and reduce the ability of Americans to buy and sell goods freely," A spokesman for Rep. Justin Amash, R-Mich., told Reason.
According to a study from ImpactEcon, an economic consulting company, American withdrawal from the trade deal with Canada and Mexico the reimposition of tariffs could cost an estimated 1.2 million jobs, hitting low-skilled labor hard.
Legal arguments are already being drawn up to block any attempt by the Trump administration to get rid of the trade agreement. But even if Congress is willing to assert itself, and Republicans are prepared to withstand Trump's bluster, their legal case is questionable.
Whether the president is willing to go through with it is anyone's guess. Trump tends to view renegotiation of America's trade agreements through a personal lens of deal-making prowess, with an interest in keeping the players off-balance.
When discussing KORUS, the U.S. trade agreement with South Korea, Trump told Lighthizer in order to get concessions, the South Koreans need to know he's willing to tear up the agreement.
"You tell them, 'This guy's so crazy he could pull out any minute,'" Trump went on to tell his staff. "And by the way, I might. You guys all need to know I might."
If Trump follows this pattern, the only thing certain regarding NAFTA is uncertainty.
This post has been updated to correct the attribution of a quote from Rep. Justin Amash's spokesman.