Police Union Complaint About Michael Bennett Had 'No Allegation' to Investigate, NFL Says
The league responds to a complaint about a complaint about police brutality.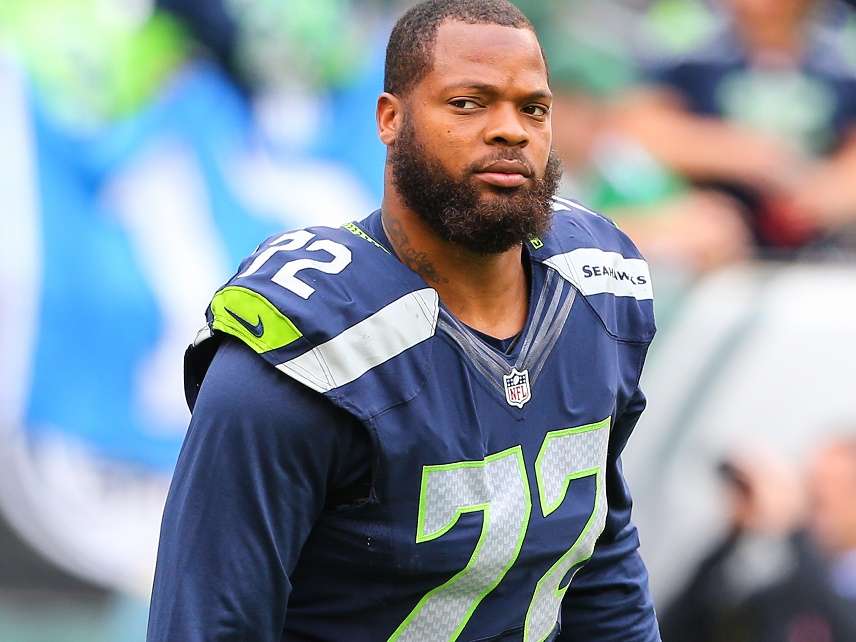 The Las Vegas police union is not happy that Michael Bennett has accused its officers of putting a gun to his head, but especially that he accused them of singling him out for being black. They sent a letter complaining about it to his employer, the National Football League, and demanding the NFL open an investigation into Bennett's "obvious false allegations."
Despite this, the letter doesn't specifically rebut most of Bennett's allegations, but does insist the police department's own investigation into the incident will clear the cops. Thanks to the efforts of police unions in Las Vegas and around the country, such internal investigations overwhelmingly clear officers against whom complaints have been lodged. The department's undersheriff has also come out to defend the officer's actions.
"While the NFL may condone Bennett's disrespect for our American Flag, and everything it symbolizes, we hope the League will not ignore Bennett's false accusations against our police officers," Steve Grammas, president of the Las Vegas Police Protective Association, wrote to NFL Commissioner Roger Goodell.
To their credit, the NFL dismissed the union's ridiculous request.
"There is no allegation of a violation of the league's personal conduct policy and therefore there is no basis for an NFL investigation," league spokesman Brian McCarthy told USA Today.
Bennett is among those NFL players who have joined Colin Kaepernick in electing to take a knee during the national anthem at the start of games as a form of protest against police brutality and other racial injustices. Kaepernick and others have made it clear they aren't "disrespecting" the flag, which stands for, among other things, the right to protest. The American flag, in fact, was first raised by revolutionaries engaged in a very violent form of protest against government oppression.
Sitting, or kneeling, for the national anthem, is as non-violent as it gets. Grammas doesn't have to agree, but trying to wrap the American flag around police officers as a way to deflect legitimate criticism of police misconduct is more an affront to any aspirational values the flag might represent than anything Kaepernick or Bennett do during the national anthem.
Notably, Grammas did not specifically deny the allegations of excessive use of force Bennett made, including that one officer told him he'd "blow [his] fucking head off" if he moved while placing a gun to his head, and that he was kneed in the back. Instead, he insists Bennett was wrong to say this only happened to him because he was black, claiming that the officers involved (who have not been identified) were both "minorities."
Police were called to the casino where Bennett was after reports of shots fired a couple of blocks away. Though the casino's nightclubs were partially evacuated, police eventually reported that there was a knife fight but that no shots had been fired in the area.
"We believe that a fair investigation will establish that our officers responded to one of the most dangerous calls a law enforcement officer can be assigned—an active shooter firing rounds in a crowded casino," Grammas wrote. That the officers responded, of course, is not in dispute, but rather whether they acted appropriately.
Grammas claimed Bennett caught their attention because he "bolted out of the casino" after seeing them and then allegedly jumped over a four foot barrier wall (no video has emerged yet). They also claim he was initially crouching behind a slot machine, but if they believed there was an "active shooter" situation, this should not have been suspicious behavior. Bennett says he was running like anyone else in a situation where people think gunfire has erupted, and didn't see cops until they were confronting him.
"Michael Bennett's claim that our officers are racist is false and offensive to the men and women of law enforcement," Grammas concluded, again without challenging Bennett's claims of misconduct and brutality specifically or offering an alternate series of events. "We hope you will take appropriate action against Michael Bennett."
Grammas talked about the officer's "right" to detain Bennett but his letter displays a total regard for Bennett's right to complain, not just on social media, but to the police department itself.
Unions respond in this kind of tone-deaf, adversarial way regularly, even in the aftermath of deadly incidents. The president of the police union in Cleveland, for example, blamed 12-year-old Tamir Rice for getting shot and killed by police.
Last year, Grammas and his union led a push to have "Black Lives Matter" pins banned from local courtrooms for constituting "political speech."
By design, because police unions are set up to protect their member's employment, they help to produce rules that shield bad actors. Rarely is this made clearer than in the mendacious defenses such unions put up against any kind of public criticism. Such powerful organizations of government employees have no place in a country where the government is supposed to work for the public.