Joe Arpaio May Have Been Pardoned, But He's Still a Whiny Baby
His and President Trump's complaints that he was treated unfairly by the courts are nonsense.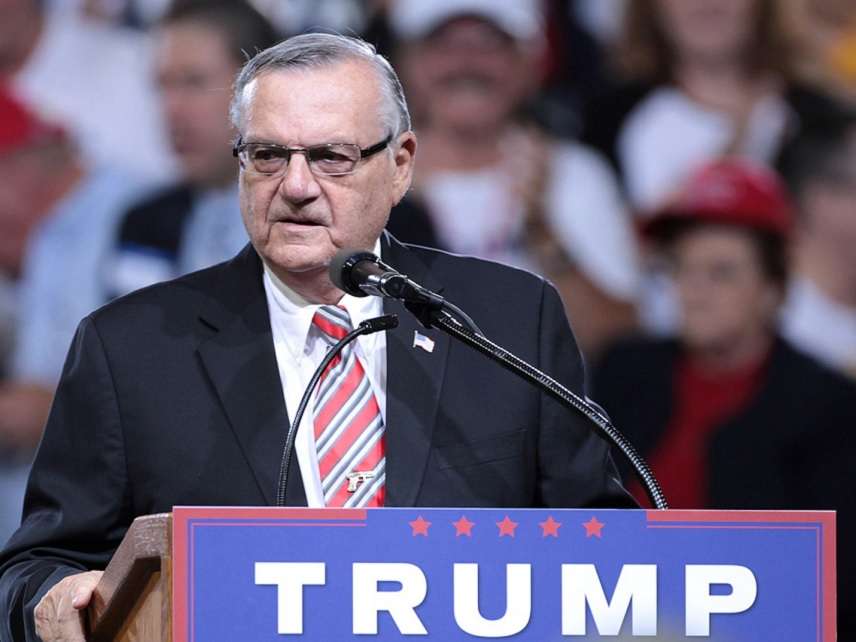 Recently pardoned by President Donald Trump, Maricopa County (Ariz.) Sheriff Joe Arpaio is almost certainly "America's Worst Lawman." The lawman was found guilty of contempt of court for flouting a federal order to stop "the unconstitutional racial profiling and detainment of Latino residents." He was sued in 2007 for running "saturation patrols" that stopped people for immigrant-status offenses that are the exclusive province of federal authorities. Famous for making male prisoners wear pink underwear and running a sweltering "boot camp" prison in the Arizona desert, Arpaio had been getting into trouble with the law since the mid-1990s, when investigators raised questions about excessive violence against inmates and suspects. His out-of-control methods ended up costing Arizona taxpayers money. As Reason's C.J. Ciaramella explains:
In 2007, the Maricopa County Board of Supervisors settled a lawsuit filed by the founders of the Phoenix New Timesnewspaper against Arpaio and the board for $3.5 million. The newspaper founders sued after they were arrested by MCSO deputies for publishing details of a grand jury subpoena for the paper's notes and sources for its coverage of Arpaio. The charges against the newspaper were quickly dropped. The Maricopa County attorney and deputy attorney, on the other hand, were both later disbarred for ethical violations involving campaign finance corruption. Arpaio's chief of staff, who once deployed deputies to spy on Arpaio's political opponents, was fired for his role in the same scandal.

In 2008, Arpaio's jail lost its accreditation after investigators found jail officials provided false information about conditions inside the facility. The Phoenix New Times reported that, at the time, there had been 2,200 lawsuits filed against Arpaio for the conditions inside his jail.
Still, Donald Trump pardoned Arpaio even before the sentencing phase of his contempt conviction was underway:
"He's done a great job for the people of Arizona, he's very strong on borders, very strong on illegal immigration, he is loved in Arizona," Trump said. "I thought he was treated unbelievably unfairly when they came down with their big decision to go get him, right before the election voting started."
For such a tough guy, Arpaio himself is no slouch when it comes to whining about his treatment under the rule of law, going so far as to call his contempt conviction the result of a "political witch hunt by holdovers in the Obama justice department."
Thank you @realdonaldtrump for seeing my conviction for what it is: a political witch hunt by holdovers in the Obama justice department!

— Joe Arpaio (@RealSheriffJoe) August 26, 2017
In an understated yet blistering tweetstorm and a Washington Post piece, Andrew Case, who clerked for the judge who issued the court order that Arpaio flouted, undercuts the sheriff's outrage at the same justice system he supposedly upheld. Arpaio repeatedly attacked Judge G. Murray Snow as a liberal who went after Arpaio out of political bias. The reality is anything but, says Case:
It has been widely reported that Snow was appointed by George W. Bush; that is not the full extent of his conservatism. He had a desk blotter from the Romney Institute. He spoke favorably of Justice Antonin Scalia's jurisprudence. While we had little opportunity to talk electoral politics, I would guess he was no fan of President Barack Obama.

Snow believed in the rule of law and the fair application of law. During my clerkship year, from September 2011 through September 2012, he heard foreclosure cases, prisoner petitions and many prosecutions of immigrants. A liberal judge could have found loopholes to save a person's house, spring a prisoner or give an immigrant a second chance, but Snow did not: He followed the law….

He treated Arpaio exceptionally fairly throughout the trial. When the plaintiffs presented strong evidence that Arpaio's department mainly stopped Hispanics, Snow emphasized that the lawsuit could not prevail unless they also proved that that was Arpaio's intent. When it was revealed that Arpaio's office had improperly deleted thousands of emails responsive to document requests, Snow ruled only that he "may" take the fact under consideration at trial. And when Snow discovered a procedural issue that could have merited his recusal, he called a hearing, and both sides asked him to stay on the case.
Snow repeatedly focused on the facts of the case in front of him, even when incendiary material was presentd. For instance, it turned out that Arpaio had ordered the deletion of official emails requested by the prosecution. When some of those emails were found, they included racist jokes:
Many of the deleted emails were recovered; they contained racist jokes about "Mexifornia," "Mexican Yoga" and "Mexican Engineering." (9/15) pic.twitter.com/9Z4smJ3X5H

— Andrew Case (@AClaudeCase) August 29, 2017
Case writes that "Snow Snow ignored these incendiary emails and focused on the evidence relevant to the case — Arpaio and the Maricopa County Sheriff's Office equated being Hispanic with being unlawfully present in the country. Their written orders directed officers to stop cars when the drivers and passengers appeared Hispanic. Full stop."
Read the full Washington Post piece here and the tweetstorm here.
On the specific case at hand, it's a powerful deconstruction of Arpaio's (and Trump's) delusional belief that the self-styled "world's toughest sheriff" was somehow treated poorly in the court of law. Even more important, the entire episode is one more case study in the need to verify the claims of powerful authorities in an age of social media. If journalism has never been objective, political figures are even more self-interested in the stories they tell about themselves and others. In an age where more and more people can tell their stories directly, without intermediaries, it's incumbent upon all of us to verify information more than ever. With such liberating technology comes responsibility. In the early days of the World Wide Web, when media gatekeepers were starting to break down in a big way, there was a saying that the internet would "fact-check your ass." Back then, it was mostly meant as a threat to journalists, but it also is a useful reminder that politicians, especially those who control men and women with guns, deserve such treatment even more so.
When it comes to the federal goverment and the news media, only about one in five of us has much confidence in either. And who can blame us? Confidence and trust aren't easy to earn and will only change when behaviors change. There's nothing wrong with non-objective news as long as reporters are fair—that is, they present the best evidence for the other side in stories that are about a conflict or difference in analysis. I write as a libertarian but first and foremost I want to represent honestly the people with whom I disagree. It's not complicated, really, but an archly partisan press corrodes trust and confidence when readers know they're getting a snow job all the time. Politicians need to change how they act too. If they just feed the perceived biases of their supporters and attack all criticism as illegitimate and motivated only by political animus, they may rally their base while sawing the floor out from under representative democracy. Certainly Arpaio's relentless attacks on his critics and Donald Trump's flights of fancy work to that end.