Trump to Drop Gender Pay Rule, Appeals Court Affirms Right to Criticize Cops, Florida Spent $5 Million on Scrapped Website: A.M. Links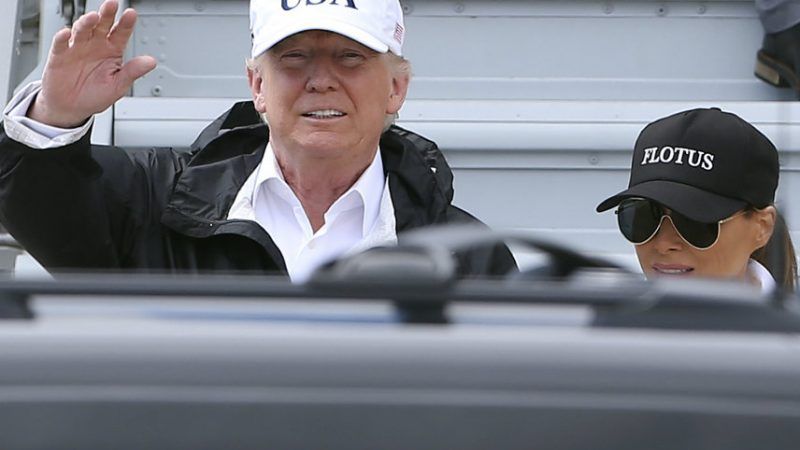 (Tom Reel/ZUMA Press/Newscom)
Tom Reel/ZUMA Press/Newscom

The Trump administration will reportedly drop an Obama-administration rule requiring businesses to report on employee pay by gender, race, and ethnicity. "It's enormously burdensome," Neomi Rao, administrator of the Office of Information and Regulatory Affairs, told the Wall Street Journal. "We don't believe it would actually help us gather information about wage and employment discrimination."

The Florida Senate spent $5 million on a website "that it later scrapped," according to the Associated Press. It's now "agreed to spend up to $200,000 more in a legal battle to avoid further payments" to the person who developed the doomed site.
Houston cops are warning about burglars posing as Homeland Security agents.
Hurricane Harvey touched down in Louisiana Wednesday morning.
"Prenatal testing followed by selective abortion is not genetic engineering," writes David M. Perry at The Nation. "It is, however, a space in which we have real-world data about how people make choices about procreation when granted additional information about the genetic makeup of their potential offspring," and as such it could prove instructive for the "the Age of CRISPR."
A federal appeals court ruled that cops couldn't charge someone with obstructing justice merely for being critical of them. "The officers [argued] that he had no constitutional right to observe a traffic stop or arresting officer in conversation," reports the Washington Examiner., "but the court rejected that argument by pointing out that Hoyland was 'standing in the doorway of his own home trying to tell the officers that his wife was handicapped.'"
Follow us on Facebook and Twitter, and don't forget to sign up for Reason's daily updates for more content.