The Justice Department Wants to Know if You've Visited an Anti-Trump Resistance Site
A fishing expedition to try to track down anybody who disrupted Inauguration Day events in D.C.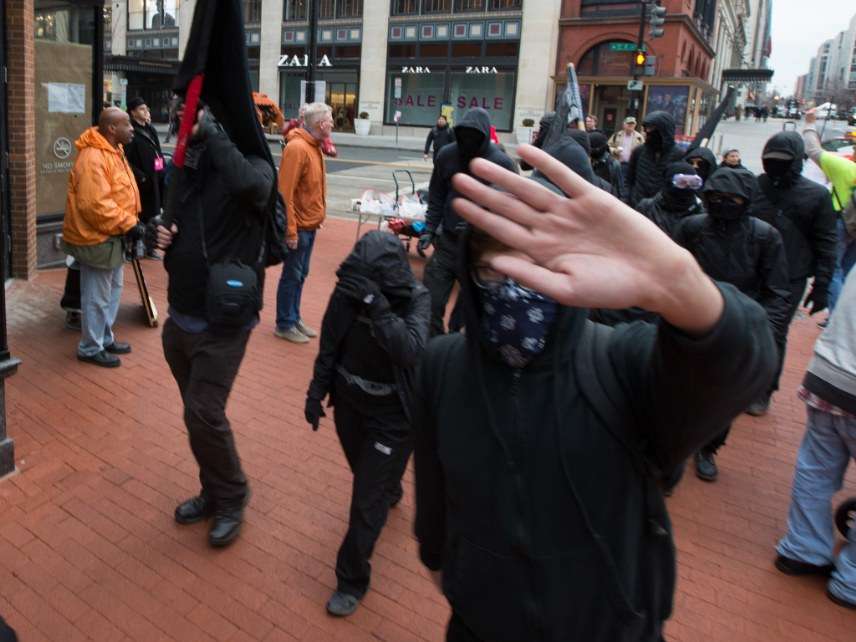 If you've visited disruptj20.org, a website that organized folks for the purpose of disrupting President Donald Trump's inauguration events in D.C., the Department of Justice (DOJ) wants to know about it.
Whether you were even in D.C. on Inauguration Day is apparently not relevant. In an effort to track down anybody who rioted or engaged in violence on that day, the Justice Department has gotten a search warrant demanding that the site's host company, DreamHost, provide records related to their investigations.
It's not unusual for law enforcement agencies try to get records about particular users of sites if they believe these users are engaged in criminal activities. And it's constitutional for them to use warrants to try to track down specific information from or about users suspected of a crime.
But according to DreamHost, the warrant the Justice Department is asking for the IP addresses of anyone who has even just visited the site. So the company announced in a blog post yesterday that it's fighting the warrant:
The request from the DOJ demands that DreamHost hand over 1.3 million visitor IP addresses—in addition to contact information, email content, and photos of thousands of people—in an effort to determine who simply visited the website. (Our customer has also been notified of the pending warrant on the account.)

That information could be used to identify any individuals who used this site to exercise and express political speech protected under the Constitution's First Amendment. That should be enough to set alarm bells off in anyone's mind.
DreamHost also argues that the overbroad demand violates the Fourth Amendment's requirement that search warrants identify specifically what the government wants to seize. The government appears to be essentially demanding all of DreamHost's data about disruptj20.org, including everything that connects to the site or originates from the site. It's a fishing expedition to see if the feds can connect anybody to the site with any of the actual violence that took place Inauguration Day.
Ken "Popehat" White, a former federal prosecutor, warns that this type of search indicates an overt hostility toward anti-government protests:
The government has made no effort whatsoever to limit the warrant to actual evidence of any particular crime. If you visited the site, if you left a message, they want to know who and where you are—whether or not you did anything but watch TV on inauguration day. This is chilling, particularly when it comes from an administration that has expressed so much overt hostility to protesters, so relentlessly conflated all protesters with those who break the law, and so deliberately framed America as being at war with the administration's domestic enemies.
There will be a hearing on the Justice Department's motion to compel DreamHost to comply with the warrant on Friday.