Theresa May's Call for Internet Censorship Isn't Limited to Fighting Terrorism
Using fear of terrorists to try to control what you can see online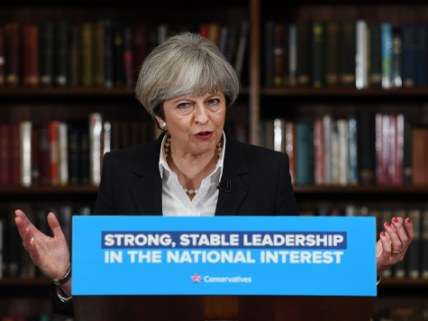 You'd think Facebook founder Mark Zuckerberg himself was the driver of the van that plowed into pedestrians on London Bridge Saturday, the way U.K. Prime Minister Theresa May is talking about the attack. He isn't, but everybody across the world, not just in the United Kingdom, needs to pay close attention to how May wants to respond to the assault.
May believes the problem is you and your silly insistence that you be permitted to speak your mind and to look at whatever you want on the internet. And she means to stop you. And her attitude toward government control of internet speech is shared by President Donald Trump (and Hillary Clinton), so what she's trying to sell isn't isolated to her own citizenry.
In a speech in the wake of this weekend's attack, May called flat-out for government authority to censor and control what people can see and access on the internet:
We cannot allow this ideology the safe space it needs to breed—yet that is precisely what the internet, and the big companies that provide internet-based services provide. We need to work with allied democratic governments to reach international agreements to regulate cyberspace to prevent the spread of extremist and terrorism planning.
Note that May appears to be trying to narrowly pitch a regulatory regime that focuses entirely on censoring speech by terrorists. One might argue that even America's First Amendment would not protect such speech, since such communications involve planning violence against others.
But May and the Tories really want to propose much broader censorship of the internet, and they know it. May is using fear of terrorism to sell government control over private online speech. The Tories' manifesto for the upcoming election makes it pretty clear they're looking to control communication on the internet in ways that have absolutely nothing to do with fighting terrorism. BuzzFeed took note:
The proposals—dotted around the manifesto document—are varied. There are many measures designed to make it easier to do business online but it's a different, more social conservative approach when it comes to social networks.

Legislation would be introduced to protect the public from abuse and offensive material online, while everyone would have the right to wipe material that was posted when they were under 18. Internet companies would also be asked to help promote counter-extremism narratives—potentially echoing the government's Prevent programme. There would be new rules requiring companies to make it ever harder for people to access pornography and violent images, with all content creators forced to justify their policies to the government.
The manifesto doesn't seem to acknowledge a difference between speech and activity, Buzzfeed adds:
"It should be as unacceptable to bully online as it is in the playground, as difficult to groom a young child on the internet as it is in a community, as hard for children to access violent and degrading pornography online as it is in the high street, and as difficult to commit a crime digitally as it is physically."

New laws will be introduced to implement these rules, forcing internet companies such as Facebook to abide by the rulings of a regulator or face sanctions: "We will introduce a sanctions regime to ensure compliance, giving regulators the ability to fine or prosecute those companies that fail in their legal duties, and to order the removal of content where it clearly breaches UK law."
The United Kingdom already has some very heavy content-based censorship of pornography that presumes to police what sorts of sexual fantasies are acceptable among its populace. Reason's Elizabeth Nolan Brown has written repeatedly about the British government's nannying tendencies in trying suppress pornography.
In a manner similar to this censorship push, May and the British government sold the Investigatory Powers Act—also known as the Snooper's Charter—to the public as a mechanism to fight terrorism. But the massive legislation, now in place as law, actually demands that internet companies store users' online data to investigate all sorts of activities that have nothing to do with terrorism at all.
The European Union is also hammering out regulations that would require social media companies to censor their services. But the E.U. plan is currently much more limited than what the ruling party in the U.K. is demanding. The European Union wants to force companies only to delete videos that contain hate speech or incitements to violence.
So be warned: This isn't even a slippery-slope risk that a government that claims the authority to censor terrorist communications might broaden that scope to other areas. May and her government already want those broader powers. They're just using the fear of terrorism to sell the idea.