Senate Republicans Warn: Maybe We Won't Pass a Health Care Bill at All
This is how the GOP treats their top legislative priorities.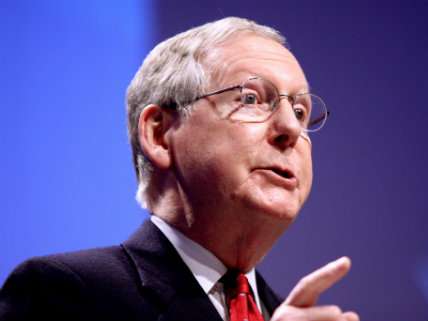 After last November's election, congressional Republicans put repealing and replacing Obamacare at the top of their legislative agenda. This would fulfill the promise the party had been making from the moment the health care law passed in 2010.
Last week, the two GOP senators from Iowa admitted that any legislation would not fully repeal Obamacare. Now Senate Republicans are not certain they will pass any bill at all. It's a moment that reveals the lack of seriousness with which Republicans continue to treat one of their major political and policy priorities.
Vice President Mike Pence spent the weekend urging Republicans to pass a health care bill by the end of summer, but Senate Republicans are increasingly pessimistic about the prospects for any legislation to pass in the near future.
"There are some still saying that we'll vote before the August break. I have a hard time believing that," Sen. Jeff Flake (R-Arizona) told The Washington Post.
Sen. Ron Johnson (R-Wisconsin) suggested that Republicans might take a multi-prong approach that started with a "market stabilization" bill, followed by something more comprehensive. "To me, this may be a two-part process," he told the Wisconsin State Journal. "I would admit that's probably a minority view in the Republican Senate right now."
The most negative comments came from North Carolina Sen. Richard Burr, who said, "It's unlikely that we will get a health care deal, which means that most of my time has been spent trying to figure out solutions to Iowa losing all of its insurers," Burr said the House plan was "dead on arrival" in the Senate, and predicted that no major legislation would pass in the upper chamber, saying, "I don't see a comprehensive health care plan this year."
Their comments come not long after Senate Majority Leader Mitch McConnell admitted that he didn't know how his chamber would put together the 50 votes necessary to pass a bill.
The problem for the Senate GOP is that party lawmakers remain divided on key components of any health care bill. Senate Republicans have indicated that they will scrap the legislation that passed in the House and start over, but no progress has been made. A Senate task force has been charged with crafting the outlines of a bill, yet at this point, one GOP aide tells The Hill, there is not even a basic framework in place, much less actual legislative language.
It is not too much of a stretch to say that at this point Senate Republicans do not merely disagree on the details. The fundamental problem is that they do not know what they want from a health care bill at all. (Similarly, the House version of the health care bill, which Republicans barely attempted to defend on the merits, suggests a deep confusion about how federal health policy works and what form it should take.)
It is still possible, of course, that Senate Republicans will eventually come together and pass a bill that overhauls Obamacare. After all, the House legislation crashed, and looked potntially lost, before eventually passing in a tight vote.
But it is far from certain that Senate Republicans will come together on a bill, and that they will then be able to negotiate a compromise with House Republicans to send to President Trump (or, as seems likely, force the House GOP to accept the Senate's version of the bill with no changes). That alone is remarkable.
Republicans spent the last seven years repeatedly promising to repeal and replace Obamacare at the first opportunity, while simultaneously insisting that the framework for a replacement mechanism could be worked out later.
To put it another way: The GOP plan on health care was always to figure it out later. It's later. They still haven't figured it out.
Now, predictably, that objective is in jeopardy because party lawmakers never settled on even the most cursory outlines of a replacement. And without a replacement at the ready, the already challenging politics of repeal are harder still. The defeatist bumbling we are seeing now confirms that the Republican plan to repeal and replace Obamacare has always been missing a critical component: an actual plan to do either.