Trump's Medical Marijuana Threat Contradicts the Law and His Own Position
A signing statement suggests the president may ignore a congressional rider protecting patients' access to cannabis.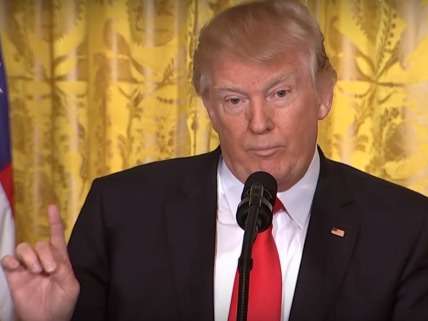 The appropriations bill that President Trump signed on Friday renews a rider that bars the Justice Department from interfering with the implementation of state laws allowing medical use of marijuana. But Trump signaled in a signing statement that he may decide to ignore that restriction, known as the Rohrabacher-Farr amendment, notwithstanding his repeatedly expressed support for medical marijuana and for respecting state policy choices in this area.
"Division B, section 537 provides that the Department of Justice may not use any funds to prevent implementation of medical marijuana laws by various States and territories," Trump says in the signing statement. "I will treat this provision consistently with my constitutional responsibility to take care that the laws be faithfully executed." The implication is that Trump's duty to enforce the federal ban on marijuana, which makes no exception for medical use, could compel him to disregard the bill's limits on the use of DOJ money.
That position makes no sense, since Trump's duty to take care that the laws be faithfully executed includes this law, which explicitly tells the Justice Department to refrain from interfering with state medical marijuana programs. Last August the U.S. Court of Appeals for the 9th Circuit ruled that the Rohrabacher-Farr amendment prohibits the Justice Department from prosecuting medical marijuana suppliers who comply with state law, and the same analysis would also apply to civil forfeiture actions. As Steve Bell, a senior adviser at the Bipartisan Policy Center, told Bloomberg News, "It is the constitutional prerogative of the Congress to spend money and to put limitations on spending." Bell described Trump's signing statement as "an extremely broad assertion of executive branch power over the purse."
Trump is not only trying to usurp the congressional power to decide how taxpayers' money will be spent; he is threatening to interfere with the autonomy that states are supposed to have under the 10th Amendment. He is also contradicting his own position both before and after his election. At the Conservative Political Action Conference in March 2015, Trump said he was leery of legalizing marijuana for recreational use, but "medical marijuana is another thing." He said he was "100 percent" in favor of medical use. He made similar statements while campaiging in Nevada that October, in New Hampshire the following January, and in Michigan two months later.
White House Press Secretary Sean Spicer reiterated Trump's support for medical marijuana in February. "There's two distinct issues here: medical marijuana and recreational marijuana," Spicer said. "I think medical marijuana, I've said before that the president understands the pain and suffering that many people go through who are facing especially terminal diseases and the comfort that some of these drugs, including medical marijuana, can bring to them. And that's one that Congress, through a rider…put in an appropriations bill saying the Department of Justice wouldn't be funded to go after those folks. There is a big difference between that and recreational marijuana."
The rider to which Spicer referred is the very one Trump has now signaled he may flout. Mind you, Trump has said states should be free even to legalize marijuana for recreational use, although he does not think that's a good idea. In the case of medical marijuana, he has taken the further step of saying he supports the policy, which makes this latest threat all the more puzzling.
"Donald Trump continues to send mixed messages on marijuana," says Michael Collins, deputy director of the Drug Policy Alliance. "After stating during the campaign that he was '100 percent' in support of medical marijuana, he now issues a signing statement casting doubt on whether his administration will adhere to a congressional rider that stops DOJ from going after medical marijuana programs. The uncertainty is deeply disconcerting for patients and providers, and we urge the administration to clarify their intentions immediately."