Reason Wins 3 Maggie Awards From the Western Publishing Association!
C.J. Ciaramella, Brendan O'Neill, and this here blog take top honors among publications west of the Mississippi River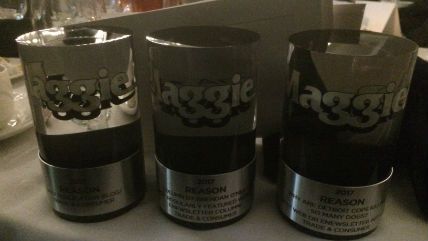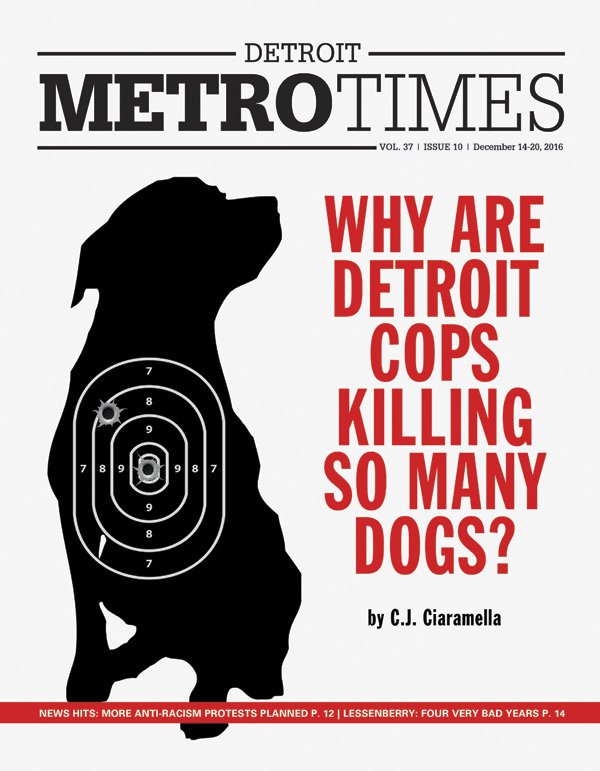 For 66 years, the Western Publishing Association has issued annual magazine awards, known as "Maggies," to publications west of the Mississippi River, including as far westward as Hawaii. Reason has won a handful over the years, including one for Best Magazine in the "politics and social issues" in 2005 (an aberration in our otherwise Susan Lucci status in that category).
On Friday night, after having nabbed a record-for-us 13 Maggie nominations, we won an also record-for-us three first place awards, topping the two we received in 2013. Please join me in congratulating….
* C.J. Ciaramella, winner of Best Web or eNewsletter Article, for the great piece "Why Are Detroit Cops Killing So Many Dogs? A Reason investigation reveals widespread, unchecked violence against pets during drug raids—including two officers who have shot more than 100."
Can we talk about this article for a second? Here's a Detroit News editorial in response, leveraging C.J.'s work to pressure local officials:
Detroit police have shot at least 21 dogs this year, according to a November report from Reason magazine. Officers killed at least 25 dogs in 2015.

Thorough records of how many dogs are shot by police nationwide are hard to come by because there's no required reporting on police and dog encounters. But the report found that much larger Chicago had 84 incidents in which an officer fired a weapon over that same time span. New York police killed nine dogs in 2014, and the Los Angeles Police Department admitted to killing eight dogs in 2015.

Calling fatal police/dog encounters an "epidemic," a program specialist at the Department of Justice's Community Oriented Policing Services estimated that 25-30 pet dogs nationwide are killed every day by cops.

Lawsuits filed by pet owners often conflict with the official reports of an incident. In most cases, dogs that were killed are described as "vicious" and deadly force was required for self-protection. The Reason report found that one Detroit officer has shot at least 40 dogs while on duty, and another destroyed 67 animals while with the Police Department.

Those are staggering numbers. And while there are pit bulls and other intimidating dogs in any major city, that doesn't give officers the right to essentially take property by killing otherwise non-threatening pets.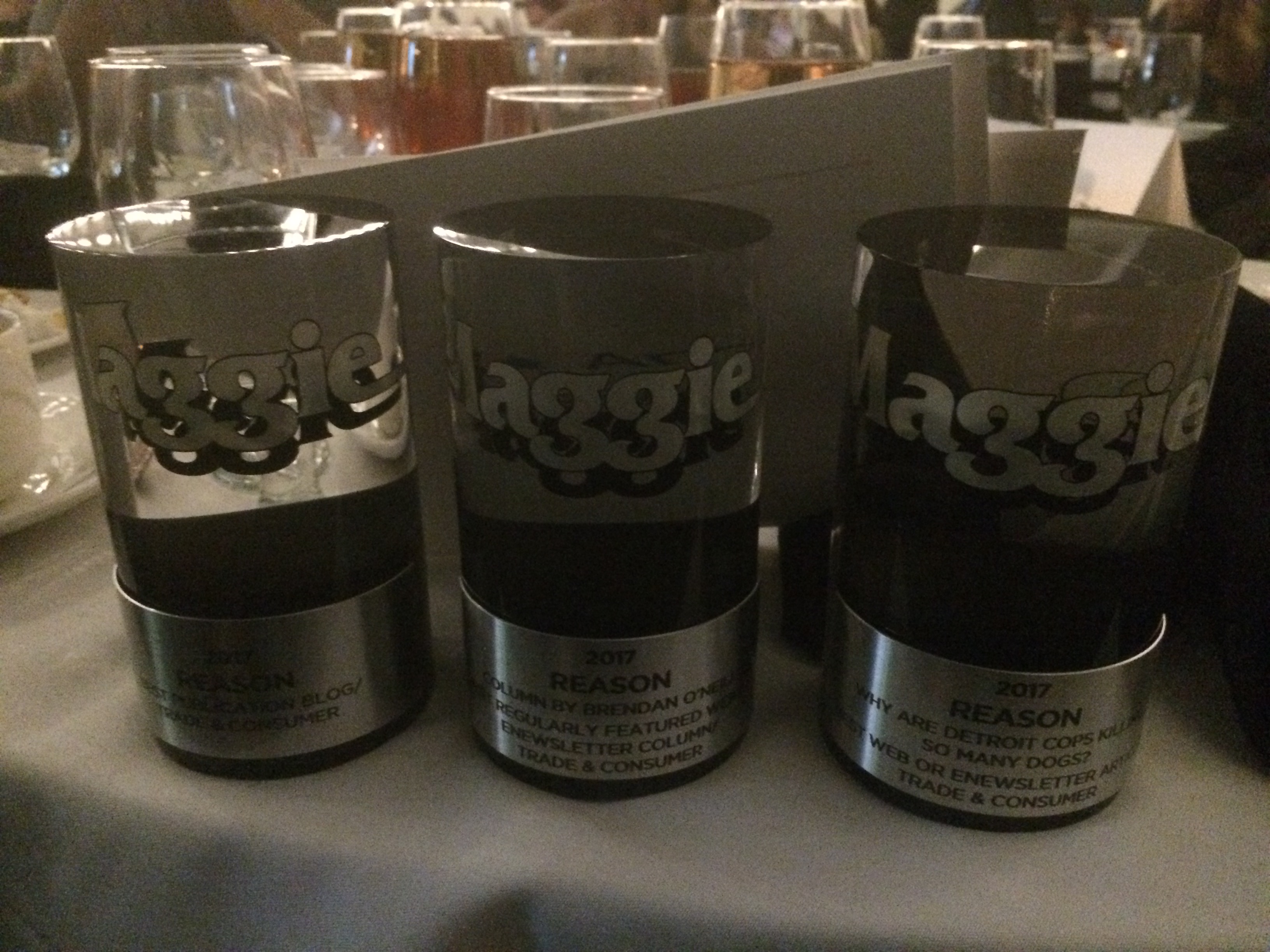 The piece was reprinted as a cover story in the Metro News. Fox News picked the story up. C.J. has written three follow-ups (1, 2, 3). As I said at the awards ceremony, while the rest of the journalism world has rediscovered police abuse over the past three years, Reason has been working this beat for decades, and C.J.'s vigorous work on the topic since coming on staff is testament to how we're not just embedding the latest video outrage, but advancing stories in ways which will hopefully begin impacting behavior by enforcers and lawmakers themselves. This is why you people donate your hard-earned money to support our efforts, and for that we thank you.
Also winning, for Best Regularly Featured Web or eNewsletter Column, was the acerbic and witty writer Brendan O'Neill, for two pieces: "America Called Bullshit on the Cult of Clinton: The one good thing about Trump's win? It shows a willingness among Americans to blaspheme against saints and reject the religion of hollow progressiveness," and "Elitist Rage With the Pro-Brexit Masses Echoes Longstanding British Suspicion of Democracy: Reptiles, insects, shit flowing from the busted sewer of bad ideas—this is how the media elite views the minds and actions of Brexit voters."
And, praise Jeebus, the Best Publication Blog was this thing that you are reading, while perhaps wrestling with the incumbent squirrels. We thank you for your role in contributing to this win.