Prostitution-Ring-Running Cop Sees Court, But Police Who Extort Sex Often Go Unpunished
Former NYPD officer Michael Rizzi is accused of running an upscale prostitution service and its 50 related websites.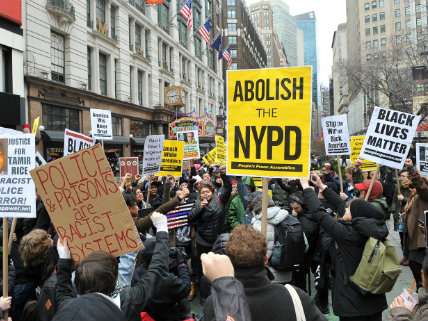 It's been an astounding week for abuses of power and sexual violence committed by state agents. In New York City alone, one former cop is on trial for running for running a prostitution ring, another was sentenced to federal prison for soliciting child pornography from mothers he met online, and three others have been indicted on suspicion of trading gun permits for sex, travel, and cash.
The first, former officer Michael Rizzi, was with the New York City Police Department (NYPD) for nine years before retiring due to disability. He's now accused of running an upscale prostitution service and its 50 related websites.
Meanwhile, former NYPD officers Paul Dean, Robert Espinel, and Gaetano Valastro were indicted Tuesday for conspiracy to commit bribery, in conjunction with the aforementioned gun-permitting plot.
"Getting a gun license in New York can be a lengthy and intensive procedure, which includes getting approval from the NYPD," notes The Daily Beast's Katie Zavadski.
An industry of "expeditors" popped up to help clients speed through the process, sometimes aided by crooked cops looking to make a buck by pushing applications along from the inside. All the men charged Tuesday were implicated by alleged co-conspirators who have pleaded guilty, including ex-NYPD licensing division sergeant David Villanueva and former expeditor Frank Soohoo, according to the U.S. attorney's office.
NYPD Commissioner James O'Neill said an internal review flagged more than 400 gun licenses as suspicious. Of the around 200 already reviewed, 100 led to permits being suspended. In a related complaint, former Brooklyn Assistant District Attorney John Chamberswith was also indicted for bribery.
Head south to Atlanta, Georgia, and arrests continue in a police take-down of two escort services, Atlanta Gold Club Escorts and Lipstick and Shoes Escorts, that also ensnared Gwinnett County Assistant District Attorney Christopher Quinn in January. Quinn was caught on camera paying for and having sex with a woman who worked for one of the escort agencies. For weeks after his mid-January arrest, Quinn remained employed with and working at the district attorney's office. He eventually resigned at the end of February because "he did not want to subject this office to any more controversy," the county district attorney told The Atlanta Journal-Constitution. By the end of March, Quinn had found a new position as an assistant district attorney with the South Georgia Judicial District.
Head further south (and far west), to the U.S. territory of Guam, and we have former police officer Paul John Santos. Santos was found guilty this week of criminal sexual conduct, bribery, and official misconduct after threatening to arrest a sex worker if she didn't have sex with him. "The defendant was a police officer put in position of trust by the public, by individuals he is supposed to be protecting and serving," but "his actions show the exact opposite of that," Assistant Attorney General Matt Heibel said in a sentencing hearing, requesting Santos receive 30 years in prison. The judge sentenced him to 21 years.
That sort of punishment for sex-predator cops is rare. Kate Mogulescu, who heads up the Legal Aid Society of New York's s human trafficking advocacy program, recently talked to Gothamist about this issue. She said her organization repeatedly hears from sex workers "about inappropriate policing, coercive policing. We have inappropriate sexual conduct during the course of arrest, officers who want to take photos of clients on their personal cell phones."
While police abuse against men tends to be more public, investigation and anecdote suggest that it's just as common with women—it just tends to take different forms. "The way the police engage women, especially Black women and sex workers, creates a culture of violence," Jacqueline Robarge, of Batlimore women's organization Power Inside, told Truthout in a piece published this week. "The police use a variety of tactics, including harassment, physical and sexual violence, medical neglect in police custody, and ignoring violence committed by family and community members."
Truthout points out that the Department of Justice investigation into Baltimore police, prompted by Freddie Gray's killing, found "a number of instances in which Baltimore police officers extorted sex from women they alleged were engaged in prostitution or drug-related activities. The women's complaints were poorly and partially investigated, if at all," and consequences were rare and light.
"Given the choice between facing decades in prison for a drug or prostitution-related charge or performing a sexual act, with little likelihood of accountability for the officer involved, all too many women will continue to be targets of sexual shakedowns by police, in Baltimore and across the country," Andrea J. Ritchie writes.
In Memphis, Tennessee, Sergeant Erskine Caldwell was recently accused of such behavior. Caldwell was reported to Internal Affairs by his fellow officers after they spotted him several times with a known sex-worker in his patrol car pre-dawn. The woman later told Memphis Police Department (MPD) internal investigators that Caldwell had harassed her until she complied with his sexual demands. "This known prostitute was in the process of filing a complaint saying [Caldwell] paid her for sex on two separate occasions," the MPD internal report says. "She said [Caldwell] would not leave her alone and she felt uncomfortable and afraid."
Caldwell denied the allegations, and his dash-cam video had been turned off during all encounters with the woman. MPD investigators found him guilty of unauthorized use of department vehicles, failure to comply with in-car video policy, and personal conduct unbecoming an officer. He was suspended for 20 days and will be back on patrol duty April 29.