Clarence Thomas Condemns Civil Asset Forfeiture, Points to 'Egregious and Well-Chronicled Abuses'
Justice Thomas says SCOTUS should review the constitutionality of asset forfeiture in a future case.
Today the U.S. Supreme Court declined to hear a case filed by a Texas woman who says that her due process rights were violated when the police seized over $200,000 in cash from her family despite the fact that no one has been convicted of any underlying crime associated with the money. Unfortunately, thanks to the state's sweeping civil asset forfeiture laws, the authorities were permitted to take the money of this innocent woman.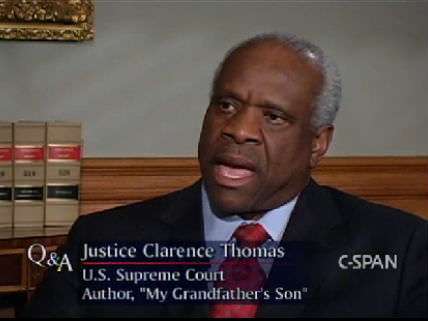 The Supreme Court offered no explanation today for its refusal to hear the case of Lisa Olivia Leonard v. Texas. But one member of the Court did speak up. In a statement respecting the denial of certiorari in the case, Justice Clarence Thomas made it clear that he believes the current state of civil asset forfeiture law is fundamentally unconstitutional.
"This system—where police can seize property with limited judicial oversight and retain it for their own use—has led to egregious and well-chronicled abuses," Thomas declared.
Furthermore, he wrote, the Supreme Court's previous rulings on the matter are starkly at odds with the Constitution, which "presumably would require the Court to align its distinct doctrine governing civil forfeiture with its doctrines governing other forms of punitive state action and property deprivation." Those other doctrines, Thomas noted, impose significant checks on the government, such as heightened standards of proof, various procedural protections, and the right to a trial by jury. Civil asset forfeiture proceedings, by contrast, offer no such constitutional safeguards for the rights of person or property.
But because Lisa Olivia Leonard "raises her due process arguments for the first time in this Court," Thomas concluded, the Supreme Court has no business weighing in until the lower court has properly considered those arguments first.
That's bad news for Lisa Olivia Leonard. But there is a silver lining for all critics of civil asset forfeiture. When the right case does finally come along, Justice Thomas insisted today, SCOTUS should tackle the unconstitutional practice head on.