This Veteran Served His Country in Afghanistan, Did Time for Drugs, Now May Be Deported
How Trump's immigration crackdown and the drug war are shamefully hurting military veterans.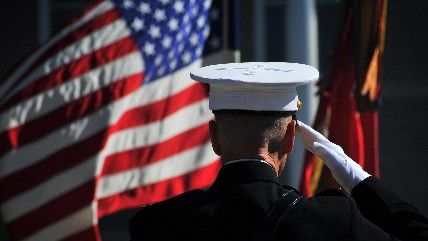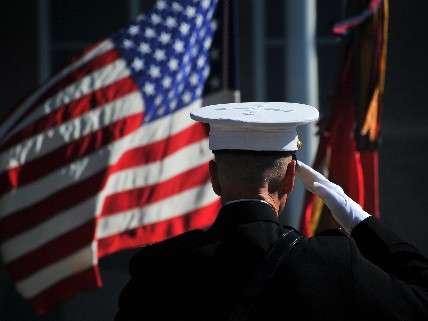 Mexican-born Miguel Perez Jr. — who has lived in the U.S. since he was eight — served two tours in Afghanistan with the U.S. Army, earning military honors for his service including a Global War on Terrorism Expeditionary Medal, a Global War on Terrorism Service Medal, an Army Commendation Medal, and a National Defense Service Medal.
Like many legal permanent residents who have served their adoptive country, Perez thought he was a citizen by virtue of his veteran status, based on an executive order signed by former President George W. Bush in 2002 "to provide expedited naturalization for aliens and non-citizen nationals serving in an active-duty status in the Armed Forces of the United States during the period of the war against terrorists of global reach." But Perez, who was deployed in Afghanistan at the time the order was issued, didn't understand the fine print and never filed the requisite paperwork, he told the Chicago Tribune from an immigration detention center in Wisconsin.
Perez also told the Tribune that after leaving the Army, doctors at a Veterans Affairs (VA) hospital diagnosed him with post-traumatic stress disorder. After failing to maintain a steady job, he got mixed up with drugs and alcohol, ultimately handing a "laptop case full of cocaine to an undercover officer." He was sentenced to 15 years in prison.
While locked up he earned an Associate's Degree, participated in both psychiatric and addiction therapy, and worked to help fellow inmates earn their GEDs. After serving about half of his sentence, Perez expected to be going home. Instead, he's facing deportation.
Perez's lawyer intends to argue that because Mexican drug cartels threaten military veterans who refuse to do their bidding, his client's life would be endangered if deported to Mexico, a country he barely knows, according to the Tribune. A hearing on Perez's fate is scheduled for today.
My Reason colleague CJ Ciaramella previously reported on a group of deported veterans who have banded together in Mexico to fight for what they were promised:
The U.S. pays a lot of lip-service to veterans. We stand to honor them at sporting events, we have federal holidays dedicated to them, and as a country, we have promised them lifelong healthcare for their service.

"When a veteran is denied health care, we are all dishonored," then-presidential candidate Barack Obama said in 2007. He would go on as president to fire the secretary of Veterans Affairs after whistleblower allegations of delayed care and cooked books at VA hospitals erupted into a national scandal.

But the deported veterans in Tijuana and elsewhere have no access to VA care centers, unless they can obtain hard-to-get humanitarian parole. They are entitled through the VA to some foreign medical programs, but [veteran Hector] Barajas said the benefits are difficult to access and limited to service-related injuries, unlike veteran healthcare in the U.S.
While these veterans can not access the services promised to them by the U.S. government to help keep them alive, they can get a military funeral in the United States once their bodies are no longer able to fight.