Sessions' Wishy-Washy Marijuana Comments Reflect the Ambiguity of Current Policy
The next attorney general could crack down on state-licensed cannabusinesses without changing the State Department's official position.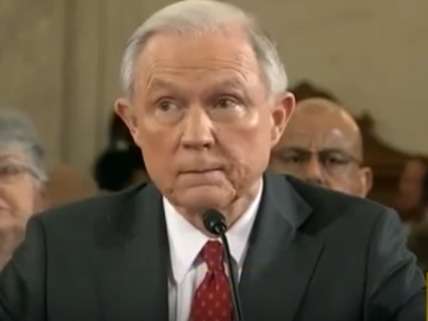 During his confirmation hearing yesterday, Jeff Sessions did not do much to clarify how he will treat state-licensed marijuana businesses as attorney general, but that is not entirely his fault. Marijuana remains illegal under the Controlled Substances Act, and the Justice Department cannot simply announce that it will no longer enforce that ban in states that have decided to legalize the drug for medical or recreational use. At the same time, the feds do not have the resources to fully enforce marijuana prohibition in states that have opted out of it, and they cannot constitutionally force those states to help. The short-term future of the newly legal cannabis industry will depend on how the Trump administration splits the difference between those two extremes.
After a lot of mixed signals, included a crackdown on medical marijuana that contradicted promises of restraint, the Obama administration settled on an ambiguous policy outlined in a 2013 memo from Deputy Attorney General James Cole. Cole told U.S. attorneys that in deciding which marijuana cases to pursue in states that have legalized the drug, they should be guided by eight "enforcement priorities," including prevention of violence, interstate smuggling, distribution to minors, and "adverse public health consequences related to marijuana use." Cole did not offer any assurances, but the implication was that federal prosecutors should leave state-legal cannabusinesses alone unless their operations implicate one or more of those priorities.
Exactly what that means is a matter of interpretation, and Cole left open the possibility that other, unspecified priorities might also justify civil or criminal actions against state-licensed marijuana suppliers. But in practice, the Obama administration since the 2013 Cole memo generally has refrained from interfering with state policies allowing commercial production and distribution of marijuana for medical or recreational use.
Which brings us back to Sessions, who at yesterday's hearing conceded that enforcing the federal ban on marijuana is "a problem of resources for the federal government" and said "some" of Cole's criteria "are truly valuable in evaluating cases." But he added that "the criticism I think that was legitimate is that they may not have been followed." In fact, that was the theme of the April 2016 Senate hearing at which Sessions said "the Department of Justice needs to be clear" that "marijuana is not the kind of thing that ought to be legalized." The title of the hearing, which was held by the Senate Caucus on International Narcotics Control, asked, "Is the Department of Justice Adequately Protecting the Public from the Impact of State Recreational Marijuana Legalization?" Sessions' answer clearly was no.
Depending on your perspective, the Cole memo can be read as a license for federal interference rather than a promise of prosecutorial forbearance. The goal of preventing "adverse public health consequences related to marijuana use" by itself could be interpreted to justify as wide a crackdown as a passionate pot prohibitionist like Sessions might like to see. So even if Sessions committed himself to sticking with the policy described in the Cole memo (which he did not do yesterday), that would not preclude him from prosecuting state-licensed marijuana suppliers, seizing their property, or threatening to do so (which would be enough to seriously disrupt the industry, if not shut it down altogether).
Given Sessions' ambiguous statements about an ambiguous policy, it is not surprising that reaction from supporters of legalization was mixed. "Senator Sessions indicated that the Justice Department's current guidelines for marijuana policy enforcement are 'truly valuable' in setting departmental priorities," noted Aaron Smith, executive director of the National Cannabis Industry Association. "That belief, along with the support for state sovereignty on cannabis policy expressed by President-elect Trump and his team, should lead Sen. Sessions to maintain the current federal policy of respect for state-legal, regulated cannabis programs if he is confirmed as attorney general."
Or maybe not. "Senator Jeff Sessions' response to questions about marijuana and federalism during his attorney general confirmation hearing today was wishy-washy at best," said Bill Piper, director of national affairs at the Drug Policy Alliance. "It is clear that he was too afraid to say the 'reefer madness' things he said just a year ago, and that's progress. But he made it clear throughout the hearing that he will enforce federal law. He could have said he will respect state marijuana law, which is what President-elect Trump said on the campaign trail, but instead he said it is up to Congress to change the law. Sessions has a long history of opposing marijuana reform, and nothing he said at the hearing suggests he has changed his mind."
By contrast, Robert Capecchi, director of federal policies at the Marijuana Policy Project, was encouraged by what Sessions did not say: "It is notable that Sen. Sessions chose not to commit to vigorously enforcing federal prohibition laws in states that have reformed their marijuana laws. He also recognized that enforcing federal marijuana laws would be dependent upon the availability of resources, the scarcity of which poses a problem. He was given the opportunity to take an extreme prohibitionist approach, and he passed on it."
As Eric Boehm noted, the case for optimism rests partly on Trump spokesman Sean Spicer's response when Kennedy brought up Sessions' marijuana views on Fox News yesterday: "When you come into a Trump administration, it's the Trump agenda you're implementing, not your own, and I think Senator Sessions is well aware of that." That could be interpreted to mean that Trump's support for marijuana federalism will override Sessions' anti-pot instincts, but that's assuming Trump sticks to the position he took during his campaign. Given Trump's many reversals and retreats (some of them welcome), that is surely not a safe bet.