How Much Credit Should Obama Get for Shrinking the Federal Prison Population?
Bipartisan sentencing reforms and falling crime rates have played a much bigger role than commutations or DOJ policy.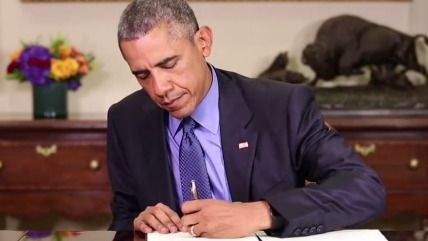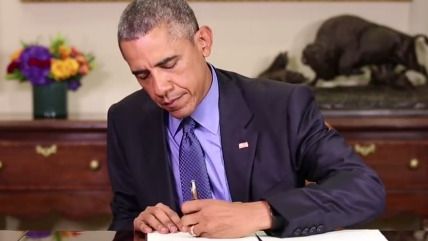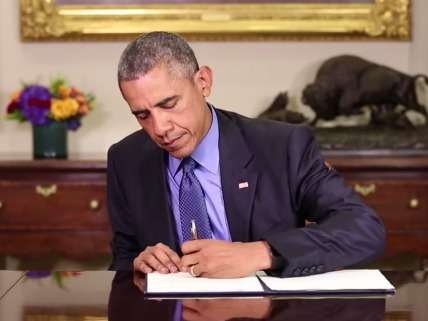 President Obama's latest batch of commutations puts his total above 1,000, as Scott Shackford noted yesterday. The New York Times used that milestone as a peg for a story about trends in the federal prison population that gives Obama too much credit and Richard Nixon too much blame. "President Obama is on pace to be the first president in a half-century to leave office with a federal prison population that is smaller than when he was sworn in," says Times reporter Matt Apuzzo, who attributes that development to "eight years of liberal criminal justice policies, historically low crime rates and an aggressive use of presidential commutations."
Commutations have played a small role in reducing the number of federal prisoners. After a slow start (just one commutation in his first term, just 20 in the first half of his second term), Obama is earnestly and admirably trying to make up for lost time. If he shortens as many sentences this month and the next two as he did in October, his total will be almost 1,500, which is more than his 12 most recent predecessors combined, from FDR through George W. Bush. But even 1,500 commutations would represent less than 1 percent of federal prisoners, half of whom are drug offenders.
What about "eight years of liberal criminal justice policies"? The biggest factor has been the Fair Sentencing Act of 2010 (FSA), which reduced crack cocaine penalties, and the changes to federal sentencing guidelines that law prompted. According to a 2015 report from the U.S. Sentencing Commission (USSC), about 6,000 crack offenders received shorter prison terms as a direct result of the FSA from 2010 through 2014. The average reduction was nearly three years. Retroactive changes that the USSC made to its sentencing guidelines in light of the FSA reduced another 6,880 prison terms. That's a total of nearly 13,000.
To his credit, Obama supported the FSA. But so did almost every member of Congress (including the "drug war dinosaur" Jeff Sessions). The bill was approved by unanimous consent in the Senate and by a voice vote in the House. Only one federal legislator—House Judiciary Committee Chairman Lamar Smith (R-Texas)—spoke against it. And when it came to retroactive application of the ensuing guideline changes, Obama's attorney general, Eric Holder, urged the USSC to be more conservative than it decided to be. His recommendation would have reduced the number of prisoners who were allowed to seek resentencing from more than 12,000 to about 5,500.
A 2014 amendment to the sentencing guidelines, reducing the "base offense level" for drug offenders, resulted in more modest penalty changes but applies to a larger group. The USSC estimated that "approximately 70 percent of federal drug trafficking defendants would qualify for the change, with their sentences decreasing an average of 11 months, or 17 percent, from 62 to 51 months on average." Retroactive application of that amendment made as many as 46,000 prisoners eligible for resentencing.
The Times also mentions guidelines that Holder issued in 2013, urging federal prosecutors to omit drug weights that trigger mandatory minimums when charging low-level, nonviolent offenders. "Prosecutors have responded by reducing the frequency of those charges by about 25 percent," Apuzzo says, citing the Justice Department. According to an estimate by Paul Hofer, a policy analyst with Federal Public and Community Defenders, Holder's charging guidelines, if fully implemented, might have helped about 500 of the 25,000 or so federal drug offenders sentenced each year, or 2 percent.
The year Obama was elected, there were 201,668 federal prisoners. After rising during the first five years of the Obama administration, that number fell from 219,298 in 2013 to 214,149 in 2014, a 2.4 percent drop. That encouraging development had almost nothing to do with Obama's commutations, 98 percent of which were issued in 2015 and 2016, or Holder's new charging policy, which was announced in August 2013. Assuming the downward trend continues (data for 2015 are not available yet), the FSA and the USSC's amendments will play a much bigger role than the "liberal criminal justice policies" that Obama and Holder implemented on their own authority. Apuzzo's suggestion that "Mr. Obama's criminal justice legacy" includes a substantially smaller federal prison population is therefore rather misleading.
Apuzzo also exaggerates Richard Nixon's impact on the prison population. "President Lyndon B. Johnson was the last president to leave office with a smaller federal prison population than he inherited," he writes. "His successor, Richard M. Nixon, declared war on drugs in 1971, and the prison population has since ballooned into the world's largest, with about one in every 100 adults locked up in local, state or federal prisons or jails." The number of federal prisoners rose by 37 percent between 1971 and 1977, then fell for three consecutive years before starting a steady climb that continued for more than three decades. The real explosion in the prison population began during the Reagan administration, when the number of federal prisoners more than doubled, from fewer than 25,000 in 1980 to more than 50,000 in 1988. It kept rising, peaking in 2013 at more than 219,000, nine times the 1980 number.
In this context, the 2014 drop looks puny but promising. Assuming it was a turning point, the fact that it happened while Obama was in the White House has less to do with his policies than Apuzzo implies. Given the importance of falling crime rates and sentencing reforms that had bipartisan support, the trend line probably would have looked very similar if voters had elected John McCain in 2008 or Mitt Romney in 2012. Although it is reasonable to assume that either of them would have been much less interested than Obama in using his clemency power to free drug offenders, commutations do not explain the reversal of the upward trend in the federal prison population.
As for the future, neither Donald Trump nor his pick for attorney general, Jeff Sessions, seems inclined to view shrinking the federal prison population as a worthwhile goal. Sessions "strongly opposed Mr. Obama's liberal approach to criminal justice," Apuzzo notes, favoring "vigorous enforcement of drug laws and the use of mandatory minimum sentences." Trump probably will not make much use of his clemency power, and Sessions is apt to reverse Holder's charging policy for low-level, nonviolent drug offenders. But as Apuzzo notes, the changes made by Congress and the sentencing commission will be harder to reverse, and they will continue to curtail the number of federal prisoners (as will crime rates, assuming they remain historically low). Unfortunately, the prospects for further sentencing reform look dimmer with a "law and order" Republican in the White House and a fan of mandatory minimums in charge of the Justice Department.