Problem Prosecutors Lost Big on Election Night
Reform-minded challengers continued to unseat "tough-on-crime" prosecutors in targeted races across the country.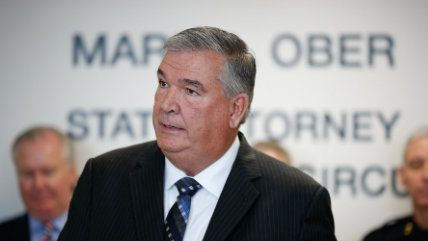 (Loren Elliott/ZUMA Press/Newscom)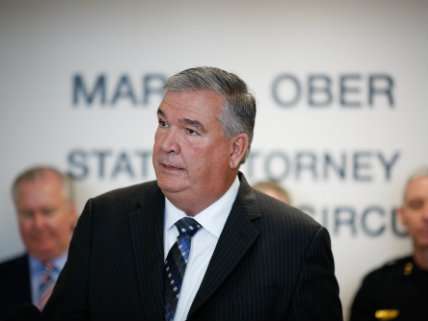 Tuesday was a bad night for Democrats, but far below the national drama playing out, it was a surprisingly good night for criminal justice advocates working to defeat local prosecutors with troubled track records.
Lifted by social justice groups, grassroots get-out-the-vote efforts, and one particularly deep-pocketed donor, relatively unknown challengers pulled off upset victories against a number of incumbent local prosecutors and elected law enforcement officials in Texas, New Mexico, Florida, Arizona, and Missouri, among other states.
In Harris County, Tx., voters elected a Democrat as district attorney for the first time in 40 years. In Maricopa County, Az., a retired Phoenix police officer ousted the notorious sheriff Joe Arpaio after 23 years in office. In Jefferson County, Al., it appears voters will reject both incumbent Republican D.A.'s and elect Democrats for the first time in 10 years—and elect a black woman to the position for the first time ever.
The results are part of a growing focus on the outsized role local prosecutors play in the justice system. "We believe locally elected prosecutors are the most powerful people in the criminal justice system," says Scott Roberts, campaign director for Color Of Change PAC. The PAC, the political action arm of the civil rights organization, targeted four local prosecutor elections this cycle.
Roberts notes that prosecutors determine, among other things, what if any charges will be brought against a defendant and whether a defendant will receive a plea deal. "In addition to all that, they are among the few folks who have the ability to hold police accountable," he says.
Color of Change contacted about 3.5 million voters in 90 text-a-thons held across the country, according to The Washington Post.
Reform-minded candidates also received crucial fundraising boosts from liberal megadonor George Soros, who funneled more than $3 million to the Maricopa County sheriff's race alone.
The wave of backlash against prosecutors began to pick up steam earlier this year, when challenger Kim Foxx overwhelmingly defeated Cook County State's Attorney Anita Alvarez in the Democratic primary. Challengers running on explicitly reform-minded campaigns also won primaries in St. Louis, Cuyahoga County in Ohio, and Orange and Osceola County in Florida. All of those candidates cruised to victory Tuesday night. In Orange and Osceola County, Democrat Aramis Ayala will become the first black state attorney in Florida history. Less than 1 percent of prosecutors nationwide are women of color, Roberts says.
Whitney Tymas—an advisor to several of the Soros-backed PACs that operated in this cycle, as well as chairman of Maricopa Strong, the PAC that worked to oust Arpaio—says their candidates prevailed in all but three of the 15 races they targeted.
Maricopa County D.A. Bill Montgomery, an ally of Arpaio who is a stanch opponent of marijuana legalization, beat his challenger and will remain in office, but overall, Tymas and Roberts say momentum is on their side.
"More than 90 percent of prosecutors seek reelection and win," Tymas says. "A lot of times there's just no contest around these races. This is a special moment where there's real challenges being waged in these races, and challengers are starting to win."
What's more, the elections could have a profound impact on the death penalty in America. Several of the ousted prosecutors were from the 16 "outlier" counties, identified in a report by the Harvard Law School's Fair Punishment Project earlier this fall, that produce the majority of the dwindling number of death penalty sentences in the U.S.
Rob Smith, the director of the Fair Punishment Project, says that, although voters supported the death penalty in ballot initiatives in California, Nebraska, and Oklahoma, the outcomes of prosecutor elections show a much different public opinion at the local level.
"In real life, in real cases, people have to wrestle with the moral implications, and it's not just a figment of their imagination," says Smith. "It's a real human being. When you get local, you're seeing at granular level that people have thoroughly repudiated the death penalty."
The results of Tuesday's election, Smith says, "means a punishment that's incredibly, exquisitely rare in the U.S. is about to become even more rare."
Harris County, Tx.
In Harris County, which includes Houston, Democratic challenger Kim Ogg knocked out incumbent District Attorney Devon Anderson. "This is Houston, in all of its glory and diversity, and I am so proud to be your DA," Ogg said Tuesday night after clinching victory. "We're going to have a system with fair bail; we're going to have a system that doesn't oppress the poor; we're going to have a system that goes after the rapists and the robbers."
Anderson is perhaps most notorious for holding a rape victim in jail for a month to ensure she testified, but Harris County has numerous other systemic problems with how it administers justice.
A joint report by Human Rights Watch and the ACLU released this fall documented how Harris County aggressively prosecutes the war on drugs, ruining people's lives for miniscule amounts of drugs. According to the report, "data provided to us by Texas shows that 53 percent of drug possession arrests in Harris County (in and around Houston) were for marijuana, compared with 39 percent in nearby Dallas County."
Faulty drug tests have led Harris County to lead in the country in wrongful convictions, with at least 73 exonerations for drug possession since 2010.
Hillsborough County, Fl.
In Hillsborough County, which includes Tampa, former federal prosecutor Andrew Warren narrowly defeated Hillsborough County State's Attorney Mark Ober, who has held the position since 2000, by fewer than 5,000 votes.
Hillsborough County is one of 16 "outlier" counties that have produced the majority of new death penalty sentences in the U.S. over the past six years. Under Ober's leadership, the county produced more death penalties than any other county in the state. According to the Fair Punishment Project, at least half of those death penalty cases had significant mitigating factors, such as mental impairment or illness.
In 2012, the Florida Supreme Court vacated one death penalty sentence obtained by Ober's office because the defendant's "extreme mental illness, coupled with the circumstances of the crime, made a death sentence disproportionate as compared with other murder cases."
Jefferson County, Al.
In the two district attorney races in Jefferson County, which includes Birmingham, voters appear poised to give both incumbents the boot.
Charles Henderson defeated incumbent Republican District Attorney Brandon Falls, making him the first Democrat to hold the position in more than a decade.
The other district attorney race has yet to be called yet, but challenger Lynneice Washington, who would be the first African American and first woman to be elected to the position in the county's history, narrowly leads incumbent Republican D.A. Bill Veitch.
The Fair Punishment Project found that Jefferson County has produced more death penalty sentences than any other county in Alabama. In one of those cases, a Jefferson County prosecutor claimed a man with an IQ of 56 was faking mental retardation. In another, prosecutors secured a death penalty sentence by presenting illegal evidence to the jury.