ExxonMobil Climate 'Fraud' Investigation Follies Continue
New court ruling requires oil company to hand over accounting records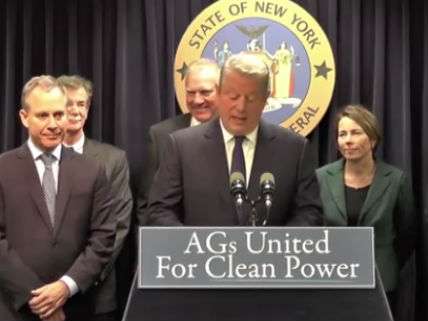 ExxonMobil is suspected by New York Attorney-General Eric Schneiderman of misleading shareholders about the damage that climate change regulations might do to its business prospects. Scheidnerman and nearly twenty other Democratic attorneys-general have joined together in an effort to prove these suspicions correct. Under New York's capacious Martin Act, Schneiderman has issued investigatory subpoenas demanding that the company turn over various documents including those related to research results by company scientists and donations made to suspect academicians, think tanks, and advocacy groups. To date, the company has reportedly sent a million pages of documents over to the AG's office for minions to comb through looking for malacious corporate dissent from the prevailing climate change consensus.
In August, Schneiderman issued another subpoena demanding to see records held by the company's accounting firm PricewaterhouseCoopers (PwC). Exxonmobil refused, asserting an "accountant-client privilege" under Texas law. Now a New York Supreme Court judge has ruled that New York law applies and ordered the company to comply with Schneiderman's subpoena. (Note the Supreme Court is not the highest level of New York's judiciary.)
"We are pleased with the Court's order and look forward to moving full-steam ahead with our fraud investigation of Exxon," said Attorney General Eric T. Schneiderman in a statement. "Exxon had no legal basis to interfere with PwC's production, and I hope that today's order serves as a wake up call to Exxon that the best thing they can do is cooperate with, rather than resist, our investigation."
The Washington Post reports that the company plans to appeal the decision.
Earlier this month, U.S. District Judge Ed Kinkeade of Texas issued a discovery order to Massachusetts Attorney-General Maura Healey to turn over documents that would enable him to understand how she, Schneiderman and the other Democratic attorneys-general cooked up their joint investigation of ExxonMobil's possibly fraudulent behavior. The joint investigation is governed by what is called a Common Interest Agreement among the Democratic AGs. In his order Kinkeade noted:
Attorney General Healey's actions leading up to the issuance of the CID [Civil Investigative Demand] causes the Court concern and presents the Court with the question of whether Attorney General Healey issued the CID with bias or prejudgment about what the investigation of Exxon would discover. …

The Court finds the allegations about Attorney General Healey and the anticipatory nature of Attorney General Healey's remarks about the outcome of the Exxon investigation to be concerning to this Court. The foregoing allegations about Attorney General Healey, if true, may constitute bad faith in issuing the CID….
At the Attorneys General United for Clean Power press conference in March 2016 featuring remarks by climate warrior Al Gore, Healey did say:
Fossil fuel companies that deceived investors and consumers about the dangers of climate change should be, must be, held accountable. That's why I, too, have joined in investigating the practices of ExxonMobil. We can all see today the troubling disconnect between what Exxon knew, what industry folks knew, and what the company and industry chose to share with investors and with the American public. We are here before you, all committed to combating climate change and to holding accountable those who have misled the public.
Could Healey's statements be considered biased or prejudged? You decide
With regard to Judge Kinkeade's discovery order to Healey, it would certainly be of interest to the public to see how its elected officials collude, ah, work with activists, ah, interested citizens to go after disfavored, ah, possibly fraudulent commercial enterprises. In any case, Healey has filed a motion asking Judge Kinkeade to vacate his discovery order.
As I reported when all this got started a year ago, ExxonMobil began disclosing its annual reports the possible risks to its business posed by climate change in 2006. That happens to be the same year in which the U.N.'s Intergovernmental Panel on Climate Change's Fourth Assessment Report definitively stated: "Most of the observed increase in global average temperatures since the mid-20th century is very likely due to the observed increase in anthropogenic greenhouse gas concentrations."
With regard to the claim that ExxonMobil executives may have fooled shareholders, I earlier reported: "It is not as though shareholders and consumers had not heard for years now that burning fossil fuels causes climate change and that regulators were aiming to cut the use of such fuels. Nevertheless, ExxonMobil's stock price has never fallen below its trading January 1, 2006 level even after acknowledging climate change as a possible business factor in its annual reports."
The follies continue.